Product packaging has come under environmental scrutiny in the last decade, but packaging is in a difficult position: it's both critical and temporary. Greg Fornasiero, Director of Packaging Engineering at The Home Depot, understands this conundrum. In this wide-ranging Q&A, he's sharing what The Home Depot is doing to improve packaging and make it more sustainable.  

We have three areas of focus: performance, value and sustainability. The bulk of what we do is ensure packaging performs as expected, that it gets the job done. We test all new product packaging to make sure it can get safely through the supply chain to a customer's home or work site. We send it through ISTA (International Safe Transit Association) testing, drop testing, vibration testing and compression testing.  
The second part of our job is to look at how packaging creates value. We are charged with making packaging better in every way, from protecting products to providing an experience. We question every aspect. How can we improve it to further reduce damage? Can we make it more efficient to cut down on shipping space and shipping costs and reduce the carbon footprint associated with the supply chain? Can we optimize storage space and costs? Can we make it more efficient and make better use of shelf space in the store, so customers aren't faced with out-of-stock items? Can we elevate our packaging to give customers a more frictionless experience and create what we call "a box to enjoy"?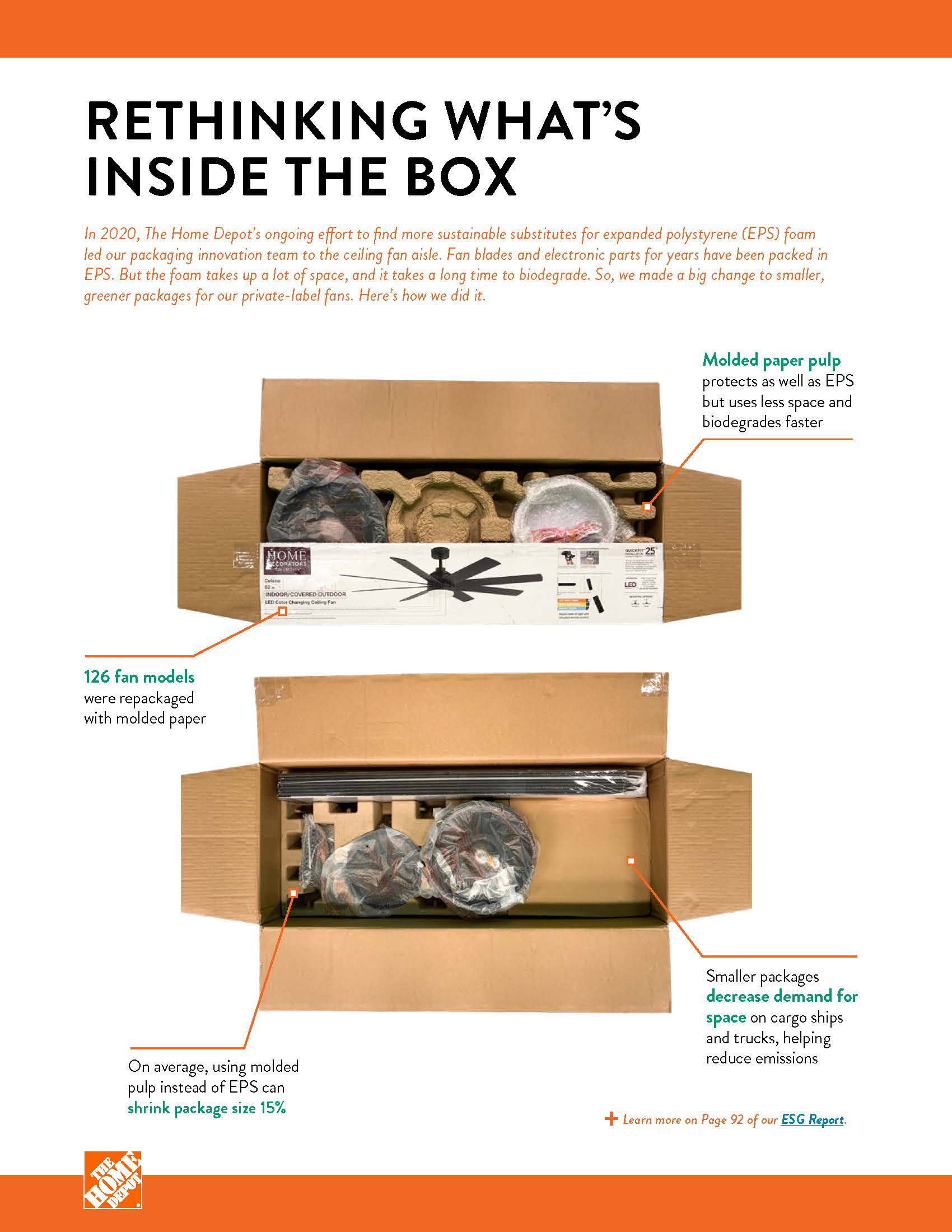 We have sustainability goals as a company, such as our sustainable packaging initiative. The Home Depot has pledged to exclude expanded polystyrene (EPS) foam and polyvinyl chloride (PVC) film from private label packaging by the end of 2023. Our team is responsible for ensuring that pledge is met by securing alternative materials. The challenge is not getting rid of something, it's finding a substitute that is abundant, performs as well and doesn't cost more. When we commit to doing the right thing, such as removing hard-to-recycle plastics from our packaging, we commit to doing so without increasing customer prices. 
We are a team of engineers. We analyze everything for opportunities to optimize, so sustainability is a real motivator. Materials are obviously a big part of that. But it's not always the things we see and feel that make the biggest impact. Sometimes, it's a matter of reducing the size of a package. Shoppers may not even notice the difference. But the overall impact can be enormous, saving material and dramatically decreasing the carbon footprint associated with getting those products from point to point. 
Damage is an issue from a sustainability standpoint as well. Anything that gets broken must be replaced, which essentially doubles the carbon footprint. So, we work to design packaging that prevents damage, which takes us back to the testing we talked about before. 
 
This interview was originally published on Eco Actions website. Click here to read the full story, and visit here to learn more about The Home Depot's commitment to sustainability.