Creating Shareholder Value
The investors who provide the capital necessary to allow our company to grow need and expect a return on their investment. We are committed to providing it.
---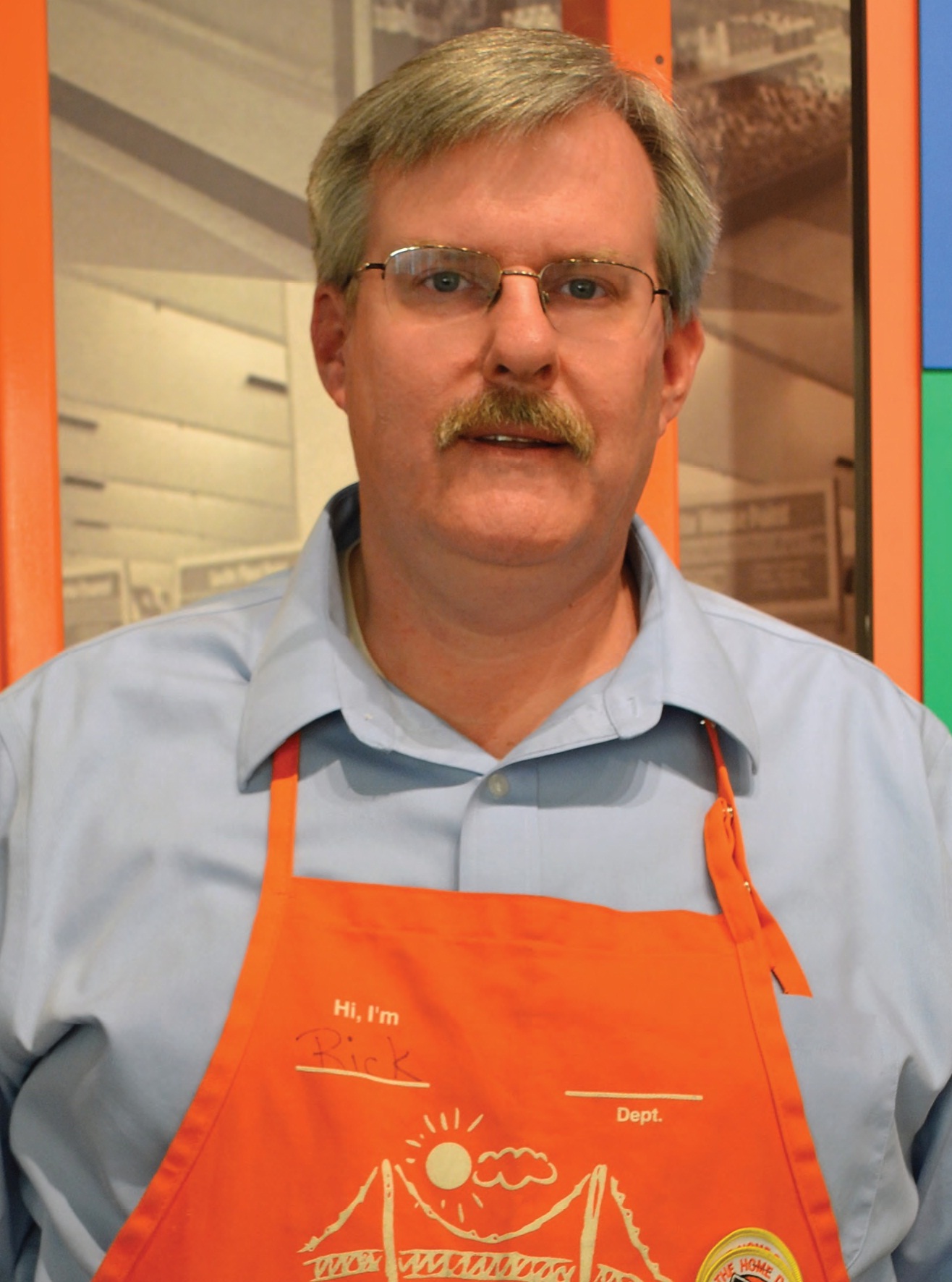 Rick Cox
Atlanta Store Support Center
Rick manages The Home Depot's store inventory reverse logistics system at the Store Support Center. This system handles the process of removing products from our stores for return to vendor, donations, and buybacks. Rick and his team worked with both vendors and associates across the company to transform and centralize our Return to Vendor and Out for Repair programs. These changes have saved the company millions annually.
Entrepreneurial Spirit
Home Depot associates are encouraged to initiate creative and innovative ways to serve our customers and improve the business as well as spread best practices throughout the company.
---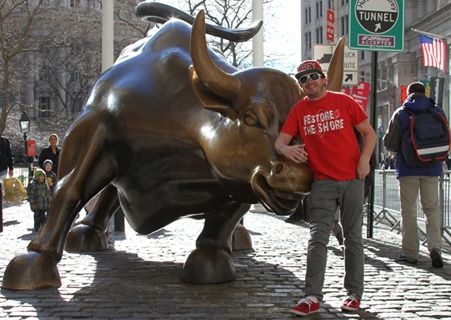 Drew Chabot
Store #920
Tom Rivers, N.J.
In the days following Superstorm Sandy, Drew was in disbelief about the level of destruction, but was determined to help. He partnered with a friend who owns a printing company and created shirts with a simple logo, "Restore the Shore" to raise funds and ultimately donated more than $500,000 to help with clean-up efforts.
In addition, Drew worked with homeowners and contractors to help coordinate rebuilding projects and made sure they knew Home Depot was here to help.
Taking Care of Our People
The key to our success is treating people well. We do this by encouraging associates to speak up and take risks, by recognizing and rewarding good performance and by leading and developing people so they may grow.
---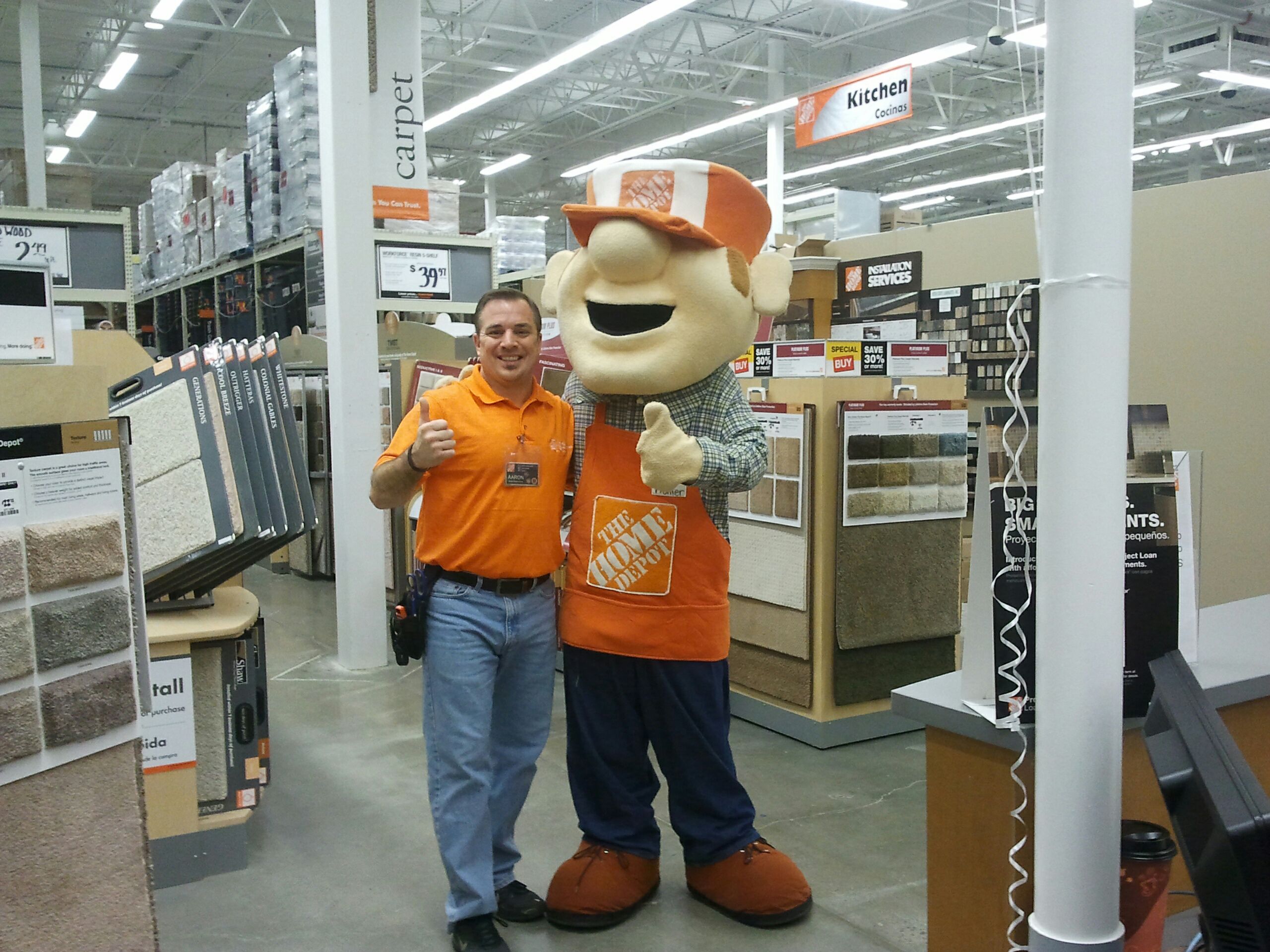 Aaron Bland
Merchandising Execution Team #1252
Binghamton, N.Y.
In 2011 Tropical Storm Lee caused historic flooding in the Northeast, including Binghamton, N.Y. Aaron learned that one of his fellow associates was battling 9 feet of water in his house and decided to take action.
"I grabbed as many items as I could from my garage – gloves, face masks, a broom, garbage bags, disinfectant and my Ridgid Wet/Dry Vac – and headed to his house," he said.
Aaron didn't stop there. He helped coordinate several cleanup teams that week, going house to house handing out supplies.
Respect for All People
In order to remain successful, our associates must work in an environment of mutual respect, free of discrimination and harassment where each associate is regarded as a part of The Home Depot team.
---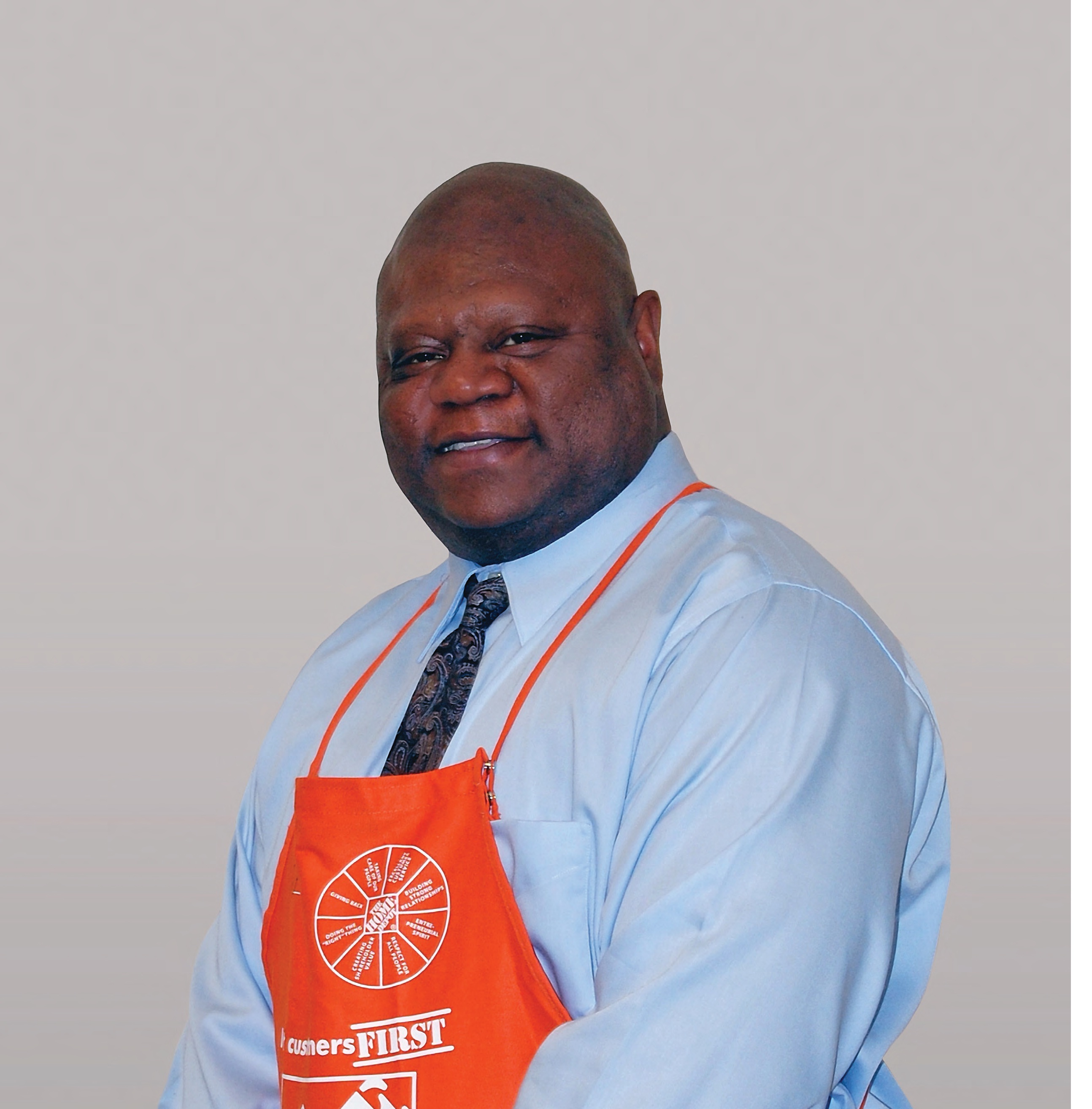 Antonio Campbell
Store #385
New Orleans, La.
When a customer needed accessories for her wheelchair, including something to protect her from the rain and a carrier for her groceries, Antonio offered to make a customized solution. Using PVC, tarp, grommets and other products, he built a canopy and a rack. He also made a small PVS handle for her wheelchair to make it easier to control.
"I've always been creative, so I love the opportunity to work on projects like this," said Antonio.
Doing the Right Thing
We exercise good judgment by "doing the right thing" instead of just "doing things right." We strive to understand the impact of our decisions, and we accept responsibility for our actions.
---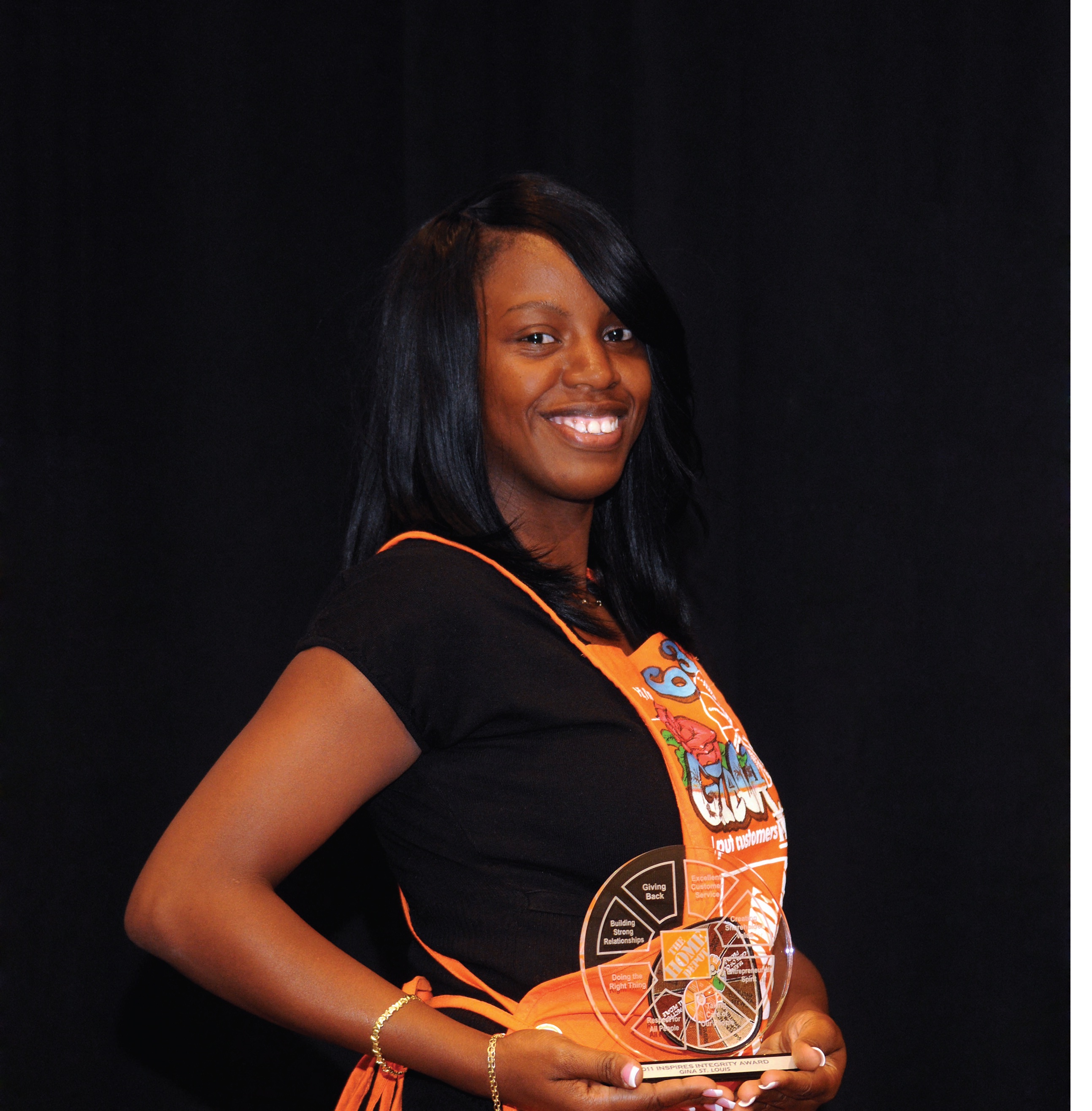 Gina St. Louis
Store #6310
Hollywood, Fla.
Gina was working at self-checkout when she noticed a bag left behind at one of the registers. She opened it and found $4,000 in cash and football tickets. She immediately turned it over to the Asset Protection team to help get it back into the hands of its owner. When the customer returned, he was thrilled to find his bag safe and the contents intact.
Building Strong Relationships
Strong Relationships are built on trust, honesty and integrity. We listen and respond to the needs of customers, associates, communities and vendors, treating them as partners.
---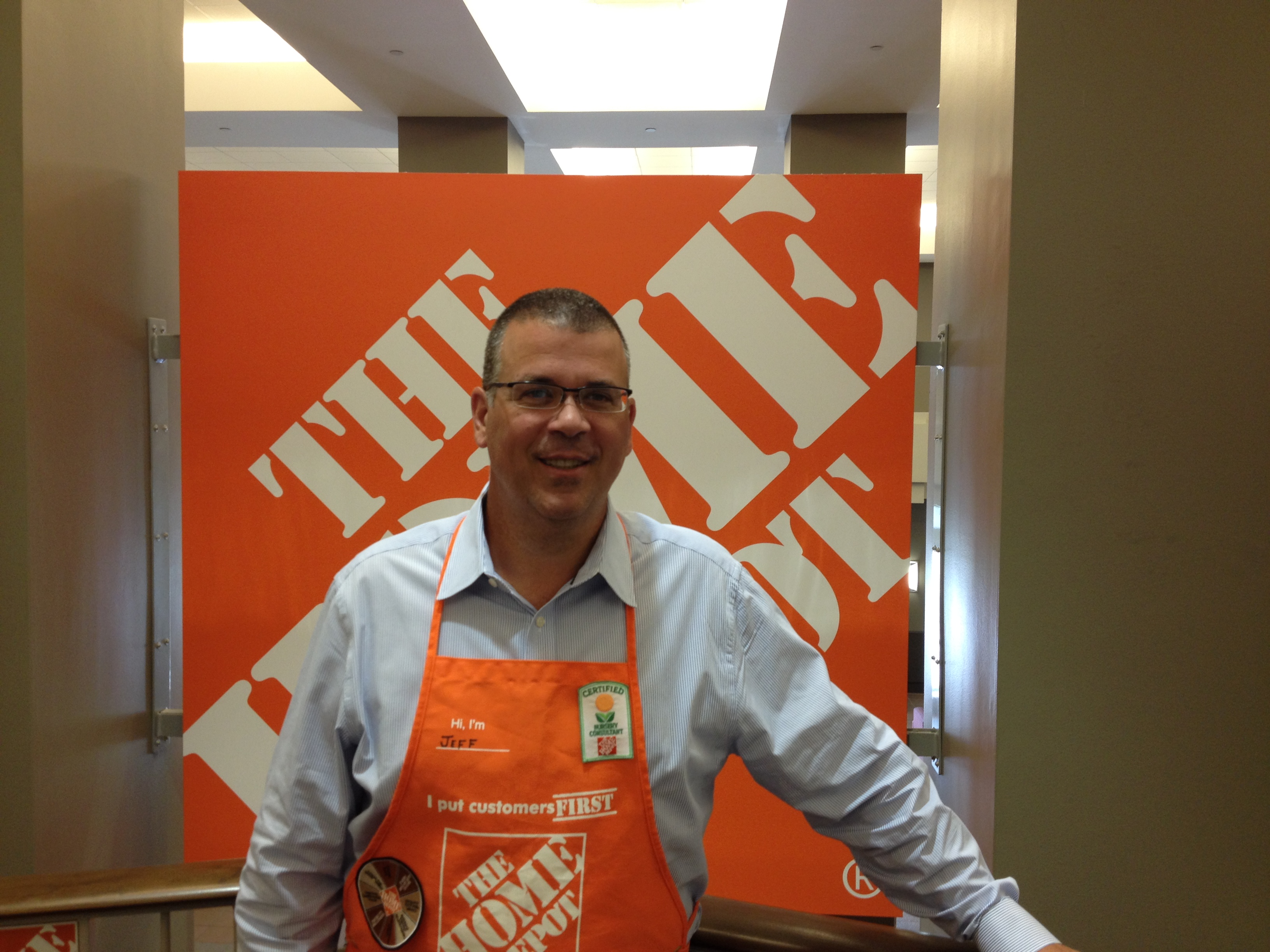 Jeff Partin
Corporate Security
Atlanta Store Support Center
In addition to Jeff's day-to-day responsibilities in corporate security, he serves as the company's primary liaison with federal, state and local emergency management agencies. Jeff's work brings the public and private sectors together and ensures we'll be able to respond quickly to support our communities when disaster strikes.
Giving Back
An important part of the fabric of The Home Depot is giving our time, talents, energy and resources to worthwhile causes in our communities and society.
---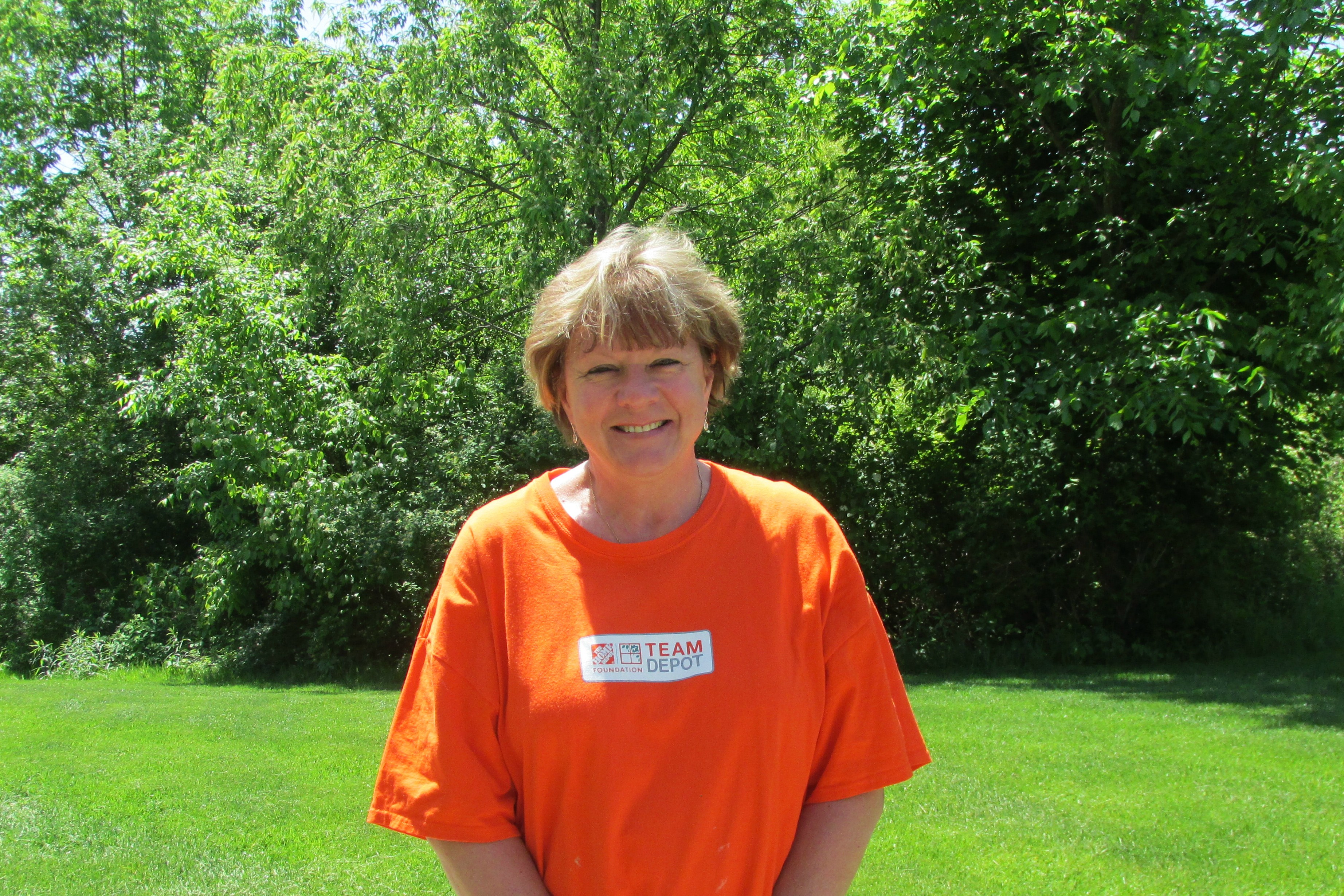 Judy Custer
Store # 2717
Burton, Michigan
Judy Custer serves as a District Community Captain, a volunteer project coordinator, for our Team Depot volunteer program in Michigan. Over the last several years, she's organized dozens of volunteer projects, some at facilities and some at homes.
Before leaving each project, Judy makes an effort to install a CO detector at each location. This year, one of these alarms saved the lives of a military veteran and his entire family.
Excellent Customer Service
Along with our quality products, service, price and selection, we must go the extra mile to give customers knowledgeable advice about merchandise and to help them use those products to their maximum benefit.
---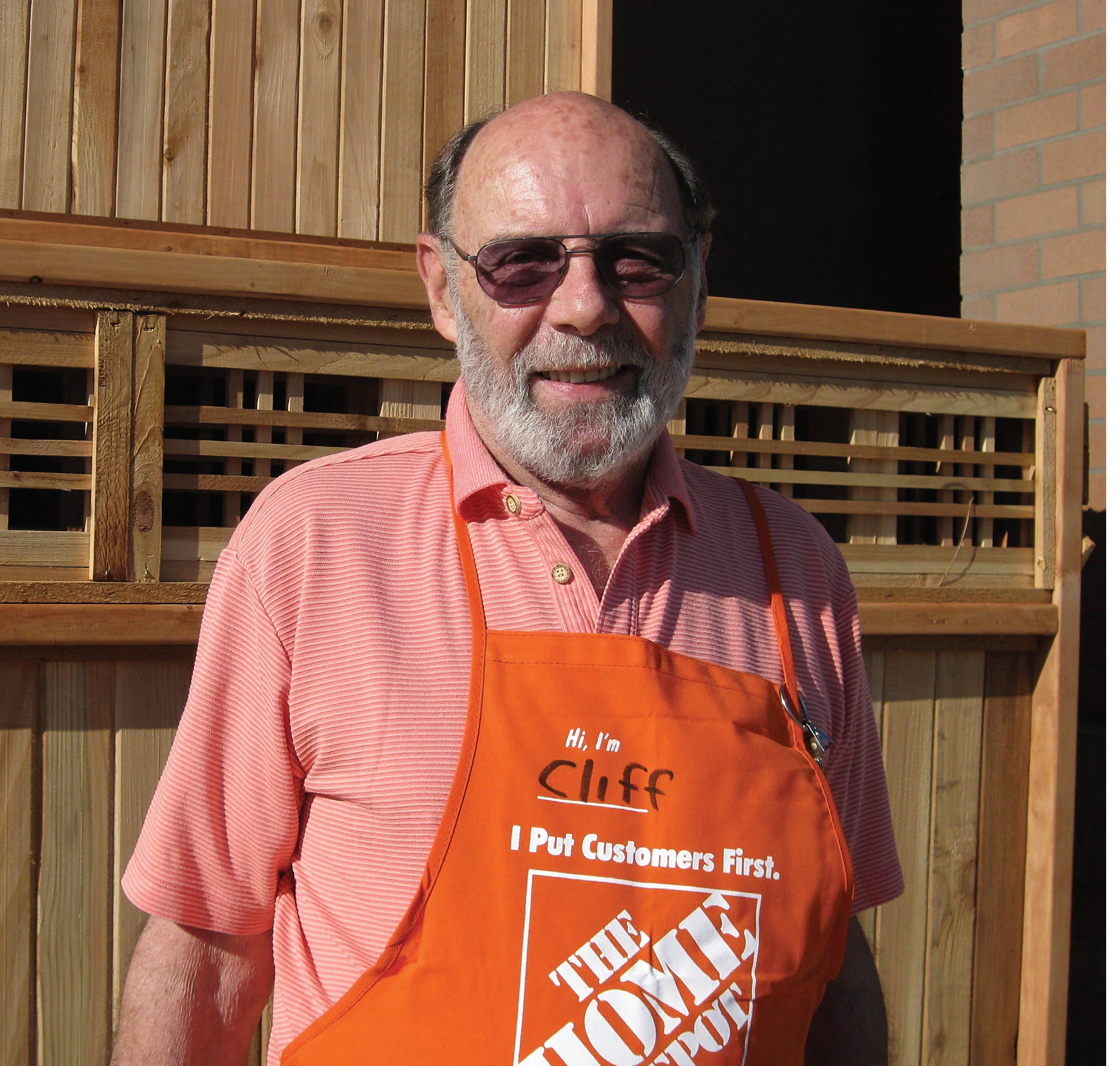 Cliff Johnson
Store 4017
Oregon City, Ore.
Cliff stumbled upon an overwhelmed couple in the aisles of his store, attempting to tackle a few DIY projects. When the husband admitted he couldn't even swing a hammer, Cliff took them under his wing. Two months later, they had added new plumbing to their entire home and installed windows, siding and new cabinets. Cliff made sure his customers took full advantage of special promotions and estimated they saved approximately $20,000 by doing the work themselves.