The Home Depot and The Home Depot Foundation are committed to educating more people in the skilled trades and helping them find careers in the home improvement industry through our Path to Pro program. With nearly 400,000 open roles in the trades nationally, we can't tackle this work alone. Industry leaders like Home Builders Institute (HBI), Construction Ready, SkillPointe Foundation and Atlanta Technical College (ATC) are helping us prepare skilled people for these opportunities. Since the program's inception, the Foundation's trades-focused partnerships have trained more than 41,000 participants and introduced more than 200,000 people to the skilled trades, surpassing its commitment to train 20,000 people six years ahead of schedule.  
Additionally, the company has also launched several new initiatives. From geotargeted online resources and entry-level certificates to advanced training, and even a networking platform with the company's Pro customers, people now have even more opportunity to pursue their career journey in trades from start to finish. Learn more at PathtoPro.com. 
 
SCHOLARSHIP SPOTLIGHTS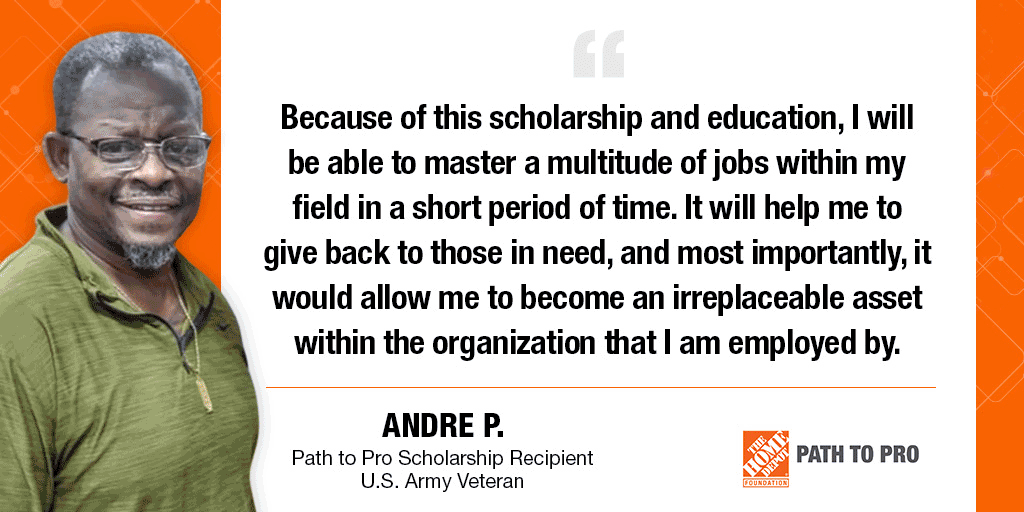 OUR PATH TO PRO PROGRAMS
SEPARATING MILITARY

HIGH SCHOOL & YOUTH

Each year, in partnership with Home Builders Institute (HBI), the
Path to Pro military program provides nearly 1,200 exiting service members with industry recognized pre-apprenticeship certification (PACT) through 10 U.S. military bases.
The Path to Pro high school and youth program offers curriculum and hands-on training to students in more than 275 schools across 33 states, with partners HBI and Construction Ready.
| | |
| --- | --- |
| | |
| ACADEMY | SCHOLARSHIP |
| The Path to Pro academy program offers training and certification for diverse adult populations and underserved communities. More than 1,400 participants have successfully trained nationwide. | Through the Path to Pro scholarship program, The Home Depot Foundation and SkillPointe Foundation have awarded more than 345 scholarships to students pursuing a trade college or postsecondary program, nationwide. |
| | |
| --- | --- |
| |   |
| ATLANTA TECHNICAL COLLEGE |   |
| In 2019, The Home Depot and other Atlanta-based corporations collaborated with Atlanta Technical College (ATC) to introduce the Center for Workforce Innovation. The program offers high-quality instructors, professional skills classes, on-campus career development coaching, wrap-around services, and work-based apprenticeships and internships. |   |
|   |   | Youth Program Locations (State)
Alabama
Kentucky
North Carolina
Alaska
Louisiana
Ohio
Arizona
Maryland
Oklahoma
California
Massachusetts
Pennsylvania
Colorado
Michigan
South Carolina
Florida
Minnesota
Tennessee
Georgia
Missouri
Texas
Hawaii
Montana
Virginia
Idaho
New Hampshire
Washington
Iowa
New Jersey
Wisconsin
Illinois
New Mexico
 
Kansas
North Dakota
 
Military Program Locations (Bases)
Camp Pendleton (Q1 '20)
Ft. Carson (Q1 '19)
Ft. Stewart (Q1 '18)
Ft. Bliss (Q1 '19)
Ft. Cavazos (Q1 '19)
Jacksonville Naval (Q3 '18)
Ft. Liberty (Q1 '18)
Ft. Riley (Q1 '20)
Norfolk Naval (Q2 '19)
Ft. Campbell (Q3 '19)
 
 
Academy Program Locations (State)
Arizona
Florida
Texas
California
Louisiana
 
Colorado
North Carolina