10 Years of Partnership with Volunteers of America
April 28, 2021
Supporting former service members is a cause that runs deep at The Home Depot. To help, The Home Depot Foundation has been partnering with Volunteers of America (VOA) since 2011 to provide housing solutions for military veterans and their families across the U.S. 
This year, VOA celebrates its 125th anniversary of supporting the nation's most vulnerable groups through hundreds of human service programs. Over the last decade, The Home Depot Foundation has donated more than $21 million in grants and impacted more than 2,200 veteran housing facilities in partnership with VOA. 
To celebrate 10 years of progress, here's what we've achieved together: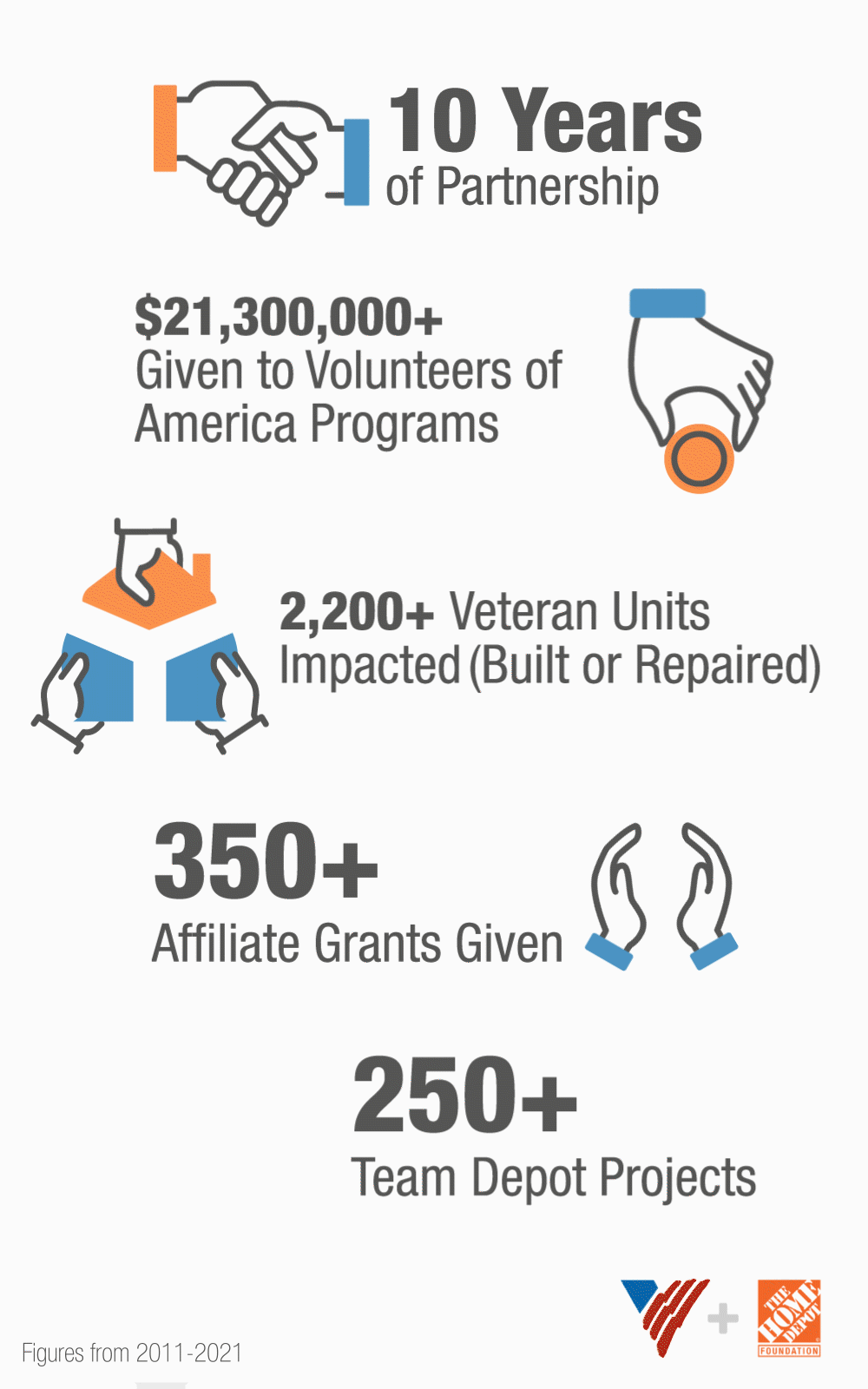 One of the facilities the Foundation has helped fund is Hope Hall, a transitional housing facility that supports homeless individuals struggling with long-term stability and operates 14 beds specifically for veterans.  
David, a veteran of the Air Force, stayed at Hope Hall for six months after years of living in his car. "If it wasn't for Volunteers of America and Hope Hall specifically, I would still be sleeping on the bus," he says. After receiving assistance from Veterans Affairs to secure an apartment, he now considers himself "100 percent independent."  
In addition to donating millions of dollars in grants to Volunteers of America, The Home Depot Foundation and Team Depot, the company's associate volunteer force, has completed more than 250 projects nationwide. And, in May 2020, the Foundation committed an additional $1.3 million to help improve or build nearly 200 affordable and supportive homes for veterans. 
"We're proud to have called The Home Depot Foundation our partner in supporting veterans and their families for the past 10 years," says Mike King, national president and CEO of Volunteers of America. "Now in our second century of helping Americans build strong, successful lives, Volunteers of America relies on dedicated partners like The Home Depot Foundation and their passionate Team Depot volunteers to make a positive impact in communities across the nation."   
To learn more about The Home Depot Foundation's national nonprofit partners, visit our partnerships page. 
Keep up with all the latest Home Depot news!
Subscribe
to our bi-weekly news update and get the top Built from Scratch stories delivered straight to your inbox.
Related Stories & Articles: