A HERO & HIS HARMONICA: ONE VETERAN'S HEARTFELT THANK YOU TO 250 VOLUNTEERS
July 14, 2017
Few people own keepsakes as meaningful as Harold Murchie's harmonica. The World War II veteran served as a fighter pilot in the U.S. Air Force and carried his harmonica into battle. He played it in the barracks to remind him of home. More than 70 years later, the same harmonica sits at his bedside at the Veterans Home of California Yountville.
Harold is one of nearly 1,000 residents who live at the largest veterans' home in the U.S. founded in 1884. The historic and aging campus offers independent and assisted living for veterans of all eras. Many of the residents say they want to spend more time outside, but need more wheelchair accessible outdoor spaces, seating and shade structures.
"One of the main things I do is wheel around enjoying the beautiful grounds here," Harold says.
The Home Depot Foundation recently gathered more than 250 volunteers to work at the home and update several areas on campus. The created ADA sidewalks, built new outdoor seating areas with shade structures and expanded an accessible garden.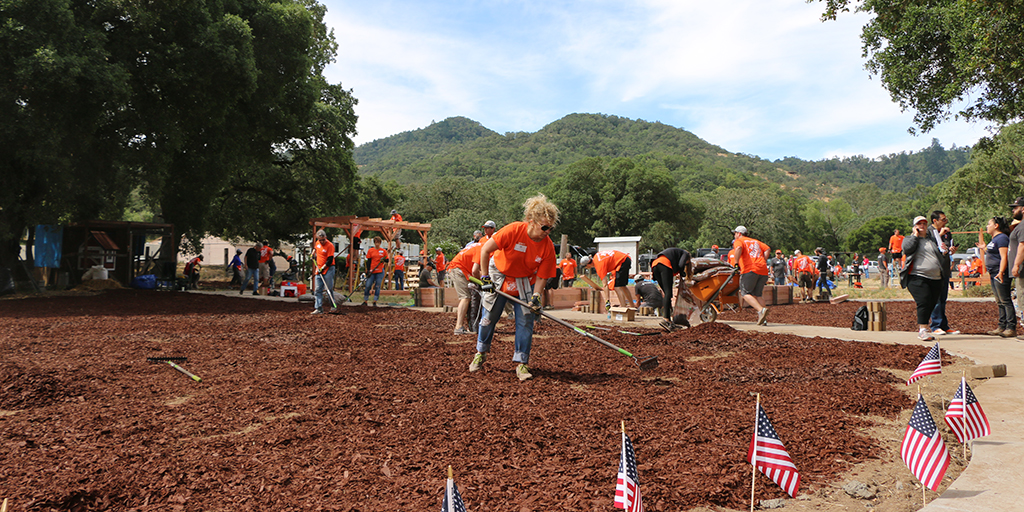 "These are just small things to many people, but to me it's very, very important," says resident and U.S. Navy veteran June Jaffe.
"This is the biggest project that's ever happened at this home," says Josh Kiser, Public Information Officer for the Veterans Home of California Yountville.
To show his appreciation, Harold treated volunteers to a harmonica performance as the project ended. But it was really the volunteers who were struck with appreciation for the veteran and hero sharing his story through his song.
"[Our residents] have lived extraordinary lives," Kiser says. "And you get to be part of that and mold the later years of their lives in a place that's comfortable and a home. It's their home."
Get to know the veterans' home residents and see the volunteers in action:
Keep up with all the latest Home Depot news!
Subscribe
to our bi-weekly news update and get the top Built from Scratch stories delivered straight to your inbox.
Related Stories & Articles: