SPRING CLEANING MADE EASY: THE ULTIMATE CHECKLIST
February 27, 2017
Spring is just around the corner, and with it comes the opportunity to declutter your home and start the season off fresh.
Whether you have 10 minutes, an hour or a whole day: we've rounded up the ultimate spring cleaning checklist to make sure your home is ready for the warmer months ahead.
 
If you have 10 minutes…
If guests decide to stop by with little notice, or you can only steal 10 minutes between life's balancing act: this is the list for you. Start with organizing, then wiping surfaces in highly trafficked areas.

Recommended products: Suncast Storage Seat, Clorox Wipes, Swiffer WetJet, Febreeze Air Effects.
 
If you have an hour…
Dedicating an hour to cleaning is a great way to make the home feel fresh and will help you combat germs and allergens.

Recommended products: Mr. Clean Summer Citrus, Clorox Clean-Up Fresh,  Clorox Toilet Wand, HDX Broom and Dustpan, SprayAway Glass Cleaner, Bounty Paper Towels.

 
If you have a full day…
Go all out. A full day will leave your home in tip-top shape for spring.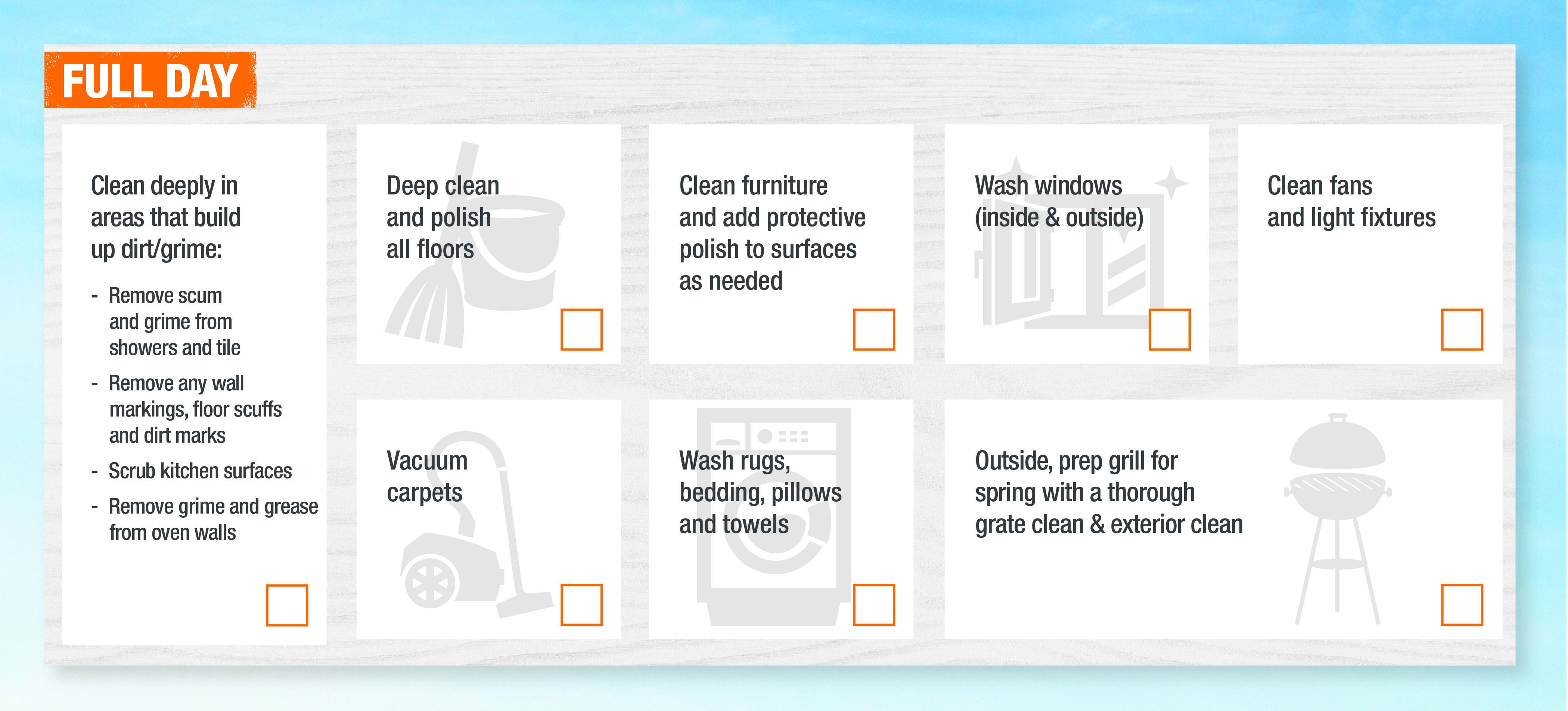 Recommended products: Kaboom, Mr. Clean Magic Eraser, Scotch Brite 3-pack, Easy-Off Oven Cleaner, 409 Stone and Steel cleaner, Libman Tornado Mop, Bona Hardwood Floor Cleaner, Bona Stone, Tile and Floor Cleaner, Orange Glo Wood Cleaner & Polish, Weber Grate Grill Cleaner, Weber Exterior Grill Cleaner.
 
Click here for a printable version of the full checklist.
Keep up with all the latest Home Depot news!
Subscribe
to our bi-weekly news update and get the top Built from Scratch stories delivered straight to your inbox.
Related Stories & Articles: