Spring Black Friday: Let's Get Outdoors
April 03, 2019
Nearly one-third of Americans postpone outdoor projects because they don't know where to start
In advance of Spring Black Friday, The Home Depot commissioned a survey of 1,000 Americans* conducted by Wakefield Research to find out how people use their outdoor spaces – front and back yards, patios, decks, etc. The research also revealed the motivation behind completing outdoor projects.
About 30 percent of Americans don't know where to start when it comes to outdoor projects and are seeking inspiration. Whether they're looking to build a window box planter to feature the flowers of their choice, or to increase curb appeal with a new walkway, spring is a great time to spruce up any home.
Confidence is key in tackling any project. Having more DIY knowledge is the next biggest factor in getting that outdoor project done, and it turns out Gen Z and Millennials are among the most confident in this category. Those with self-doubt can join our in-store DIY Workshops to gain the confidence to help them get started.
Millennials are the age group most interested in keeping up their yards so their kids have a safe place to play, at 32 percent, and pets have a fun place to explore, at 31 percent.
Of those who maintain their outdoor spaces primarily for entertaining, Millennials unsurprisingly top the list at 39 percent, followed by Gen Z (36 percent). Setting up their patio with budget-friendly dining sets and grills is a great way to start.
More than half of Americans (56 percent) say the biggest reason for maintaining their outdoor space is to enjoy them privately with those closest to them, with Boomers being the most private at 69 percent.  Those looking for privacy can close the curtains on that gazebo to be protected from prying eyes and mosquitos alike.
Those with an outdoor deck, on average, spend seven hours a week outside; two more than those who do not. An outdoor space like a patio or deck, allows one to amp up their grilling game while hosting family and friends. They can even take it a step further by cooking with produce from their very own veggie plants.
With The Home Depot's Spring Black Friday starting April 4 and running through April 14, homeowners can easily increase their outdoor time by going outside and relaxing or getting a jump on that outdoor project. Customers looking for extra know-how or inspiration can talk to an associate at their local Home Depot store or view The Home Depot's Spring How-to Videos.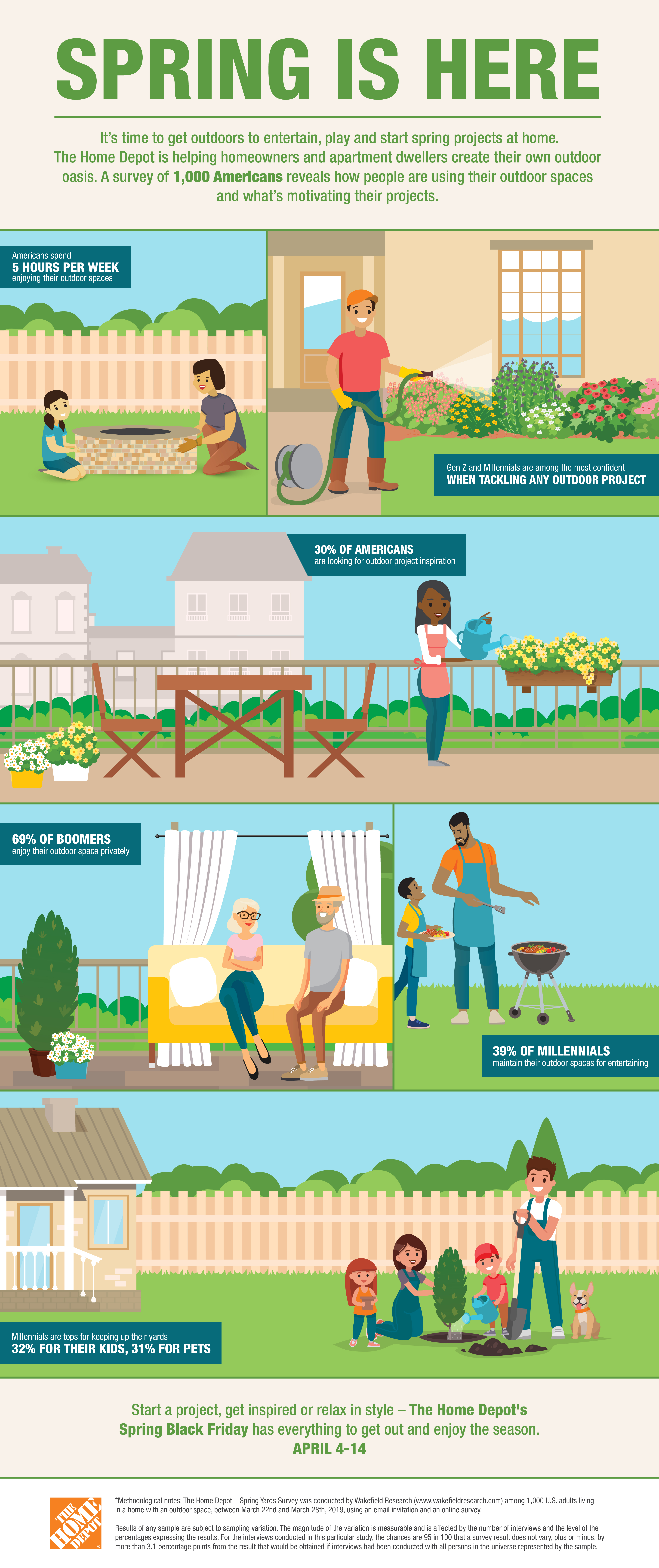 *Methodological notes: The Home Depot – Spring Yards Survey was conducted by Wakefield Research (www.wakefieldresearch.com) among 1,000 U.S. adults living in a home with an outdoor space, between March 22 and March 28, 2019, using an email invitation and an online survey.
Results of any sample are subject to sampling variation. The magnitude of the variation is measurable and is affected by the number of interviews and the level of the percentages expressing the results. For the interviews conducted in this particular study, the chances are 95 in 100 that a survey result does not vary, plus or minus, by more than 3.1 percentage points from the result that would be obtained if interviews had been conducted with all persons in the universe represented by the sample.
Keep up with all the latest Home Depot news!
Subscribe
to our bi-weekly news update and get the top Built from Scratch stories delivered straight to your inbox.
Related Stories & Articles: