Paid Parental Leave: Dads Share Why Having Bonding Time With Their Newborns is a Beneficial Boost
April 16, 2019
Growing families will have more time to bond with their newest family members, thanks to The Home Depot's paid parental leave benefit.
Melissa Mykulak, Home Depot Exteriors associate program merchant, was instrumental in its launch. "Although, I'm not in human resources, I was very passionate about [parental leave]," she says. After Melissa researched and delivered a series of presentations to HR leaders, the updated policy started in July 2018.
In addition to six weeks of paid maternity leave, the benefit gives up to six weeks of paid leave to all eligible associates who welcome a new child into the family through birth, adoption or foster care. Fathers like Matt Sullins and Shay Thomas found taking advantage of the leave beneficial for their families – and their careers.
Matt Sullins and his wife had a big surprise when they went in for an ultrasound. "We saw there were actually two babies. We were in shock for about 10 minutes," Matt explains. Then came another surprise. "The technician's eyes got big, and we said, 'Is that a third baby?'"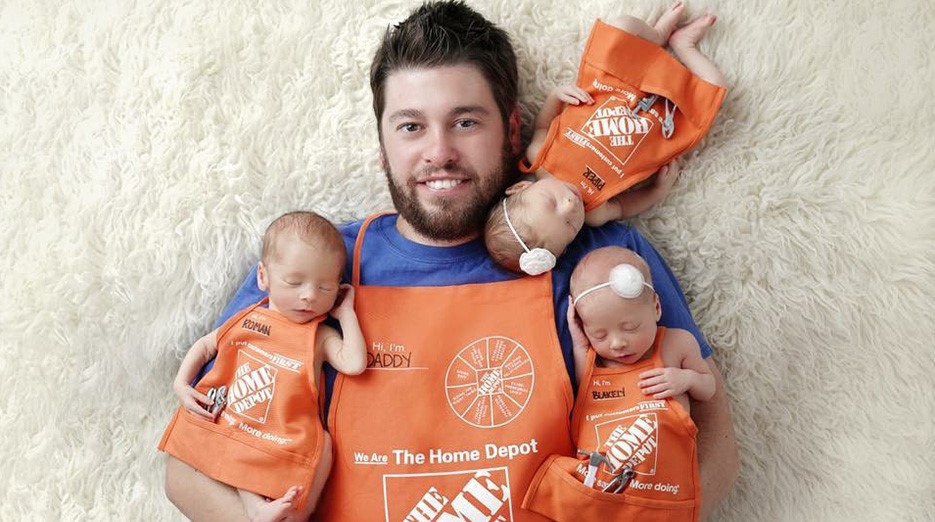 Image courtesy of Shannon Leigh Studios 
His wife spent the final 10 weeks of the pregnancy on bedrest, so Matt, a Garden associate, started preparing to take paid parental leave. "With multiples, you don't know when your babies are going to be born," he explains.  Matt's supervisor guided him to the HR Service Center and when his triplets were born his leave began immediately.
The Sullins family greatly benefitted from having Matt at home. "With having three of them, we couldn't have done it without us both being there," he explains. It was an opportunity to help his wife recover and get to know his children.
Going back to work was smooth, although Matt was initially anxious. "My management team is the best," he says. "When I got back, I was able to hit the ground running, and the team here was happy to see me back."
Shay Thomas became a dad for the third time last November when his son, Micah, was born. "For my previous two [children], I didn't have more than 14 days away," says the district manager for northern Connecticut.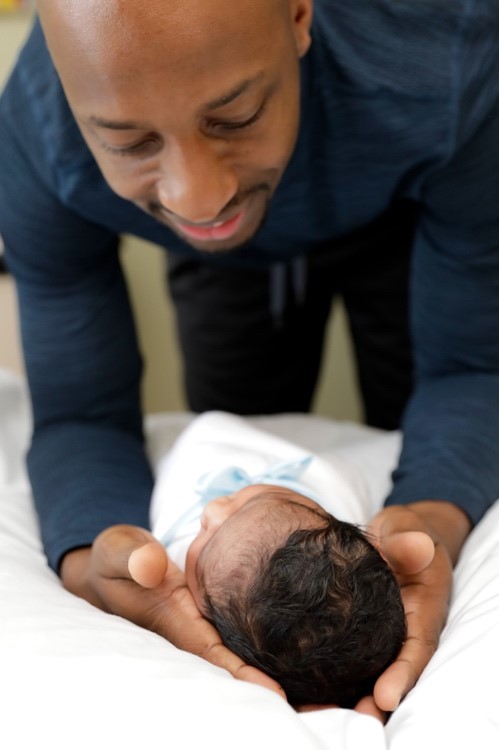 His wife was thrilled. "She couldn't believe the company would give me that time off," says Shay. 
But Shay, like many fathers found himself hesitating to take advantage of the benefit. "I prided myself on being a guy who didn't take time off. Especially when you've been doing it for so long. I had to get past the mental block." With his Regional Vice President championing the program, Shay submitted his leave request and was able to be home to help his family.
"It will make you a better leader for your people, and your home will be happier and healthier," Shay reflects.
Keep up with all the latest Home Depot news!
Subscribe
to our bi-weekly news update and get the top Built from Scratch stories delivered straight to your inbox.
Related Stories & Articles: