TEAM DEPOT CELEBRATES NATIONAL VOLUNTEER WEEK
April 23, 2017
Giving back is in The Home Depot's DNA. Thousands of associates dedicate their time and talents to give back in their communities throughout the year as part of Team Depot, the company's associate-led volunteer force.
We're shining the spotlight on @TeamDepot for National Volunteer Week, April 23 – 29th. Follow along as associates tackle projects in five cities, in five days.

Tuesday, April 25 – Baltimore, MD
A Baltimore high school is getting some much-needed improvements this week from more than 100 volunteers. Frederick Douglass High School is near the epicenter of the 2015 riots. School leaders say many of their plans for the school have been put on hold until the area stabilized. Now Team Depot, The Cal Ripken Sr. Foundation and United Healthcare are partnering to update the school's outdoor spaces and athletic facilities. On Tuesday, volunteers created an urban garden, built new weight equipment and made improvements to the baseball field.
"It may not seem like a big thing, but a dream is coming to fruition in this urban garden," says Principal Kelvin Bridgers.
"This is going to make a difference. Knowing the history of this area, we know it will make an impact for many years," says Team Depot volunteer Scott Tavegia.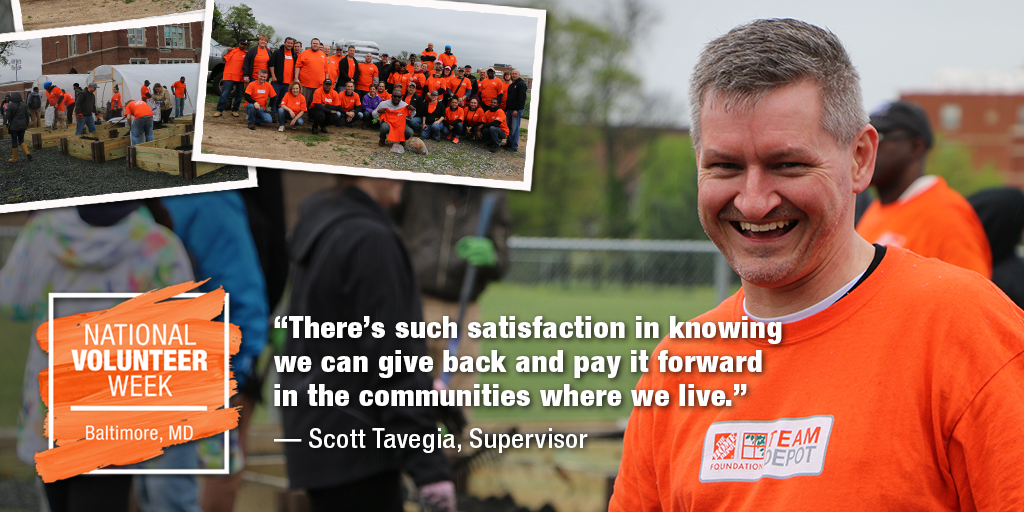 Wednesday, April 26 – Kansas City, MO
Team Depot built a playhouse today for a veteran's grandson, Blake. Doctors found a tumor on Blake's brain at just 2 years old. Although surgery removed most of the tumor, doctors were unable to remove a dangerous portion on the stem of his brain.
Now 9 years old, Blake travels from Prairie Village, Kan. to Houston bi-annually for checkups and proton treatment to manage the tumor. Although he is stable, Blake's family lives with the constant fear that the tumor will grow. Blake's right hand has been left paralyzed and he wears a leg brace on his right leg.
Volunteers built a large deck that will house Blake's playhouse on one side and provide an area for his family to gather on the other. A ship's ladder replaced the steps to build in a form of therapy that is fun for Blake. Volunteers also built a fire pit and completed landscaping around the home.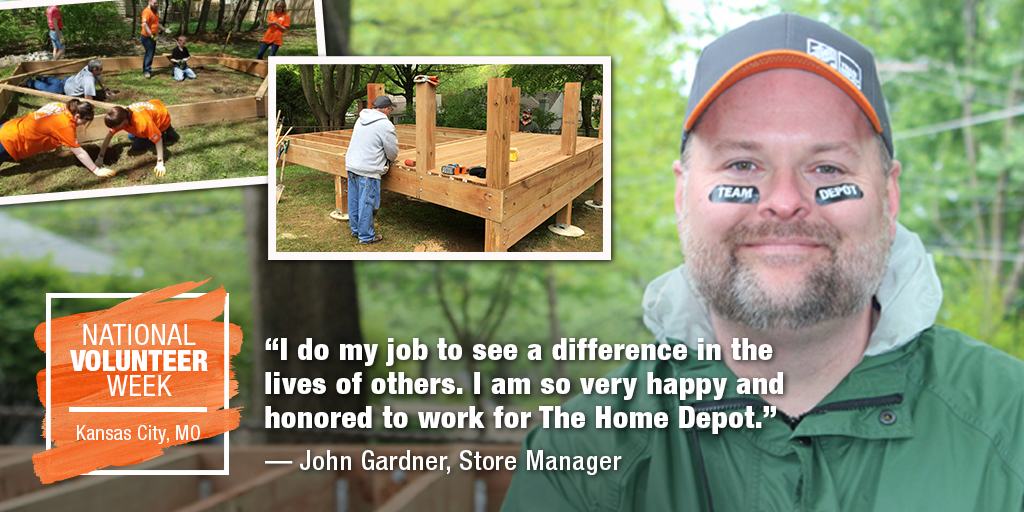 Thursday, April 27 – Atlanta
Several dozen families will be impacted by the work of Team Depot in Atlanta. More than 100 volunteers worked with HouseProud Atlanta and Furniture Bank to assemble furniture, construct benches and build planter boxes. Some are going to four veteran families in the Peoplestown neighborhood.  Much of the furniture will go to families and individuals coming out of homelessness.
"I give back in Atlanta because I love my city," says Team Depot volunteer Cory Daniels.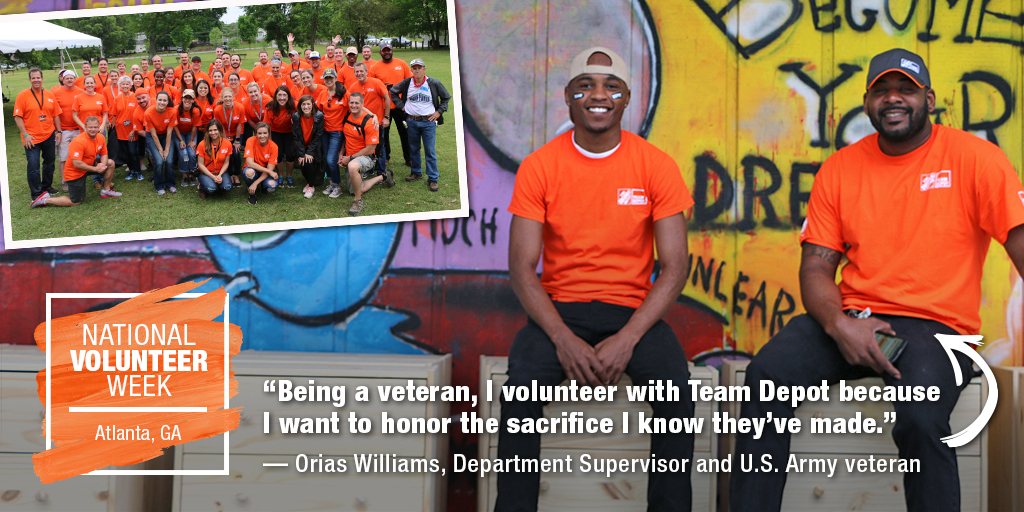 Friday, April 28 – La Habra, CA
Team Depot partnered with Habitat for Humanity Orange County on "Love La Habra," a neighborhood revitalization effort. A total of nine homes are being refreshed through the movement, but Team Depot worked specifically on the home of the Ramos family. Projects included major yard clean up, landscaping and painting.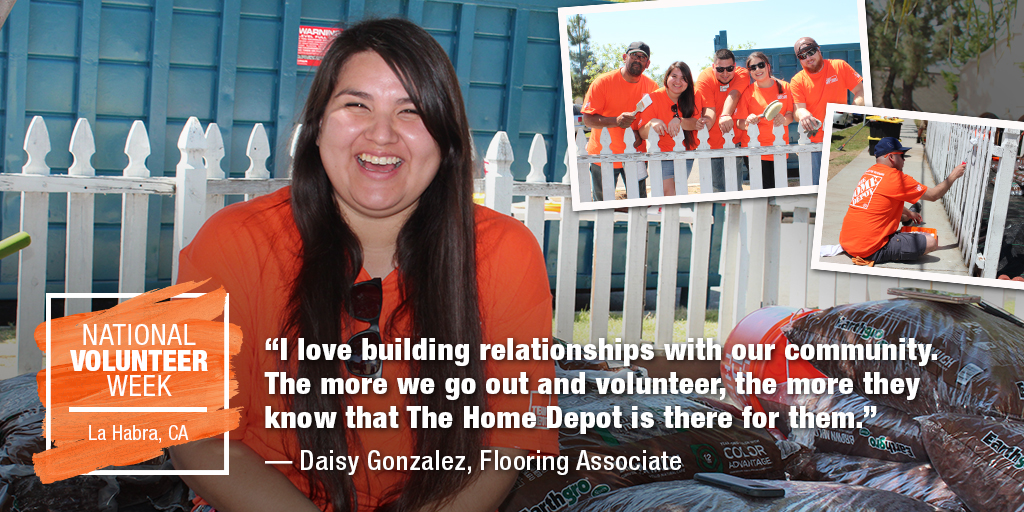 Saturday, April 29 – Shrewsbury, MA
Seven schools in Shrewsbury, MA have new gardens thanks to Team Depot. Volunteers partnered with school leaders, parents and students to build the gardens that will be used to grow vegetables and herbs. Parker Road Preschool is incorporating the garden into its curriculum and much of the produce that's grown will be donated to veterans organizations in the area.
Sales specialist Rebecca Linton participated as a Team Depot volunteer for the first time.
"Coming out with Team Depot for the first time has been a refreshing experience," she says. "Volunteerism with a heart."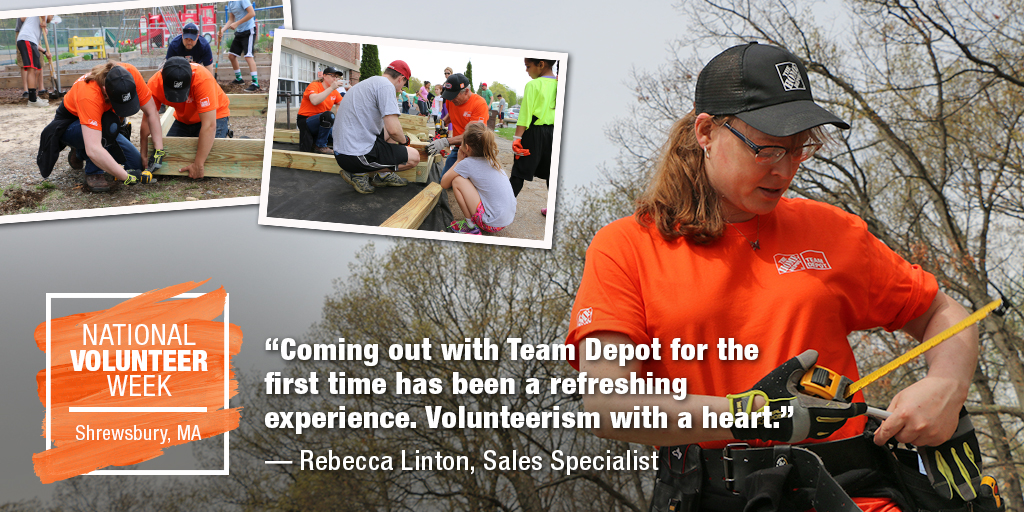 Thanks to all the hard-working volunteers who made this year's National Volunteer Week a success! Here's a look back at the projects Team Depot tackled across the country this week:
Keep up with all the latest Home Depot news!
Subscribe
to our bi-weekly news update and get the top Built from Scratch stories delivered straight to your inbox.
Related Stories & Articles: