The Mission Continues: Veterans Serve Atlanta's Westside
July 06, 2017
For many veterans, returning home from a tour of duty presents a host of new challenges, from feeling out of sync with society to struggling to find a new purpose after serving our country. 
The Mission Continues is a nonprofit that empowers veterans who are adjusting to life at home to find purpose through community impact. Last month, the organization deployed more than 100 military veterans from across the country to unite in Operation Westside Surge, a week-long service marathon in Atlanta's Westside community.
"Veterans are a powerful force when called upon to serve," said Spencer Kympton, U.S. Army veteran and president of The Mission Continues. "Today, the Westside faces challenges that many veterans encountered in communities around the globe while on active duty."
Volunteers spent the week beautifying community spaces, increasing access to urban gardens, and joining forces with Team Depot to support Quest, a nonprofit that offers affordable housing and other supportive services for vulnerable populations in Atlanta. Projects around the facility included landscaping, painting and building patio furniture.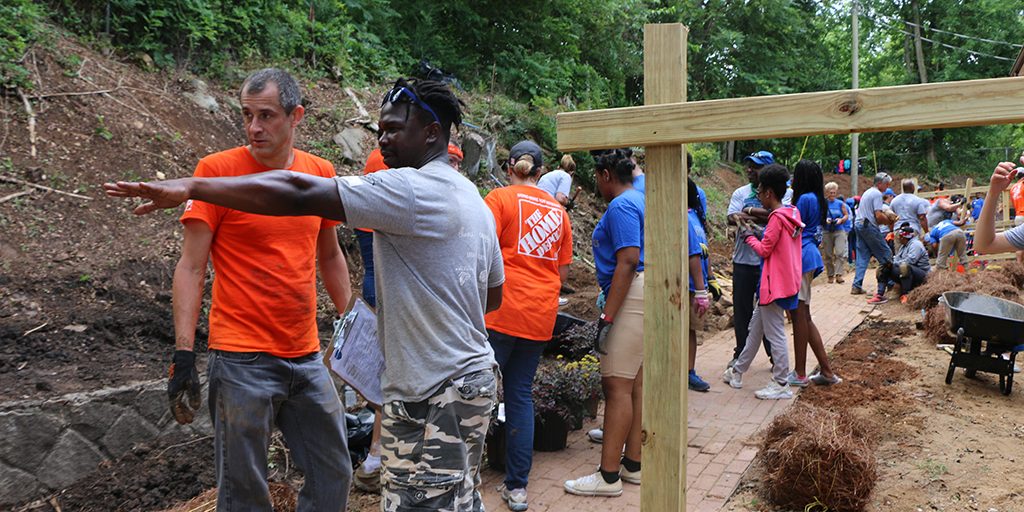 "Service doesn't necessarily mean putting on a uniform and going to some faraway land. It starts right here at home," said Hipolito Arriaga III, a U.S. Marine Corps veteran. "The Mission Continues is different because we are invested. We live in these communities, and we want to see these communities prosper."
The commitment to Atlanta's Westside community doesn't end with this operation. Fueled by the combined support of The Home Depot Foundation, The Arthur M. Blank Foundation and The Marcus Foundation, The Mission Continues will continue to serve and make a long-term impact in Atlanta's Westside neighborhoods.
Keep up with all the latest Home Depot news!
Subscribe
to our bi-weekly news update and get the top Built from Scratch stories delivered straight to your inbox.
Related Stories & Articles: