Meet Homer: The Home Depot's Much-Loved DIY Mascot
January 23, 2015
How well do you know Homer D. Poe? The Home Depot's mascot was created over thirty years ago, yet still remains a friendly and helpful presence at the company. Seen at events and on paper, the DIY character leads a high-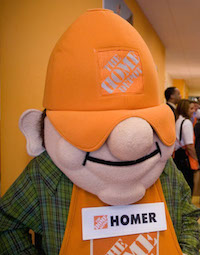 profile existence with many costume changes. Whether he is putting on a swimsuit for summer or a werewolf costume for Halloween, Homer has been featured in a variety of ways over the past three decades.
Check out the images below to see some of our favorite drawings of the mascot, and click on the circle to learn a little bit more about the much-loved caricature.
Keep up with all the latest Home Depot news!
Subscribe
to our bi-weekly news update and get the top Built from Scratch stories delivered straight to your inbox.
Related Stories & Articles: