Inside the Word Room: Sarah Fishburne Talks Fall Trends
October 14, 2014
A world-traveler and studied style scout, Sarah Fishburne directs trend and design at The Home Depot, seeing ideas from inspiration to fruition on the shelves of Home Depot stores.
Sarah and her design team radiate creativity and their workspaces are filled with textures and hues inspired by current and emerging trends. We caught up with Sarah in her work room to see what she has in store for fall and what's inspiring her this season.
What part of the design process takes place in your work room?
Just about everything, from laying out palettes or designs to brainstorming.  When working through the design process, you need to look at what you've put together a bunch of different times to make sure it is clicking. I really encourage the team to look at it over a few days, because in the light of the new day, you see things you might have missed, or you solidify that you're on the right path.
What are your work room must-haves to keep the creative juices flowing?
Magazines! Our team loves pulling tear-sheets for inspiration. The work room is stacked with fabric swatches, paint fans and tile pieces, and we love to use finish samples that show metal and wood finishes to spark inspiration.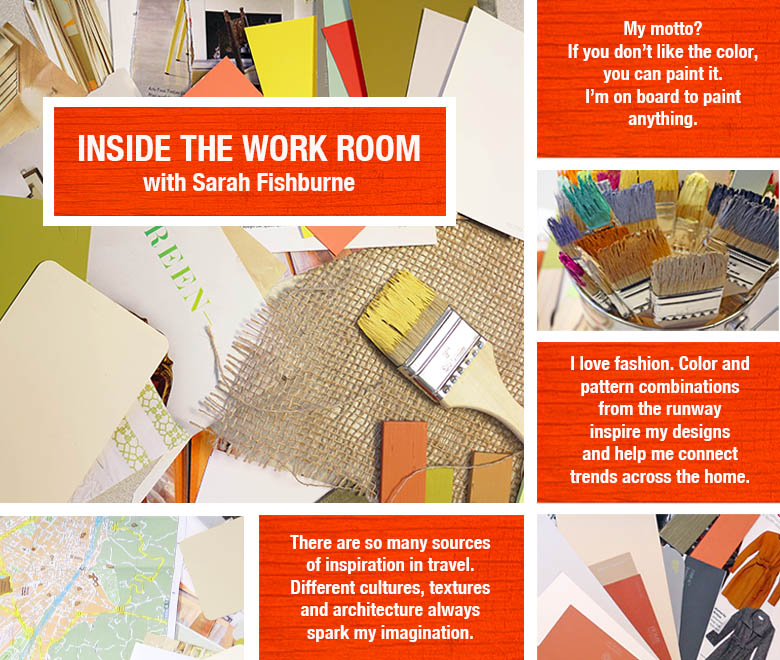 What's your favorite source of inspiration this season?
I'm inspired by the fashion from the runway—with the advent of social media, it's almost instantaneously incorporated into the home. Fall is the perfect time to take a cue from fashion. Layer fabrics and colors in your home like you'd layer your wardrobe.
What excites you the most about fall this year?
I love this time of year—it's the perfect chance to get out and decorate before heading into the sometimes chaotic holiday season. I really like Home Depot's harvest décor this year, a first for us, especially our selection of luminaries, wreaths and all the burlap accents woven through the assortment. Something I love about this year's trend is that if you put up Harvest or Halloween decorations, many times it looks good all the way through Thanksgiving.
What's one design tip to help shoppers make the most of fall in their home?
Pick one project to concentrate on and tackle.  Planning multiple projects at once can be overwhelming, and you can miss something or never finish any of them.  Fall is the perfect time for a project like enhancing curb appeal. The weather is getting more pleasant and it is a great time to spend outdoors.  You can replant your flowers, paint the front door, clean up the yard, add a fence or replace or repaint one, paint your deck, update your outdoor lighting, refresh your mailbox, add a fall wreath, decorate for Halloween and so much more.
A quick tip for when the seasons change: When you switch out your flowers, also change up your wreath and doormat. It finishes the story.
Craving more design ideas from Sarah and her team? Check out the team's daily design inspiration on Design Meets Style, and follow Sarah on Twitter at @SarahFish36.
Keep up with all the latest Home Depot news!
Subscribe
to our bi-weekly news update and get the top Built from Scratch stories delivered straight to your inbox.
Related Stories & Articles: