TAKING CARE OF EACH OTHER DURING DISASTERS
April 12, 2017
Anthony was hard at work at The Home Depot in Rowlett, TX when the rumblings of a serious storm reached him.
"I'm never really been one to take [storms] extremely seriously in the area," Anthony recalls. "But we did the protocol of getting everyone to a safe area… the whole time I'm trying to get in touch with my wife. There was bad service all night, so I just tried to finish the job at hand."
As Anthony worked to secure the store, an EF4 tornado ripped through Rowlett and the neighboring town of Garland, TX.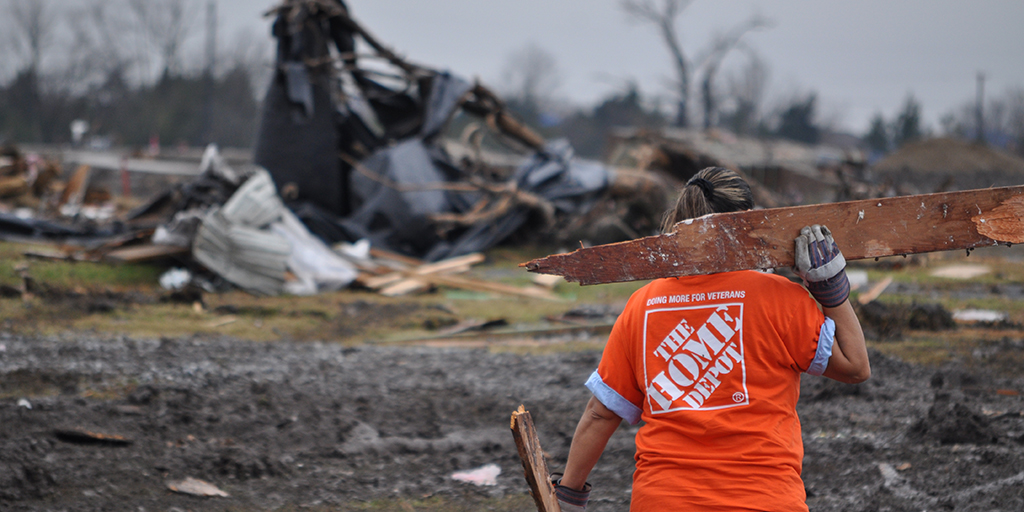 Thankfully, Anthony's family was safe, but they lost their roof, ceilings, interior flooring, and most of their personal belongings to the tornado.
Anthony's orange-blood family was quick to rally around him, securing a grant through The Homer Fund to ensure he had the means to put his life back together.
Anthony's story is not unique. In fact, The Homer Fund has provided assistance to more than 11,000 associates affected by natural disasters and awarded more than $14.8 million since Hurricane Katrina in 2005.
Hear Anthony's story:
Keep up with all the latest Home Depot news!
Subscribe
to our bi-weekly news update and get the top Built from Scratch stories delivered straight to your inbox.
Related Stories & Articles: