Army Veteran and Home Depot Associate Says Values-Based Culture is Key
November 23, 2021
Richard Cranford is an Army veteran who served our nation for 24 years. Today, he's a contact center manager at The Home Depot's Human Resource Service Center. 
Richard was raised in an Air Force family. Born in Taiwan, his childhood was spent traveling overseas where he lived in Europe from ages three to 17. Military communities in the Netherlands, Greece, Belgium and Germany gave him unique insight into different cultures. "We were able to grow up immersed in the diverse and inclusive communities that form in the U.S. military."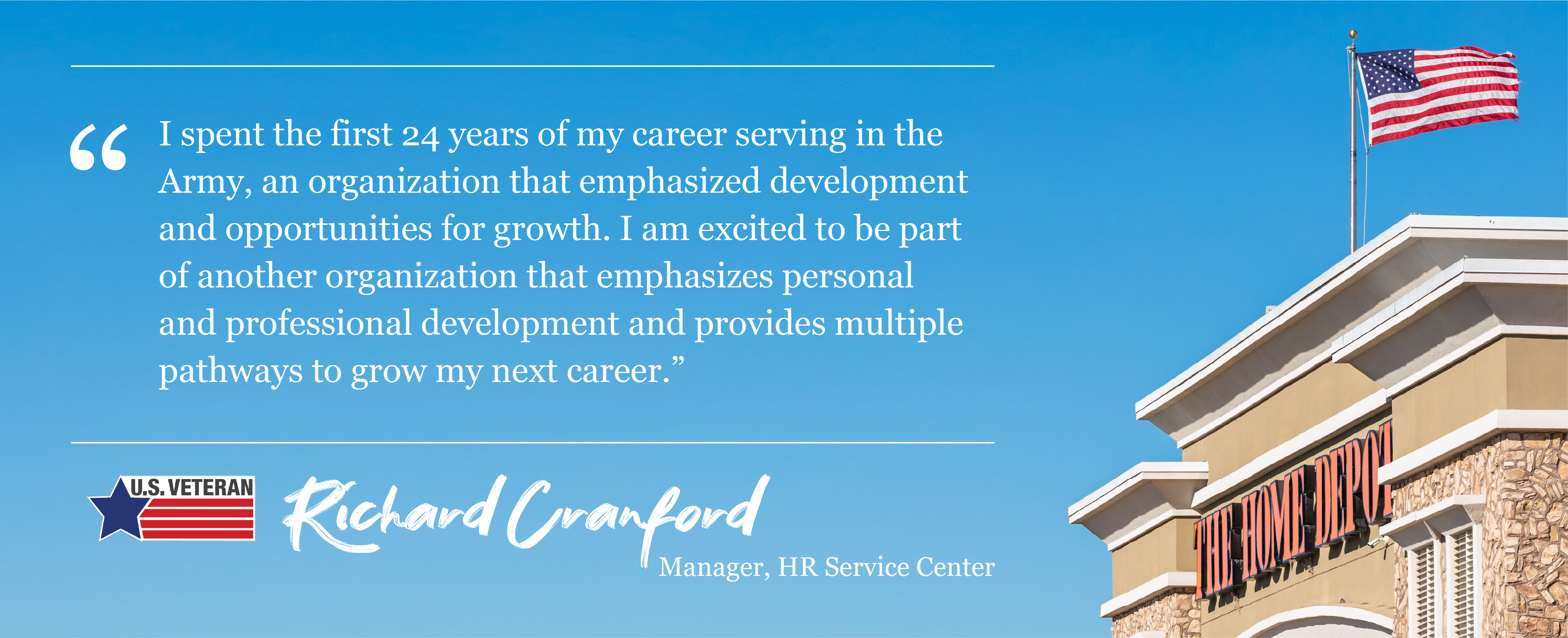 It was Richard's father who encouraged him to pursue a future in the United States Armed Forces. It felt like a natural next step after finishing high school, and Richard saw it as an opportunity to receive free higher education. "Growing up around the military, I didn't really appreciate what a significant decision choosing to serve in the military was," he says. "It was something that I thought was very natural and that anyone would do."
Richard participated in numerous operations throughout his Army career. He helped secure the Pentagon following the 9/11 attacks, was deployed to Iraq and Afghanistan and assisted with peacekeeping in Kosovo and Bosnia-Herzegovina during times of turmoil.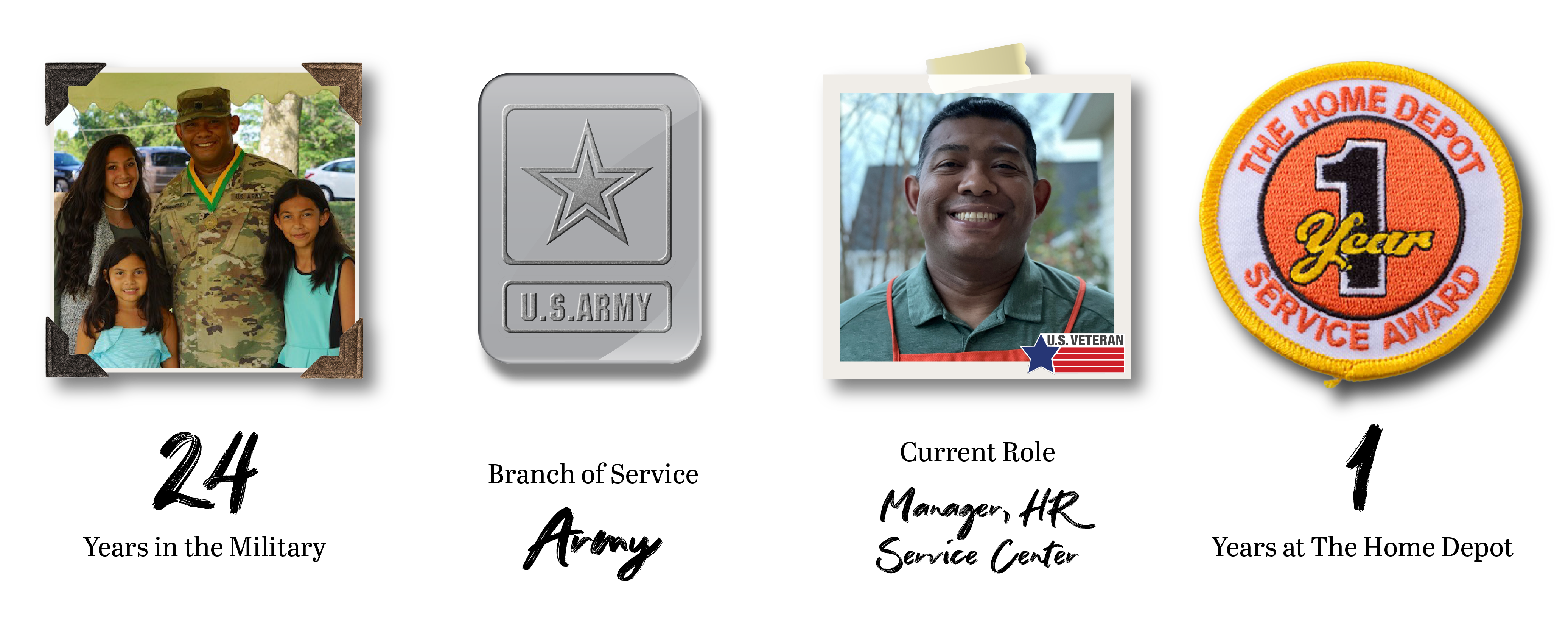 After retiring from the military, it was the values-based culture that originally attracted Richard to The Home Depot. He believes in the company's "people-first focus" and the "commitment to developing and growing associates."
Richard first experienced those values as a Hiring Our Heroes Military Fellow, a program supporting veterans transitioning into a second career. Since then, he has taken every opportunity to discover new professional passions as a Home Depot associate.
Richard's favorite thing about working at The Home Depot is the people. As someone who used to relocate every 12-24 months in the Army, he cherishes the opportunity to cultivate relationships. "I can't imagine working with better people than the associates I have met and partnered with during my time at The Home Depot."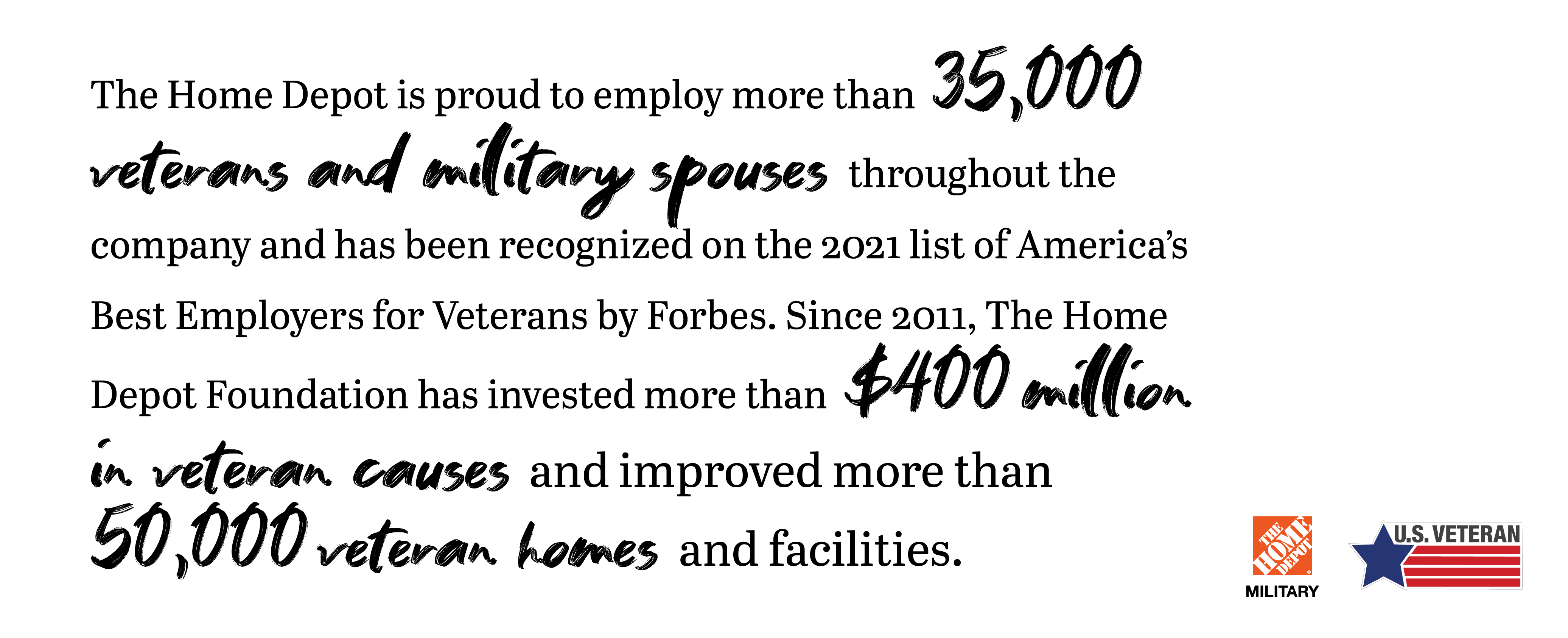 To learn more about our veteran initiatives, visit HomeDepotFoundation.org. If you're a veteran looking for career opportunities at Home Depot, visit www.careers.homedepot.com/military.  
Keep up with all the latest Home Depot news!
Subscribe
to our bi-weekly news update and get the top Built from Scratch stories delivered straight to your inbox.
Related Stories & Articles: