From Cashier to District Manager: Shenell's Journey to Success
March 17, 2021
Shenell Leighton has built her career at The Home Depot step by step. Originally joining the company as a cashier, she worked her way up into multiple supervisory roles. Today, she is the district manager for a district in the New York Metro region. Looking back on her Home Depot career, she says, "It has been a journey that has felt more like a dream." 
Back in 2000, Shenell was a college nursing student tagging along with her grandparents to their local Home Depot store. They encouraged her to apply for a job there. At first, she wasn't that interested, despite the store's closeness to one of her favorite places – the mall. But a friend convinced her to give it a try. "My friend unknowingly became a walking billboard for the company," says Shenell. "Every time she spoke about work, it was always so positive. It made me want to join." 
After finally applying, Shenell didn't receive a call. "This struck an even deeper chord within me and made me more determined to work for The Home Depot." Not one to give up, Shenell called until she connected with an assistant store manager and received an interview. "The day I walked through the doors of the store was one of the most exciting and nervous days of my life. Looking back, it was one of the best choices I made."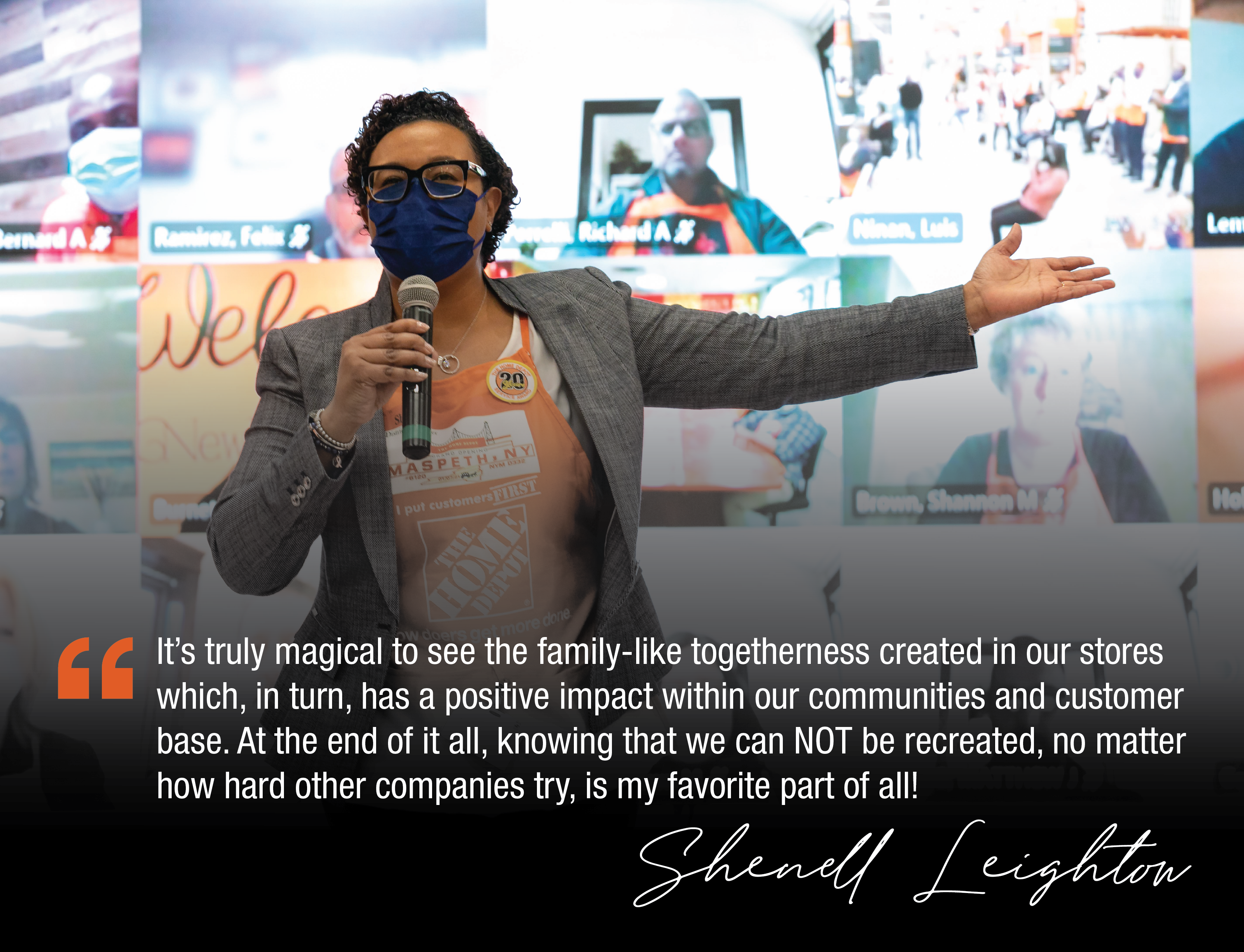 Shenell continued her studies at Queensborough Community College while working at The Home Depot. She was offered the position of operations assistant store manager during her senior year. At that point, she chose to continue her career with the company rather than go into the nursing profession. "I made the conscious decision for my family and my future to accept the role. Although I'm not a nurse, I'm proud that I currently help so many people in the same way that I aspired to as a nurse."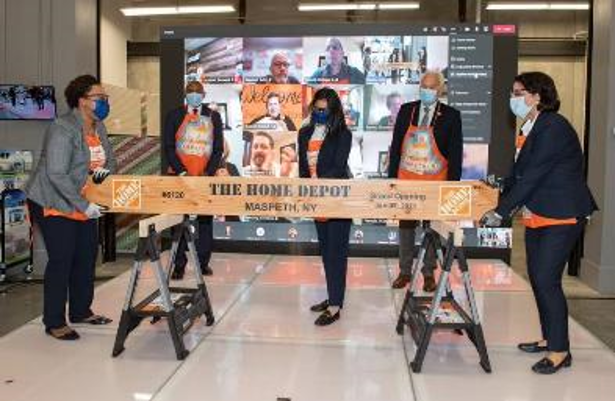 Shenell has a history of being a leader at The Home Depot, inspiring many teams as a head cashier, front-end supervisor, operations assistant manager, asset protection manager, district operations manager, co-store manager, store manager and – now – district manager. When asked about her leadership style, she points to an example made by the team who helped her as a new associate. 
"In the early years of my career, I became very ill and had to have a major surgery," recalls Shenell. "While on leave of absence, my leadership team continuously checked in with me to see how I was feeling." The team demonstrated Taking Care of Our People, one of the many values alive at The Home Depot, and Shenell never forgot it.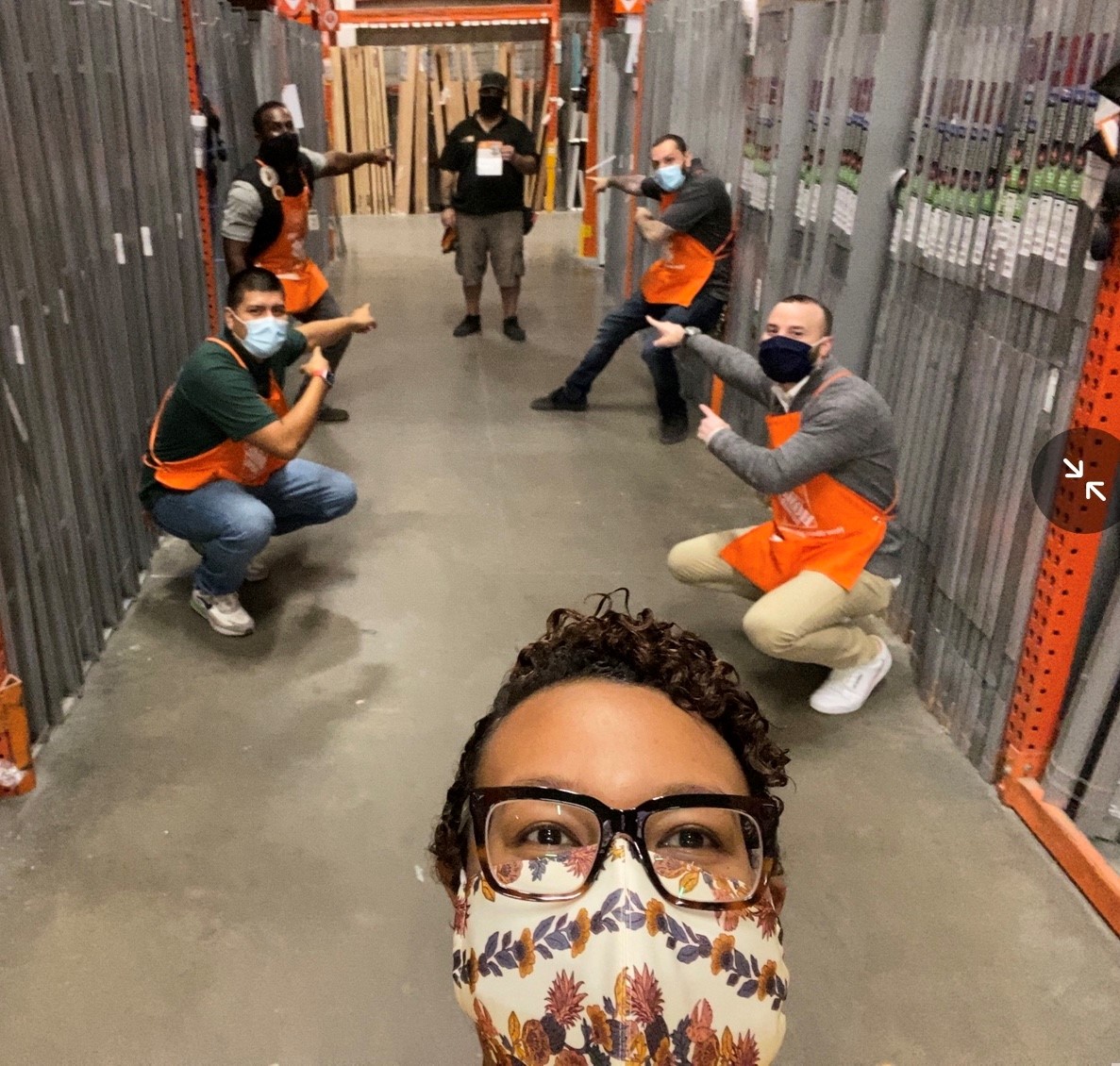 "It forever changed my perspective on how leadership interaction isn't just about the day-to-day tasks and responsibilities, but the true care of your associates," says Shenell. "Those behaviors mirrored my personal values that were instilled in me by my grandmother: treat people the way you want to be treated." 
Keep up with all the latest Home Depot news!
Subscribe
to our bi-weekly news update and get the top Built from Scratch stories delivered straight to your inbox.
Related Stories & Articles: