From Parade Floats to Pallets: Artistic Associate Paints His Way Around the Store
July 14, 2020
For a local Home Depot store in Norfolk, Virgina, summer officially arrived once Store Associate Sean Galvin finished his annual art project: painting their mulch pallets.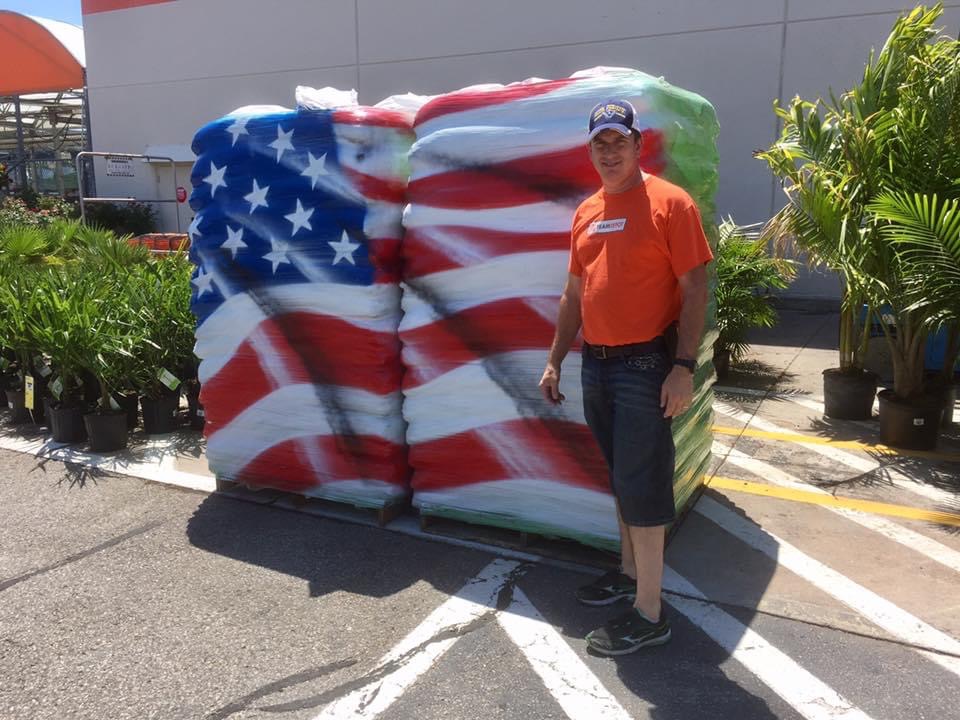 Sean's passion for art goes back to his childhood. "I had always drawn from an early age. In high school it was mainly oil painting," says Sean. He turned that passion into a career in his 20 years in the U.S. Navy as a 1st Class Illustrator Draftsman. 
For the past 14 years, Sean has been painting the massive pallets of mulch lined up in his store's parking lot. "I believe it started from painting directional pallets for a mulch sale," says Sean. 
After showing off his skills by painting other projects throughout the store, Sean was approached to paint the pallets. At his store, Sean's favorite pallet paintings are a tie between the flowers and the American flag designs (pictured above). But pallets are only one of the big projects he's created for his store. 
"When I do store projects, I make sure there is coverage, and that the customers are taken care of first," says Sean. "From creating a fun cornhole and the yearly Saint Patrick's Day float to the special project for a kid in a wheelchair for Halloween, the list of projects I've done here goes on and on."
Today, Sean experiments with many styles of art. He recently built a shed with a painting loft. "As time frees up and my kids grow out of the house, I'm sure I'll try more mediums."
Keep up with all the latest Home Depot news!
Subscribe
to our bi-weekly news update and get the top Built from Scratch stories delivered straight to your inbox.
Related Stories & Articles: