Camera, compass, pedometer, stereo—your smartphone is already much more than just a phone. Thanks to Ryobi, the digital device now belongs on your toolbelt—or at least figuratively speaking. The power tool manufacturer has introduced a line of Phone Works products as well as a corresponding app that, together, promise to make projects large and small easier for amateurs and professionals alike.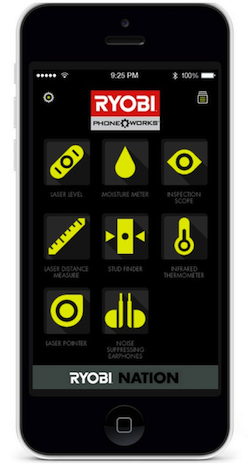 "We thought, why not take traditional electronic hand tools and combine them with the easily accessible technology that comes with a smartphone to help guide DIYers?" saysJason Swanson, vice president of communications at Ryobi. Thus, the Ryobi Phone Works Laser Level, Moisture Meter, Inspection Scope, Laser Distance Measurer, Stud Finder, Infrared Thermometer, Laser Pointer and Noise Suppression Earphones were born.
The process is simple: download the free Phone Works app on your iPhone or Android device, activate your tool and then attach it. The app allows you to integrate new elements and functions. You can easily save photos and videos, geotag locations and add voice memos to any project.
For Ryobi, the challenge was to develop a line of products that would meet the demands of both a homeowner and a professional. "We wanted a product easy enough for a DIYer to use and understand, but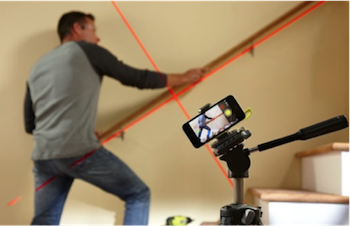 sophisticated enough to appeal to a contractor," notes Jason.
Ryobi is finding that many DIY first-time users are buying one Phone Works product and then coming back for more. Jason's personal favorite is the Laser Level, "It's always a challenge to line items up. The fact that you can project a line without having to actually attach anything to a wall is pretty cool."
Homeowners interested in weatherizing their houses can use the Infrared Thermometer to determine areas that may be letting the cold or heat into their living space, depending on the season. By capturing the information on the phone through the app, an associate at a Home Depot store can help find the perfect solution.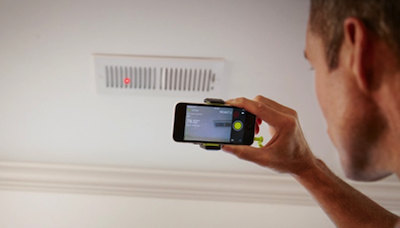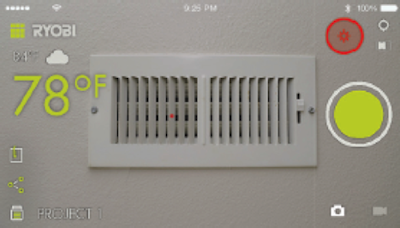 The Infrared Thermometer tracks surface temperature and displays a read-out on your smartphone screen.
You can even use the Inspection Scope to examine an area that's otherwise not easily accessible. Capturing videos and images of what's happening behind walls and inside pipes makes it easy to find solutions to problems that may be brewing.

Ryobi hopes to add to the line of existing Phone Works products, as well as continue to update the app. One of the greatest benefits lies in the ability to evolve the app over time. "Since Phone Works is a living and breathing software program, we can continue to update the app and functionality of the tool without adding cost to the consumer," says Jason.

The Phone Works system is just the beginning for Ryobi and the power tool space. It's clear that current technology is only scratching the surface of what's possible to make projects easier and more convenient for both the homeowner and the professional.