Whether your desire is to dine, entertain or lounge, patios are the perfect place to retreat and enjoy the more pleasant seasons. Outdoor areas, like patios, porches and roof decks, have evolved into a true extension of home living, both in function and design.
To give us insight on outdoor living room trends and emerging patio styles, we talked to Sarah Fishburne, director of trend and design at The Home Depot.
Has the role of the patio changed over time?
It has—customers are investing more in their outdoor space. During the recession, families were taking fewer vacations and focusing more on making their patio a getaway. While people are back to enjoying vacations, customers are still investing in this area of the home. As soon as the weather is nice they are using the space to grill, garden and entertain—so people are really focused on letting it reflect their style.
How are people using the space?
Dining is still the main use for patios and other outdoor lounge areas. It typically comes down to space. Homeowners want a place to eat while entertaining their family and friends.
Is patio furniture evolving?
Absolutely—furniture has better design now and is overall more comfortable. The quality has also improved. As customers invest more in their outdoor rooms, they want to have it all and get it for a price that fits in the budget.
What type of influence does region or geography have on outdoor spaces?
Because of differing weather patterns, where you live really affects your choices in patio. On the coast you want aluminum sets because the salty air corrodes steel. In the North and Midwest, customers want heavier steel sets that hold up during strong winds. In the South, lighter colors are more popular because of the intense sun.
Colors also vary regionally. The Northeast tends to favor classic and traditional colors like reds and navy. In the Southwest, earth tones such as terra cotta and gold are more popular. The South leans toward a brighter, citrus palette with aqua and corals.
What color palettes and style trends are up and coming this spring?
Like we have seen across multiple channels (including fashion), all shades of blue—from navy to aqua—are trending right now. If you're looking for a color that is timeless, choose red. Whether it's a chili or ruby red, it never goes out of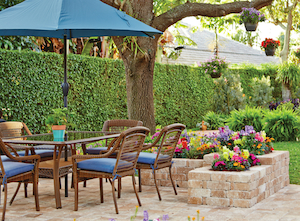 style.
The Home Depot offers customers the ability to mix and match pieces. What does this mean?
Being able to special order fabric on a new patio set is something you used to only find at very high-end specialty retailers, which typically resulted in an upcharge and pretty long lead time. We're offering it in a way that's more affordable and accessible. With mix and match, you can order another color for no additional charge and get it in approximately two weeks.
What's next for the patio and outdoor living spaces?
Designs will continue to follow what we are seeing inside the home. The material quality will only continue to improve, and customers will replace patio furniture because they want an updated look, not because it is broken or worn.
Want to design your dream patio? Check out trending regional color palettes below and visit Home Depot's Create Your Own Collection Tool. With 16 frames and 15 color options, you'll be able to mix and match a set that's perfect for you.