Whether you're wrapping, gift-bagging or mailing, there are several ways to decorate presents for your loved ones. But between the signed card and Scotch tape, there's one thing you don't want to forget: the gift receipt.  
Here's how to request one, and what to do if you didn't.   
In-Store 
To receive a gift receipt at your local Home Depot store, ask the associate behind the register to print one out for you. Remember that a gift receipt can be created during or immediately after your transaction, but once an associate begins ringing up another customer on that register, a gift receipt cannot be printed. 
Self-Checkout 
Gift receipts are easy to print at self-checkout. Simply complete your transaction and ask an associate for help at the register before you walk away. They will print a gift receipt at the self-checkout machine you just used.  
Online 
Traditional gift receipts aren't needed for online orders, as the order is tied to your online account. Instead, return options include taking your purchase to the nearest store with a copy of the order confirmation or shipping email, or by starting a return online. Visit this helpful Q&A for more information about online returns. 
+1. If You Lost or Forgot a Receipt 
Receipts ensure you'll receive a full refund of the original amount paid for an item. If you lose your receipt, a Home Depot store may be able to perform a receipt lookup and locate yours within our system. 
To perform a receipt lookup, you must show the debit card, credit card, gift card or check used to make your original purchase. That, along with any of the following information, gives a Service Desk associate the highest chance to locate your receipt: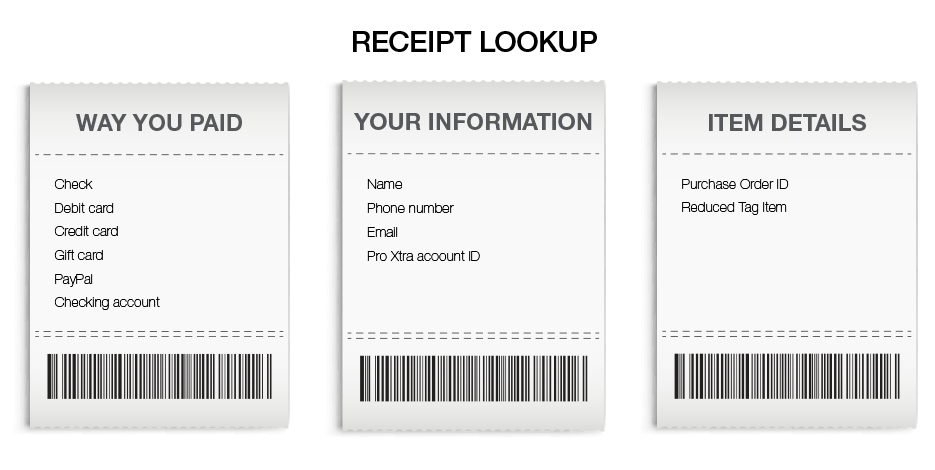 Visit your local store to perform a receipt lookup within 90 days of purchase if paid for by check, credit card or debit card, or within 365 days of purchase if paid with The Home Depot Consumer Credit Card, The Home Depot Commercial Revolving Charge or The Home Depot Commercial Account.  
To learn more about our receipt lookup and return policy, please visit HomeDepot.com.