Whether you're stuck in a dark house during a storm or planning a fully powered outdoor excursion, knowing what generator to have on hand will make sure you're ready the moment you need power most. With advancements like increased fuel efficiency, digital display features and noise reduction, today's generators are more convenient than ever.
To get started, determine if you need at generator for your home, business or for leisure and check out our generator wattage worksheet to calculate your exact wattage needs. Then, consider how often you might use different types of generators and your level of investment to narrow down your choices.

Powering the Home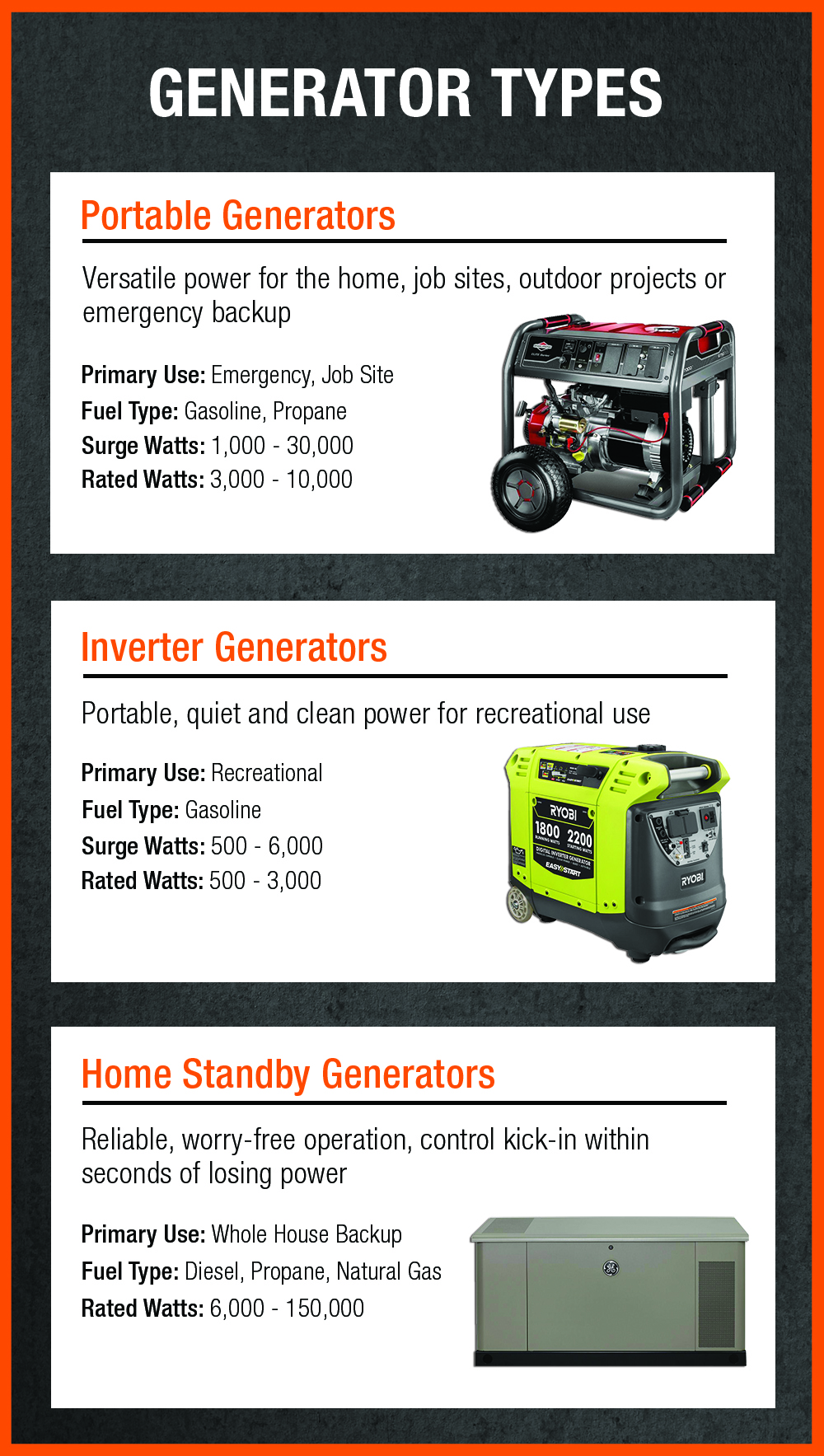 Most residential generators are on hand for backup power in case of an outage. A majority of home owners can get by with a 3,000 to 6,500-watt portable generator during a power outage to power necessities like HVAC, lights, refrigerators and other small appliances. For residential power outage needs, try Briggs & Stratton's 5,000-Watt Portable Generator or Ryobi's 5,500-Watt Portable Generator.
If you're looking for a more permanent solution, consider a home standby generator with wattage ranging from 6,000 to 150,000. These generators, which require professional installation away from openings in your home, are hard-wired directly into your home's electrical system and can be installed to power select appliances or to provide whole house coverage. A home standby generator automatically detects a utility outage, starts automatically and can run as long as necessary until the power is restored. The power provided by a home standby generator is safe for sensitive electronics and equipment. Try Generac's 22,000-Watt Air Cooled Automatic Standby Generator.
Preparing the Job Site
If you're going to be on a job site without electricity, a portable generator will help you operate your equipment with ease. Portable generators for the job site are designed for durability and long-term daily use with large fuel tanks for longer runtime and high-quality internal components for longer reliability. Other available features such as low oil shutdown, idle control and a wattage meter help make job site operation easier for the Pro user. To meet every day needs on site, consider an open frame portable generator with around 7,000 watts. Try DeWalt's 7,000 Watt Portable Generator.
Energizing Outdoor Events
For tailgaters, campers and outdoor enthusiasts, an inverter generator can boost outdoor events. These generators are lightweight, quiet and equipped to power tailgates, parties and other smaller outdoor gatherings because they are safe for sensitive electronics, like cell phones and TVs. Try an option like Ryobi's 2,200-Watt Green Gasoline Powered Digital Inverter to power your event. A single inverter provides up to 1,800 watts; when using two units in parallel they can provide up to 3,600 watts.
Safety Tips and Maintenance  
Once you have the right generator for your needs, follow these generator safety guidelines and make sure it stays outside of your home. Here are some of the top things to keep in mind:
Always read your owner's manual before operating your generator.
Always run your generator outside with the exhaust directed away from openings to your home or nearby buildings. Keep your generator at least 20' from any occupied building.
Portable generators cannot be connected directly to a house to provide power without the use of a manual transfer switch. A generator that is directly connected to your home's wiring can back feed onto the power lines connected to your home and injure neighbors or utility workers. An electrician will need to install a transfer switch to wire the generator power to the household circuits you want to run.
Storing a generator with fuel in it over a long period of time will diminish its performance. If you store your generator over time, drain fuel from the carburetor and gasoline from the tank, and be sure to dispose in a suitable container according to state and local ordinances. Always refer to your generator's owner's manual for specific direction.
Generators need to be kept dry and should not be exposed to weather. Do not operate a portable generator in the rain or in standing water. Weather conditions can also damage exposed areas, especially electrical, and may cause the unit to be inoperable.
Do not overload your generator. Overloading can seriously damage your valuable appliances and electronics.
Want to learn other ways to prepare for power outages or other natural disasters? Learn about our Hurricane Preparedness Workshops.