The Human Rights Campaign (HRC) Foundation works to make transformational change in the everyday lives of LGBTQ+ people. 
While The Home Depot has partnered with the HRC Foundation in the past to advance meaningful change, we've expanded our partnership to support multiple initiatives that align with key commitments around advancing education for all, specifically within diverse communities. 
Two HRC Foundation-led programs that the company is supporting are the Welcoming Schools program and the Historically Black Colleges and Universities (HBCU) program. The Welcoming Schools program focuses on preventing and ending bullying, which is often targeted at LGBTQ students. The HBCU program focuses on enhancing and promoting excellence in LGBTQ+ education, equity and engagement within HBCUs. 

"The HRC Foundation seeks to fundamentally change the way LGBTQ+ people are treated in our everyday lives," says Leslie Hall, HBCU program director at the Human Rights Campaign Foundation.  "Through the Welcoming Schools and HBCU Programs, we are working to promote excellence in LGBTQ+ inclusion, equity, and engagement. The partnership with the Home Depot enables us to build a network of committed leaders in pursuit of eliminating stigma for LGBTQ+ students."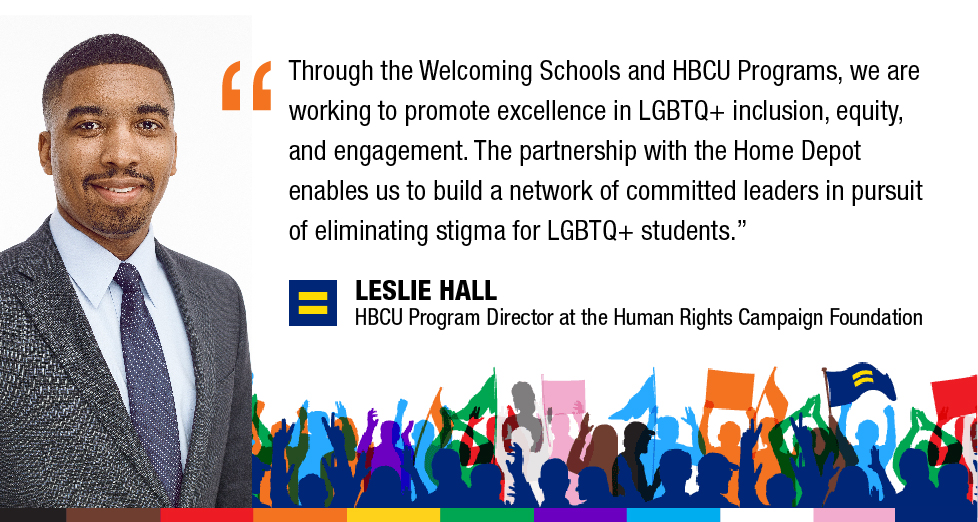 Since 2009, The Home Depot has invested millions of dollars to update and improve HBCU campuses across the country.  
"We are dedicated to intensifying our efforts to make a meaningful, sustainable difference in supporting change in our communities," says Kelie Charles, Home Depot's senior director of Diversity, Equity and Inclusion. "Our values guide us on everything we do. Supporting the Welcoming Schools and HBCU Programs are just the beginning of the expansion of our partnership with the HRC Foundation." 
 Working with organizations like the HRC Foundation, The Home Depot continues to build a more diverse, equitable and inclusive company, within our enterprise and the communities we're proud to serve.  
To learn more about the HRC Foundation, visit thehrcfoundation.org.