Sept. 28, 2023, marks the first anniversary of Hurricane Ian. Over the past 12 months, The Home Depot Foundation has teamed up with local nonprofits to help communities in southwest Florida recover from the storm.  
In the aftermath, the Foundation committed $1 million to support immediate response and recovery in the area. In the weeks that followed, the Foundation donated an additional $200,000 to Inspiritus, one of its national partners, for long-term recovery. With this funding, they have repaired more than 200 homes and completed over 400 recovery projects. Recently, they're focusing their efforts in the Fort Myers neighborhood of Harlem Heights.
Residents Julia and Leon rode out the storm at home. The couple was rescued by boat after more than three feet of water flooded their house. Just down the road, Lester is a military veteran who spent months living in his flooded car post-Ian. His home suffered severe water and termite damage, and he currently lives in a trailer provided by the Federal Emergency Management Agency (FEMA).  
There are countless stories like these and houses across the area that still need repairs. Team Depot, The Home Depot's associate volunteer force, recently partnered with Inspiritus to help renovate these homes in Harlem Heights. The projects include mudding, replacing doors, laying new floors and trim, installing kitchen cabinets and more.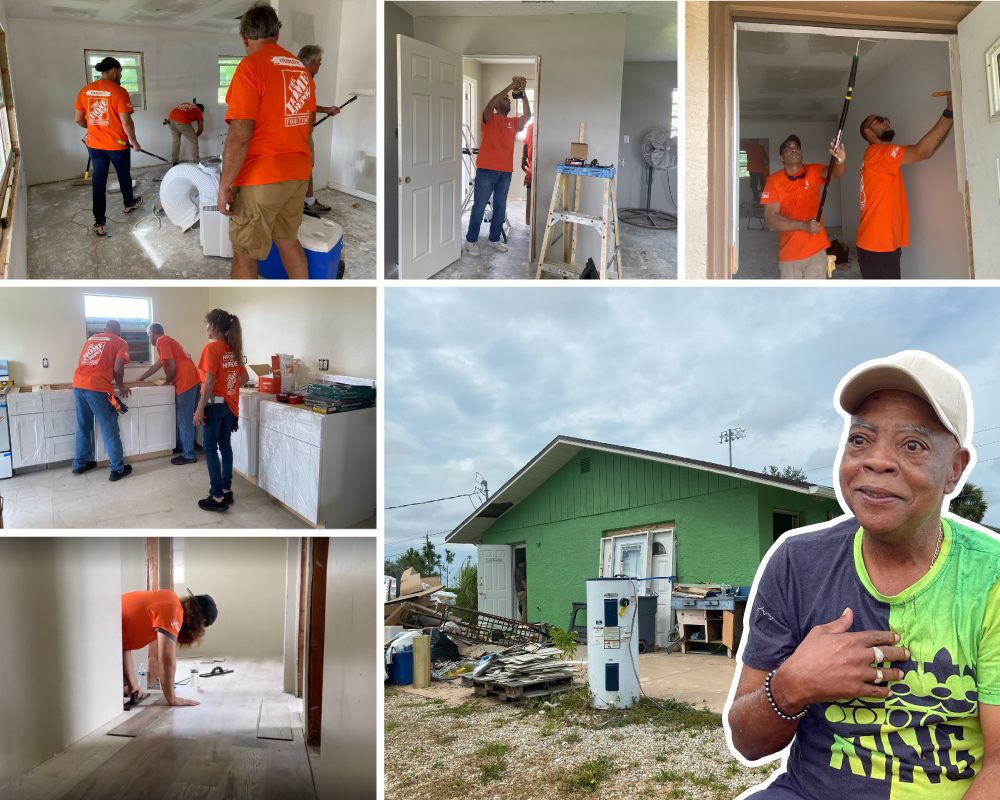 The Home Depot Foundation is committed to supporting communities with natural disaster preparedness, short-term response and long-term recovery.​ The Foundation supports communities impacted by natural disasters with ​the help of Team Depot and nonprofit partners including Inspiritus, American Red Cross, Team Rubicon, Convoy of Hope and Operation Blessing.​ Learn more at HomeDepotFoundation.org.