World War II veteran Anthony Erosky got a party from 60 strangers for his 90th birthday.
Team Depot volunteers blanketed his home and yard to give him a very special birthday gift: a home where he can safely age-in-place with his wife, Barb.
Team Depot and Purple Heart Homes teamed up to make modifications to his home's entryways, bathroom and backyard. Erosky has spinal stenosis: a condition that puts pressure on the spinal cord and nerves in the lower back, making it painful to move. He currently uses a walker, but will soon be in a wheelchair full time.
"We're replacing their standard bathtub with a walk-in bathtub so it's much safer for them to get in and out," said Home Depot Store Manager Jason Genter.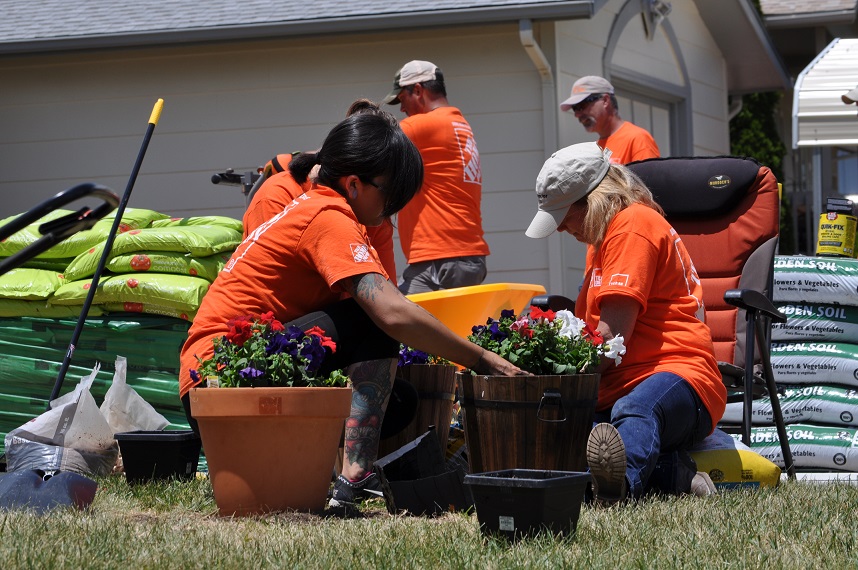 "They love to garden and be outside but they can't get up and down from the ground very easily. We put in two-foot raised garden beds so they can continue to do the things they enjoy doing outside from a wheelchair," Genter said.
Anthony isn't used to watching others do the work. The U.S. Navy veteran joined the military when he was 18 and served in the construction battalion. He led a construction crew in Bikini Atoll ahead of the nuclear tests.
For seven hours, volunteers remodeled the bathroom, removed debris, built garden beds, painted, laid pavers and planted flowers.
To round out the day, volunteers presented Anthony with a construction-themed cake, a new grill for his backyard and welcomed him to The Home Depot family with a personalized apron.
"How do you explain it? All the volunteers that come out on their own time and do these things," Anthony said. "I'm overwhelmed with these people that showed up here. You can't thank them enough."