From the very beginning, co-founder Bernie Marcus thought an associate in a bright orange apron would stand out like a beacon to our customers. Little did he know the apron would evolve to develop its own culture and customs both inside the company and out.
The original apron looked slightly different than the ones you'll see in our aisles today. Ron Brill, The Home Depot's first treasurer and finance chief, helped mold the look and traditions associated with the apron today. After ditching the short-lived, white name tags that originally appeared on aprons, Ron helped start the practice of associates writing their own names on their aprons.
Ron also developed the tradition of adding flair to aprons with pins and badges. He saw badges as a way for our associates to share their accomplishments in customer service and beyond.
Through the years, our apron has grown in size and sported a variety of designs. It's helped us celebrate company and national events, like the Olympics, the company's 20th anniversary, the launch of the 1,000th Tool Rental center and more, with each event recognized by its own unique apron design.
Similarly, we recognize distinguished guests with their own decorated apron. Barack Obama and George Bush are just two of the lucky orange apron recipients.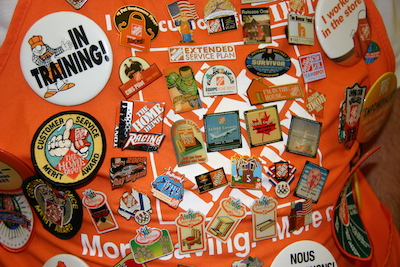 Check out some of our associate apron creativity, and next time you're in the store, take a look at the apron designs on associates around you.