Back in 1979, Mark Naugle was a college student looking for a summer job. Today, he's the longest tenured Home Depot associate and has spent 42 years in our stores.
"I was on summer break from the University of Georgia and a friend who was working for Home Depot told me about a new home improvement store opening. Since I was looking for a summer job, I applied. My resume included three years of prior experience working in the paint business at Handy City and Glidden, so I was hired right away," Mark recalls.
Those first stores in Atlanta were different than today, especially the store hours. "The store hours were a little odd. We opened at 11 a.m. and closed at 9 p.m. The idea was to concentrate the associates in a small window to maximize customer service.  As the word got out and customer traffic increased, the hours were expanded."

As The Home Depot grew, Mark was able to expand his own horizons. "In 1981, the company announced its first expansion outside the Atlanta market to south Florida. I decided to head south to open the new market," he says. From there, he was part of new store expansions, in Florida, Louisiana, Arizona and California. Mark has worked in several departments throughout his career, including lumber, building materials, floor and wall, paint, hardware, electrical, garden, furniture, fans and receiving.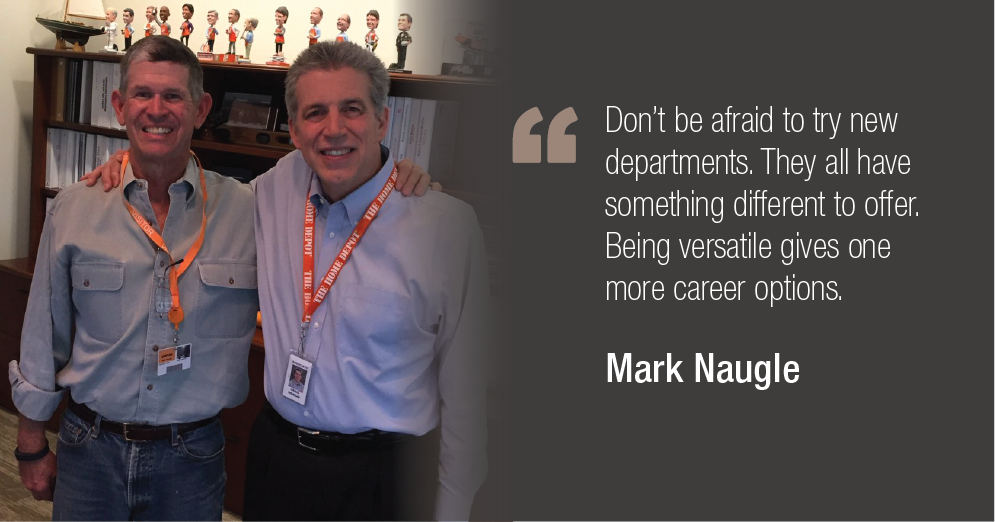 Mark opened his current store in Concord, California, in 1991, and has been there ever since. These days, he works part-time in the receiving department. The secret to his longevity is persistence. "It's not in my nature to give up. Regardless of how challenging, I'm not going to let it beat me," he says. In his free time, he's a desert off-road racer and a tour guide for off-road adventure trips in Baja, Mexico.

Mark, who has experienced firsthand The Home Depot's journey from scrappy startup to powerhouse, has a word of advice for his fellow associates: "It's never too early to start saving for retirement. With Home Depot's 401k company match program, even the smallest contribution adds up."