SMARTWAY 2016: HOME DEPOT DRIVING CLEAN TRANSPORTATION
November 18, 2016
Getting your new bathroom tile and energy-efficient washer from our vendors to your door is no small feat. Whether by rail, water, or roadway, The Home Depot's supply chain network is constantly working on ways to move freight faster and with the least environmental impact.
In fact, in 2015, The Home Depot shipped 4,000 fewer trucks, helping to avoid 4.132 metric tons of CO2 emissions.
As part of the company's supply chain, more than 12,000 orange-blooded associates step up each day to get products to stores and to customer across the country. Thanks to their hard work, The Home Depot was awarded the EPA's 2016 SmartWay® Sustained Excellence Award for the fourth consecutive year.
Of the 3,500 SmartWay partners, only seven earned the "excellence" distinction for clean transportation in 2016.
Here's a look at our Supply Chain network in action:

A charter member of the EPA's SmartWay program, The Home Depot utilizes a number of clean transportation best practices including truckload optimization, Greenhouse Gases data collecting and reporting, and requirements that all carriers be current SmartWay partners. The company also audits carriers annually to ensure that data is properly submitted to the EPA.
Here's a snapshot of the network: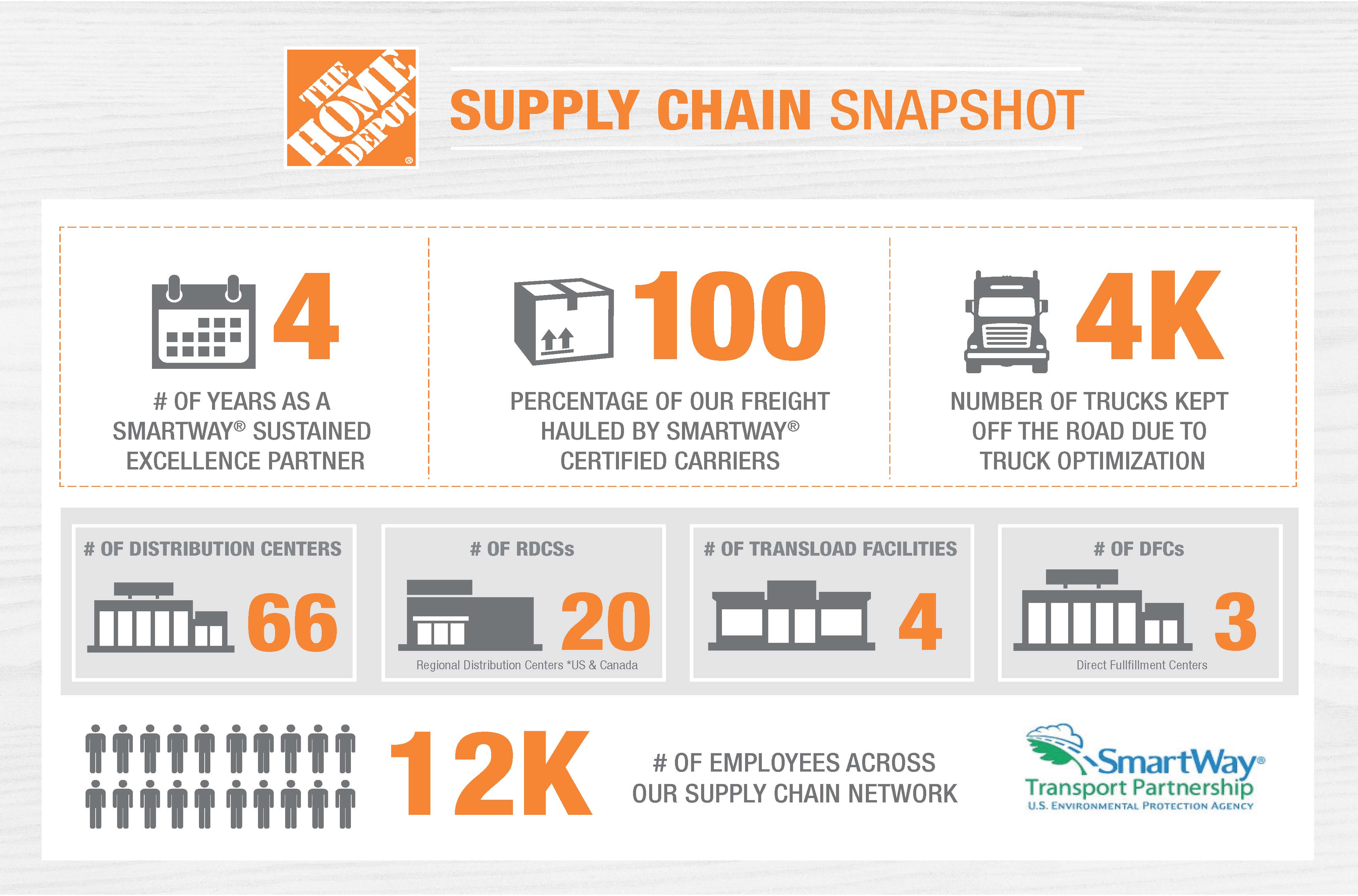 To learn more about Home Depot's Supply Chain careers, click here.
Keep up with all the latest Home Depot news!
Subscribe
to our bi-weekly news update and get the top Built from Scratch stories delivered straight to your inbox.
Related Stories & Articles: