PINNED-UP PRIDE AT THE SMITHSONIAN
January 03, 2018
When the Smithsonian Institution's National Museum of American History contacted The Home Depot looking for examples of how the retailer motivates its associates, company archivist Jennifer Wyatt knew just what to say and whom the museum should talk to next.
Home Depot's badges and pins — handed out to recognize associates' successes, commemorate company events or initiatives, or just celebrate the "orange-blooded" culture — are a staple of how Home Depot motivates and honors its associates. And nobody has had their hands on more of this Home Depot "flair" than Marty Greco, a kitchen and bath design expert who has worked for the home-improvement retailer for nearly 30 years.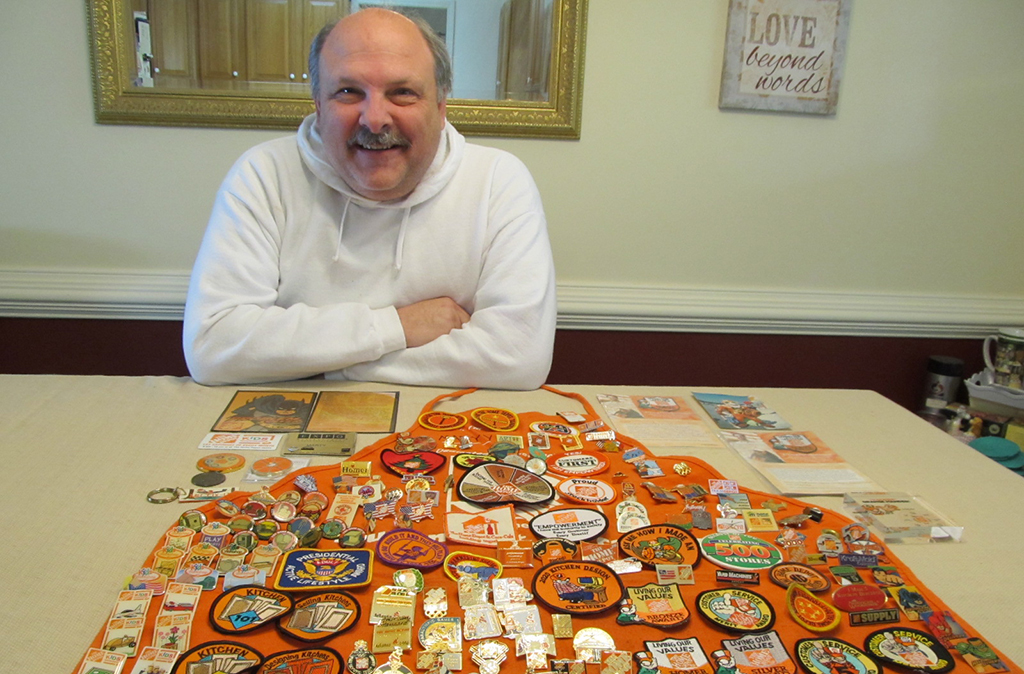 Marty has been collecting Home Depot badges and pins since 1988. He has so many that he's lost count. Marty regularly trades pins with other associates, or just gives them away to co-workers wanting to add flair to their orange aprons, the official Home Depot "uniform."
The Smithsonian's "American Enterprise" exhibit features photos of Marty in his workspace, which is covered with badges and pins. The display also contains a Home Depot apron decked out with some of Marty's most-treasured collectibles, including a 9/11 memorial pin honoring New York City's firefighters, a badge awarded for living the company's values and a fun pin celebrating the partnership between The Home Depot and McDonald's, one of Marty's favorite places to eat.
In October, Marty made the journey from his home in Atlanta to Washington, D.C., to see the exhibit at the National Museum of American History. "When I actually saw it in person with my family, I was overwhelmed with pride. I was even introduced around as 'The Marty' from Home Depot's display. This made me feel like a celebrity — at least while I was there," he recalled.
The collectible that holds the most personal meaning is a Product Knowledge Master pin Marty received after achieving company-defined mastery in the aisles of every department in a Home Depot store.
For Marty, the Master pin — which features Home Depot's cartoon mascot Homer giving a salute — symbolizes "Company spirit and camaraderie." That's exactly what the Smithsonian American Enterprise exhibit was intended to capture.
Keep up with all the latest Home Depot news!
Subscribe
to our bi-weekly news update and get the top Built from Scratch stories delivered straight to your inbox.
Related Stories & Articles: