5 TECHNOLOGIES THAT WILL CHANGE THE WAY YOU SHOP
January 30, 2017
The National Retail Federation's Big Show is one of the world's largest stages for showcasing the innovative technologies of the coming year. Technologies that used to be thought of as fringe are now being pulled into mainstream commerce in fascinating ways.
Here's a look at five tech trends that will change the way you shop in 2017:
1. Virtual Reality
Once niche, virtual reality is now becoming a significant tool for commercial retailers.
ShelfZone, from the company inVRsion, uses an HTC Vive headset to recreate an interactive simulation of an entire store space in which users can navigate around, touch products, and compare prices.
"We think the new standard for e-commerce in the next three to five years will be in VR," said Alain Wixan, sales manager at InVRsion. "Soon, you may be able to enter virtual reality, shop for what you need, and have the products delivered to your door."
At the Home Depot Technology Center at Georgia Tech, Home Depot associates are working alongside a select group of 20 students to further explore the latest technology possibilities like VR.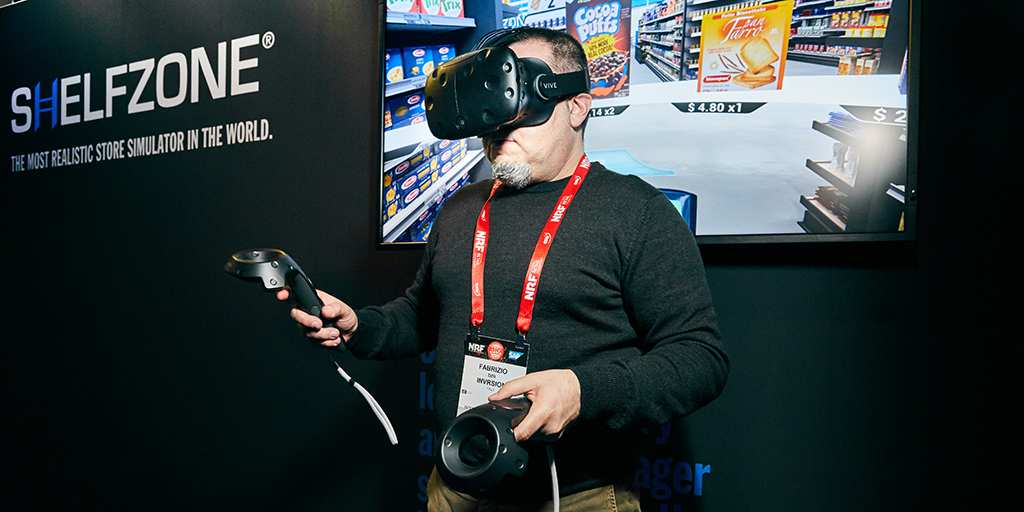 ShelfZone VR demo at the NRF technology expo.
2. Augmented Reality
Where virtual reality is an immersive tool, augmented reality is one that overlays a digital artifice into physical space. "You're going see AR kick in to help the customer envision solutions in their home," predicted Kevin Hofmann, CMO and President Online at The Home Depot.
One such technology is Marxent's Visual CommerceTM Mobile, an app template that creates visualizations of how items would look in your home. Harley-Davidson's AR app built from the Marxent platform shows users how that shiny, cherry-red street bike would look parked in their driveway, viewed through the screen of their tablet or smartphone.
The Home Depot's mobile app leverages AR technology to let customers place virtual items into the real world via their phones. The feature works for patio furniture, vanities, doors, faucets and other items, allowing customers to preview what products will look like at home.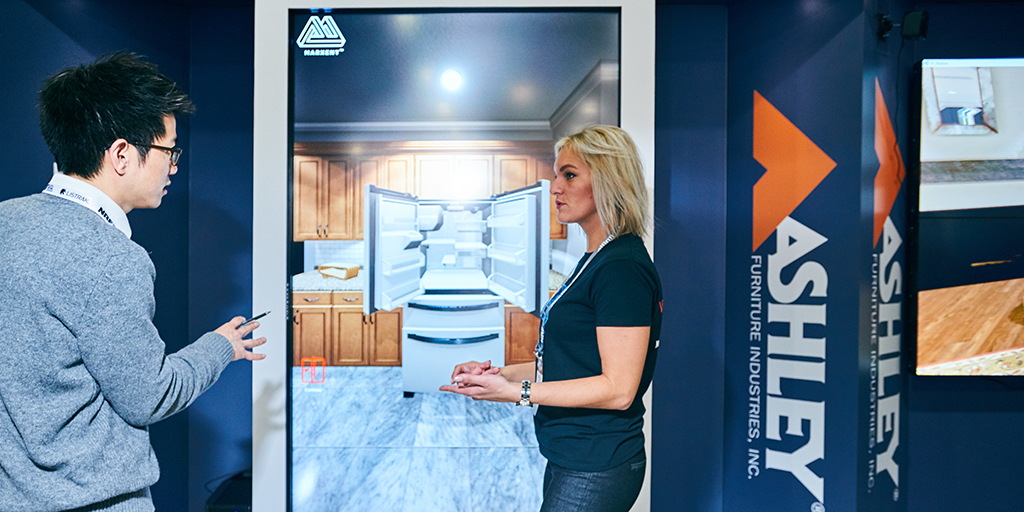 Ashley Furniture demos an AR experience at the NRF Big Show.
3. Gamification
Retail gamification has come a long way since McDonald's Monopoly.
Nowadays, companies are offering promotions through gamification to increase customer engagement. The company In2Win, also a mobile app, produces digital kiosks located in mall, stores and airports that allow users to play games and win prizes and discounts from their favorite brands.
4. Heat-Mapping
Ever had to navigate the gauntlet that is a busy grocery store aisle? LED technology from Phillips can help solve in-store congestion problems with heat-mapping. By connecting LED lighting to cameras, the technology can visualize where bodies are in a physical space.
"At The Home Depot, we think about how navigating the store is something shoppers are incentivized to do," said Dave Abbott, VP of Integrated Media and Online Marketing. "This technology, for example, could be used in a grocery store. If a lot of bodies are congregating in the produce section, a manager could deploy an associate to the area to help customers find what they need more efficiently."
5. Automatic, Mobile Check-Out
Concept stores sans checkouts are cropping up around the country. Items are tracked and tied to a mobile credit account so that shopper can bypass the checkout line with their purchases. Already this year, both Walmart and Sam's Club have launched versions of a "Scan and Go" system routed through mobile apps.
"You can come right in, mobile scan your items, and literally just walk out the door without having to wait in line," said Matt Schweickert, Head of Strategic Business Development and Finance at The Home Depot. "Although this technology poses some challenges for retailers to overcome, it's a macro-trend that I really find interesting."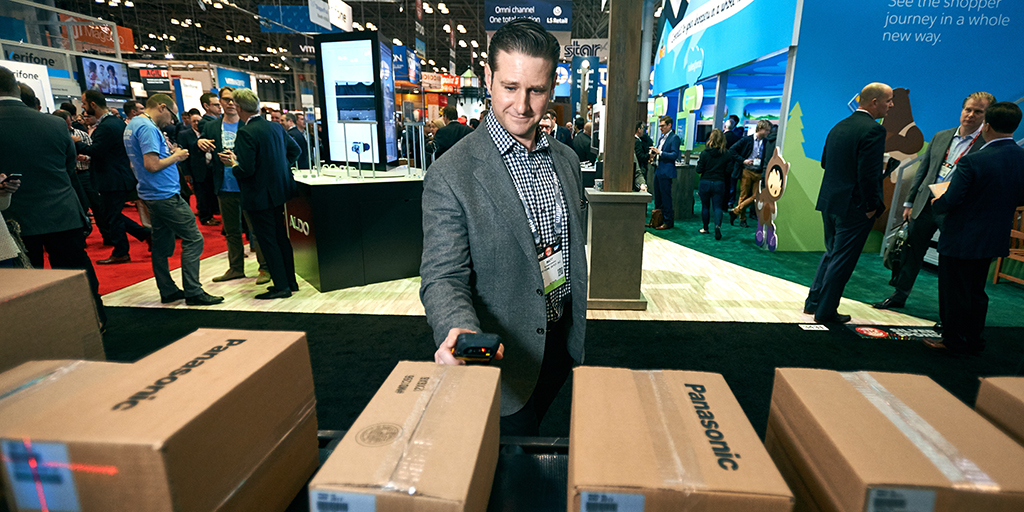 Matt Schweickert scans boxes on the NRF technology expo floor.
Keep up with all the latest Home Depot news!
Subscribe
to our bi-weekly news update and get the top Built from Scratch stories delivered straight to your inbox.
Related Stories & Articles: