A Store Defined By Its Customers: Inside The Pro Store
January 29, 2016
Take one step inside Home Depot store #6655 and you'll immediate realize something's different. The vast entrance and concrete floors don't lead you to beautiful garden plants and shiny new appliances. The smell of cedar and pine is more pungent than ever, and your typical DIY homeowner isn't anywhere to be seen. And wait, are those black aprons?
Welcome to The Home Depot's Pro Store, a one-of-a-kind store outside of San Francisco dedicated solely to the needs of home improvement professionals. Here, not only are the aprons black instead of orange, but aisles are also bigger and the products offered are geared to the pros.

Located in the same shopping complex as a normal Home Depot store, the Pro Store originally opened 17 years ago to service the pros shopping a few buildings over. Since then, it's been building relationships and customizing its product offerings to the real needs of its customers over time.
"The connections we build with our customers is what makes this store a success. Some of our tenured associates have known their pro customers as long as they've been with the company – more than a decade," said store manager Jeffrey Coite, who has been with the store since it opened. "Because we make an effort to get to know our customers, learning about their business and hearing about their family over the years, we understand their needs. Our pro customers can be confident that they're getting quality information, products and price from a credible source."
The products and departments in store are defined by their pro customer needs. Jeffery says more than 40 percent of his sales come from building materials and lumber, so it's no surprise that they offer an expanded department and product assortment to fit customer needs. The store also has an expanded hardware, plumbing and electrical mix as well as paint, hand tools and power tools.
Product and customer program learnings from the Pro Store also help influence stores nationwide. Specific products requested by the store based on customer needs can turn into market tests. For example, the store requested to carry brown pressure treated wood instead of the green they traditionally sold, and it took off. Now, the whole west coast sells brown. The store also tested the company's Pro Desk POD setup, a checkout system to help pros get out of the store faster, before rolling it out to pro desks across the U.S.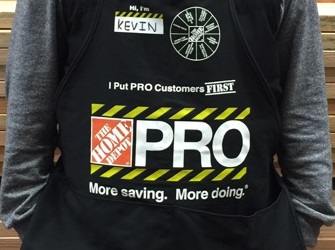 Unlike a typical store's DIY customer, most pro customers come in knowing exactly what they need. But, Lance in the plumbing department says he still gets people who need help solving project problems every day. A plumbing and heating contractor for 38 years before working in the aisles at the Pro Store, Lance says he takes his old business motto of "the difficult is no problem and the impossible takes a little longer" and applies it to the questions he gets from pros.
"Some of them are doing this type of job for the first time and have a few questions, and others have a big problem to solve and need a bit of help," says Lance. "I show them different tricks about how to do something they may not have thought would fix their problem, and I enjoy seeing them figure it out with me."
So, what's with the black apron? To stand out from other stores, the Pro Store team originally had tan aprons, but of course they got too dirty. The only color that could handle the work of the pro team was a black apron they designed themselves.
Keep up with all the latest Home Depot news!
Subscribe
to our bi-weekly news update and get the top Built from Scratch stories delivered straight to your inbox.
Related Stories & Articles: