A Very Gary Christmas: How an Inflatable Dragon Became Home Depot's Unofficial Holiday Mascot
December 13, 2017
When you walk into your local Home Depot, you know what to expect: walls of paint, aisles of power tools, rows of lumber and some friendly faces. It's familiar territory. But when the holidays are in full swing, you might catch a glimpse of something you'd never expect, like an inflatable dragon lawn decoration.
His name is Gary.
Last year, a Home Depot shopper spotted the enormous inflatable dragon at their local store and took to Reddit to share with the masses. They christened him "Gary" and reactions ranged from the usual "bah humbug" to riffs on his fictional back story and eventually the tongue-in cheek announcement that he is the "only way to decorate" for the holidays.
But what was an 11-foot-tall dragon wearing a Santa hat and holding a candy cane doing in the aisles of Home Depot anyway? To find out, you'll have to ask Kelie Charles, holiday merchant at The Home Depot.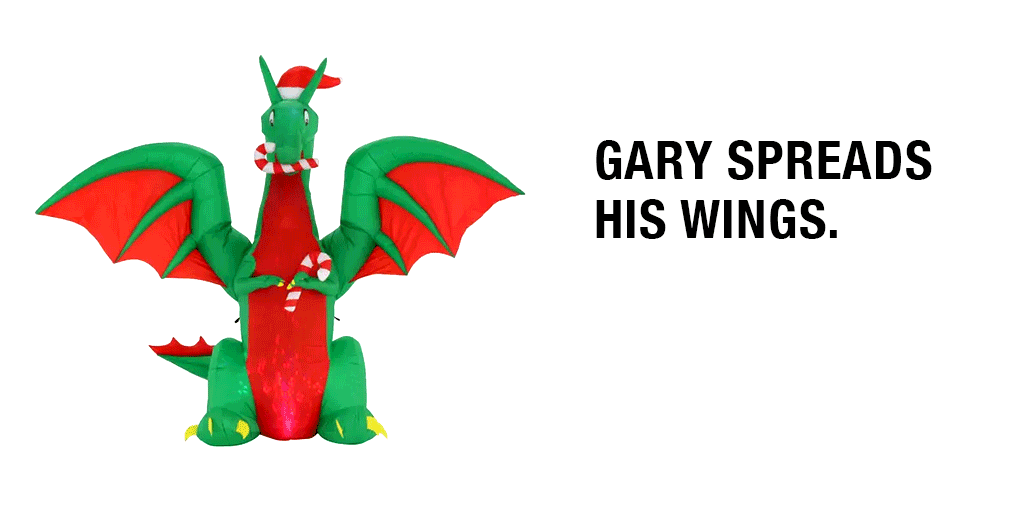 Last year, while meeting with The Home Depot's partner that produces most of their inflatable products, the TV show Game of Thrones came up and a designer started drawing a dragon. "We've done all kinds of crazy inflatable animals before—dogs, pigs and sloths—so a dragon may seem odd, but we knew it would work.'" Kelie says. "He draws it and we ask, 'So how do we make a dragon look Christmas-y?'"
Next thing you know, the sketch of this cheerful imaginary dragon was donning a Santa hat and carrying two candy canes, one in his hand and another in his mouth—which his fiery breath thankfully did not melt. When samples came in a few months later, it was like a vision had come to life. "Immediately, we knew it was something we'd display in the store—he had to be something that people see," Kelie says.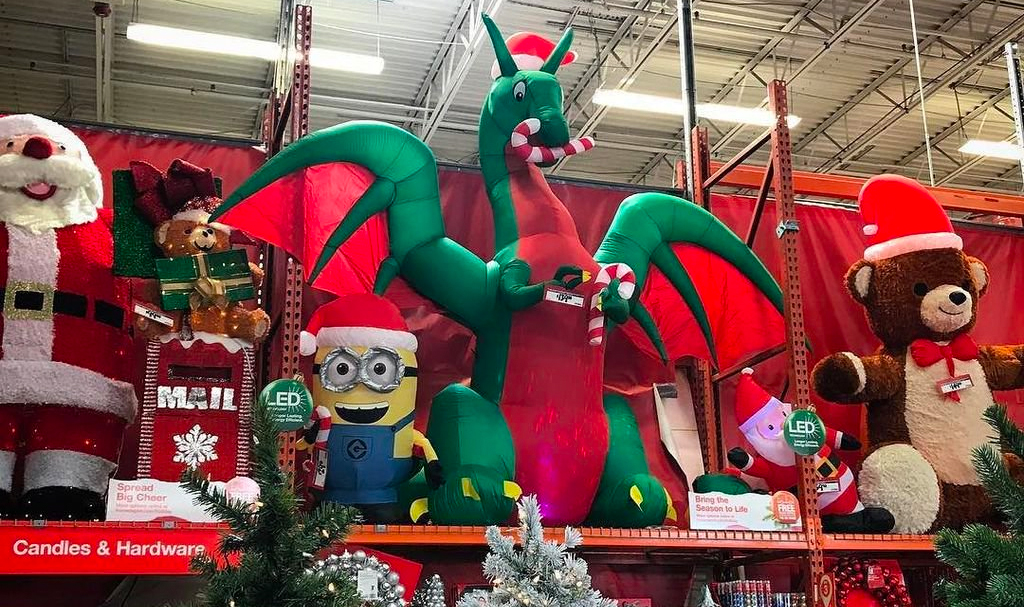 At 11 feet tall, with a 12-foot wingspan and a colorful rotating light in his belly to boot, Gary is hard to miss. But despite that imposing size, he sold surprisingly well. The response was so positive that Home Depot decided to bring him back again, with one key improvement.
"We had tons of positive feedback, but a bunch of people asked if his wings could move," Kelie says. So this year, Gary has animated wings that flap back and forth. "We listen to feedback every day and it affects how we design tools and products that people use in their home. Even in the case of Gary the Dragon, we listened and made him animated so his wings moved."
This year, Kelie and her team even created a black and orange version specifically for Halloween. "I don't know what it is about him," she says. "But everyone just smiles when they see him."
All the attention clearly hasn't fazed Gary as he's become The Home Depot's unofficial holiday mascot among employees and associates. While the usual decorations like lights, wreathes and snowmen fly off the shelves, just remember that there's always a friendly dragon waiting to spread some cheer this holiday season.
Keep up with all the latest Home Depot news!
Subscribe
to our bi-weekly news update and get the top Built from Scratch stories delivered straight to your inbox.
Related Stories & Articles: