9 Takeaways from Home Depot's Investor and Analyst Conference
December 09, 2015
At The Home Depot's Investor and Analyst Conference on Dec. 8, company leadership provided an update on key initiatives under Home Depot's strategic framework. Under this framework, which we call interconnected retail, the company continues to center on the customer experience, product authority and productivity. Take a look at the top nine takeaways coming out of the conference.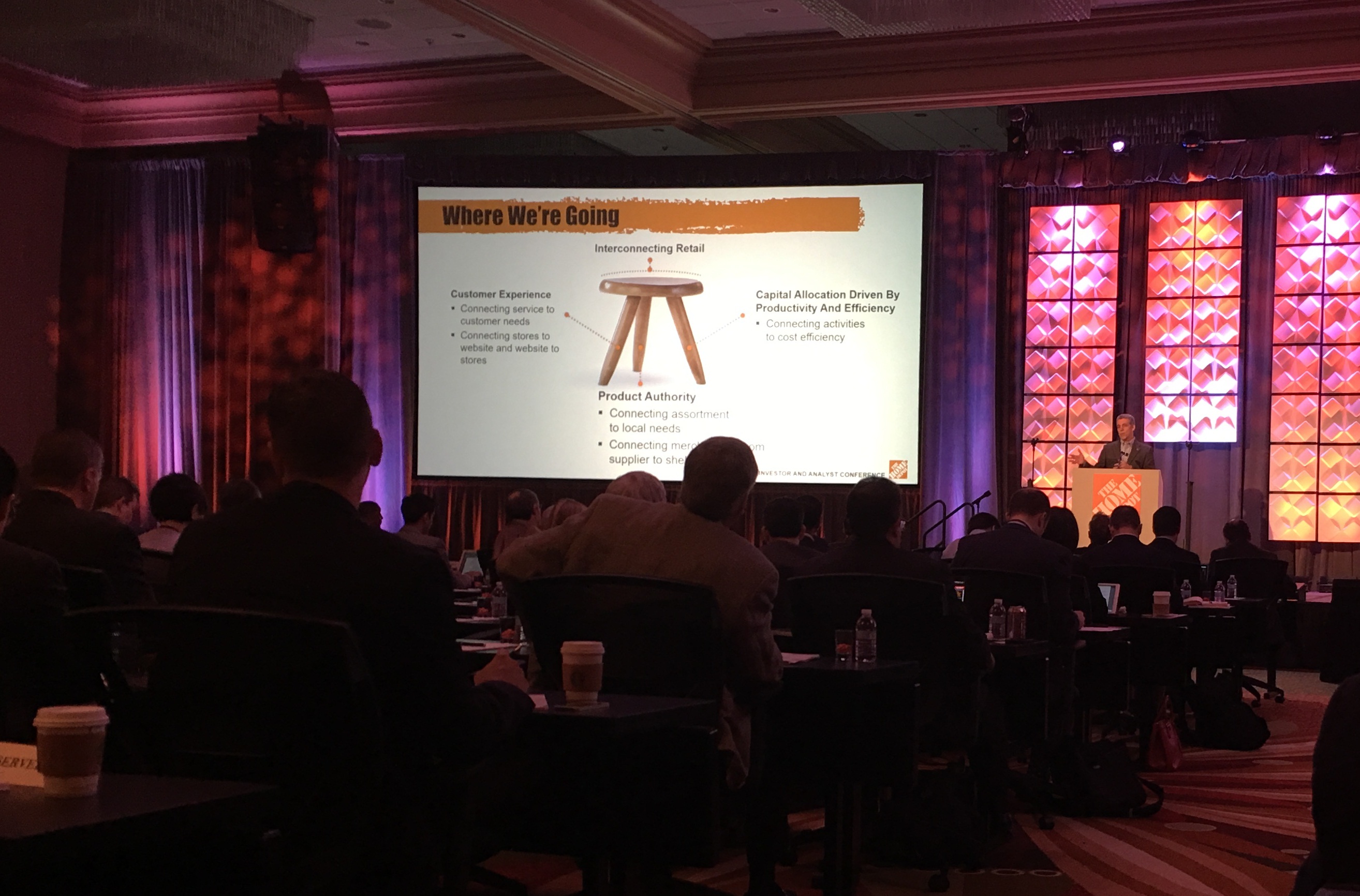 Craig Menear outlines The Home Depot's strategic framework.
1. For The Home Depot, the customer experience is much more than customer service.
It's about providing a seamless and frictionless experience no matter where our customers shop, be it in the digital world, brick and mortar stores, at home or the job site.
2. We cannot sustain customer experience improvement without our store associates who wear the orange apron every single day.
"Our culture, our historic focus on the customer, our associates and our grounding of who we are in our values is not changing," said Marc Powers, executive vice president – U.S. Stores. "In fact, our culture is an enabler to the success of our strategy." Marc also added, "we want the associate experience at The Home Depot to be just as rewarding as our customer experience."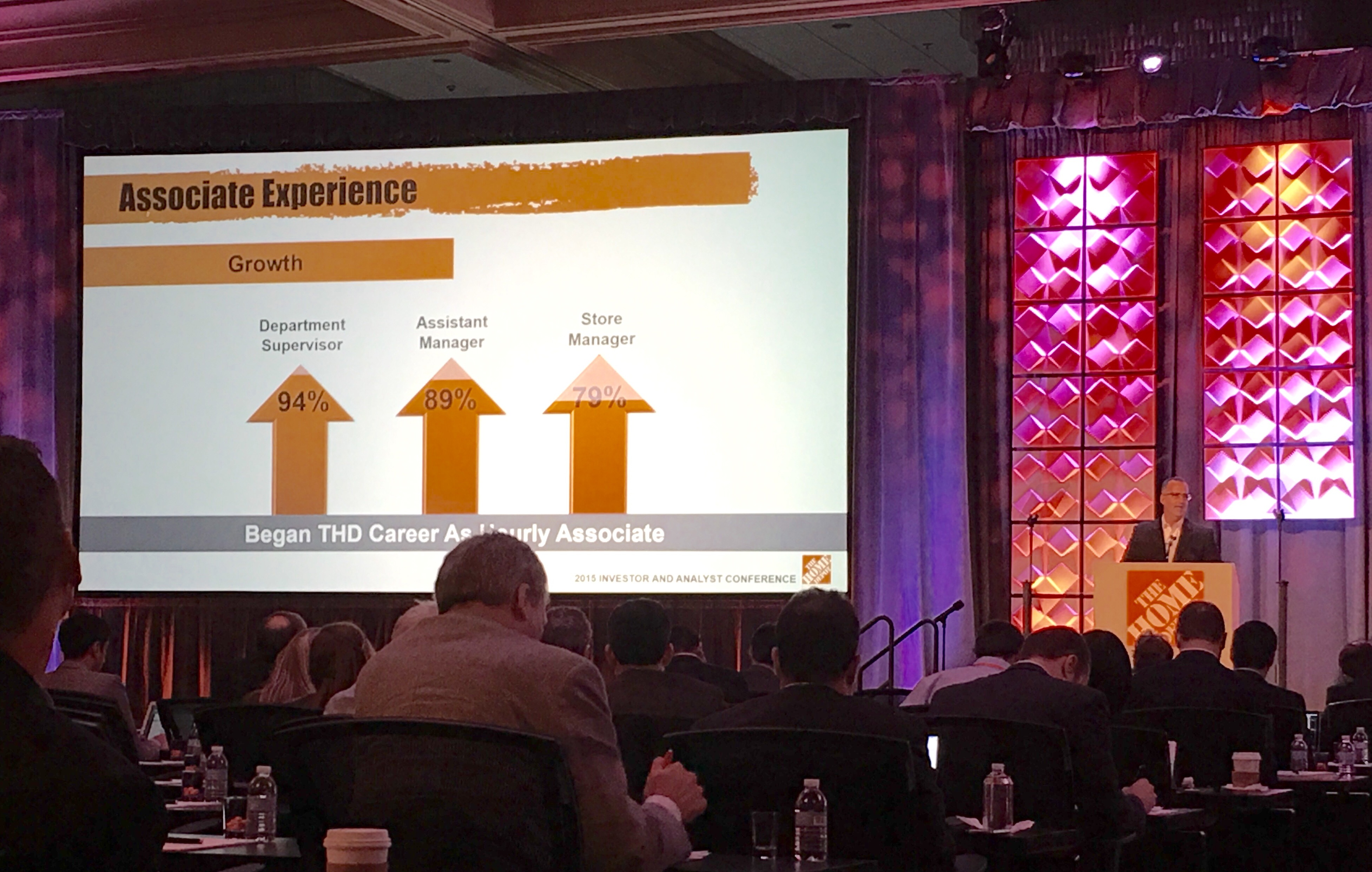 Marc Powers discusses the associate experience.
3. The Home Depot has been and will continue to strive to be the leader in product authority for all of our customers – the professional, DIYer and Do-It-For-Me customers.
"We are focused on three main objectives to maintain our position as the number one retailer in product authority for home improvement," said Ted Decker, executive vice president – Merchandising for The Home Depot. "We need to maintain momentum by driving innovation, growing our pro business and creating excitement in our stores, balance the art and science of retail and increase collaboration with internal and external partners."
4. We see significant growth opportunities in the professional customer.
The Home Depot has been leaning into the pro customer because of the size of the addressable market and changing demographics.
"We expect over the next five years that multi-family housing is going to grow faster than single family housing, and we want to be well-positioned to capture that MRO demand stemming from property managers, as well as other institutional and hospitality markets," said Craig Menear, chairman, CEO and president for The Home Depot. "To do so, we purchased Interline Brands, a leading national distributor and direct marketer of broad-line MRO products."
"By combining our outside sales, installation services and Interline together, we are developing one unified approach for the pro," said Bill Lennie, executive vice president – Outside Sales & Service for The Home Depot. "In the future, the large scale property manager will have one account with a national provider that can supply not only recurring MRO needs, but also building materials and configurable products such as paint and carpet."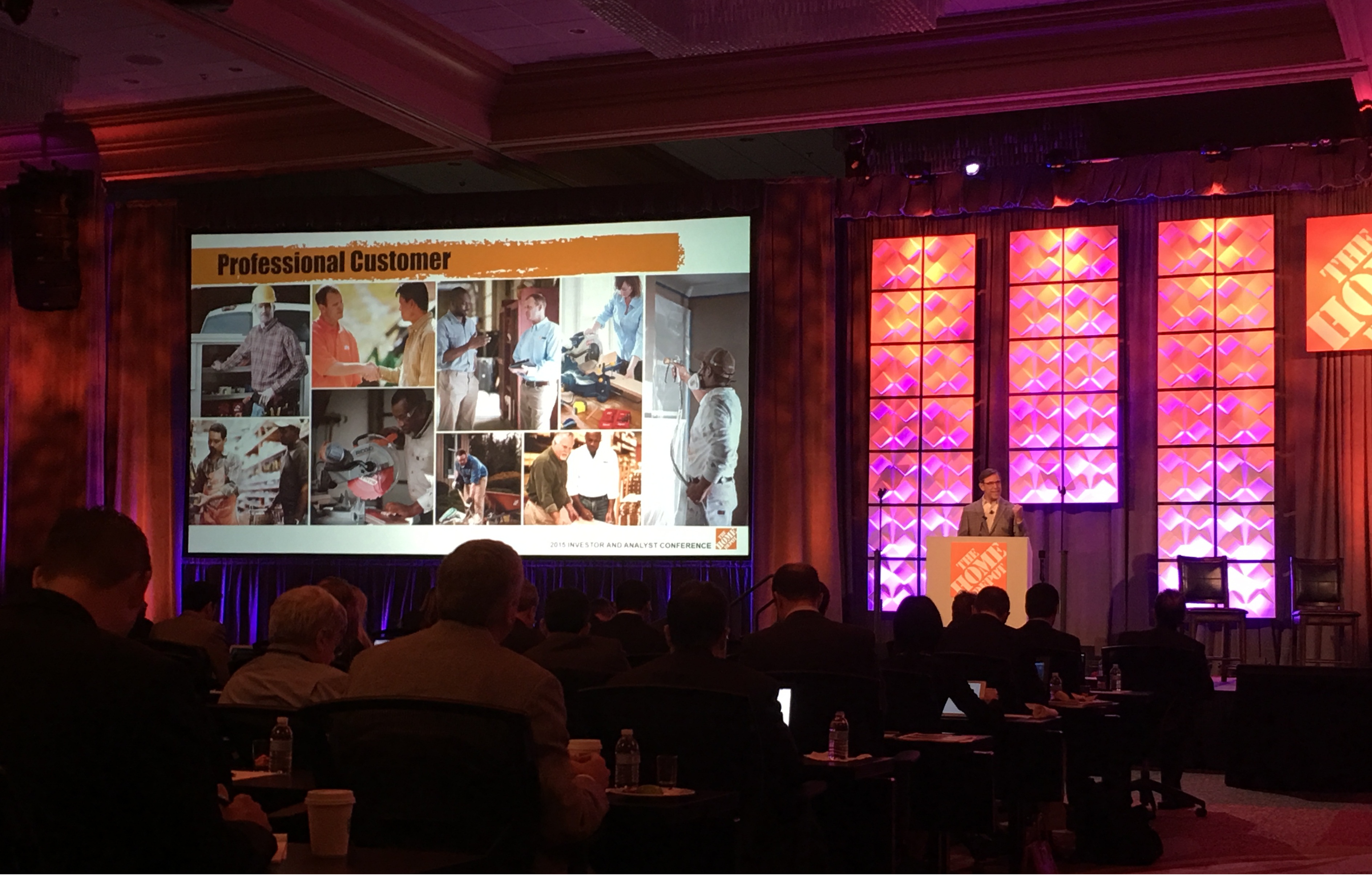 Bill Lennie presents on the importance of the pro.
5. The Home Depot's digital business has been, and we believe it will continue to be, a significant vehicle of growth.
Customers want to shop and engage with The Home Depot own their own terms, in their own way.
"We believe interconnected retail and the blending of the physical and digital into a seamless customer experience provides us a great opportunity to fully expose the power of The Home Depot," said Kevin Hoffman, senior vice president – Online for The Home Depot.
6. Our merchants are constantly looking to be the first to market with innovative products.
"Our merchants are partnering with our suppliers to bring innovative and exclusive items to market that deliver value to our customers by saving them time and money," said Decker. "In addition, we'll maintain our momentum by helping our customers create a smarter home. A smarter home is connected but it is also safer, more energy efficient and more convenient."
7. The Home Depot is focused on becoming more efficient in moving product from our suppliers, to our shelves and to the customer.
"Our focus on interconnected retail requires us to continuously develop our supply chain to meet the changing needs of our customers," said Mark Holifield, executive vice president – Supply Chain and Product Development for The Home Depot. "More than ever, our customers are demanding new fulfillment and delivery capabilities, so we are building to meet those needs."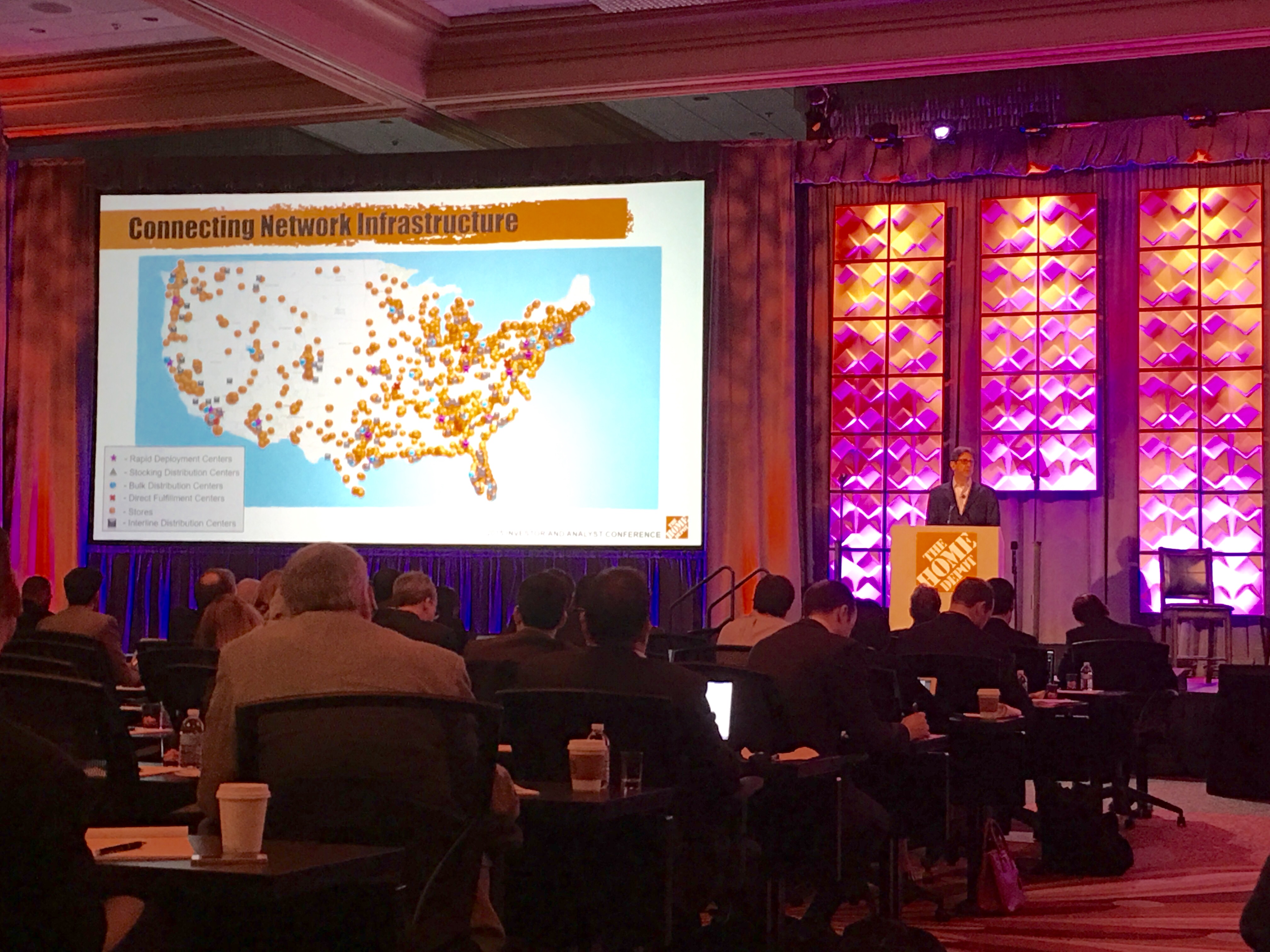 Mark Holifield overviews supply chain developments enabling productivity across the company.
8. We reaffirmed sales and diluted earnings-per-share guidance for fiscal 2015
The company expects sales to increase approximately 5.7 percent for the year, with comps of approximately 4.9 percent. The company also expects fiscal 2015 diluted earnings per share to grow approximately 14 percent to $5.36. This guidance assumes foreign exchange rates remain at current levels through the fourth quarter. The Company's diluted earnings-per-share guidance includes the benefit of its intent to repurchase an additional $2 billion of shares in the fourth quarter, bringing total fiscal 2015 share repurchases to $7 billion.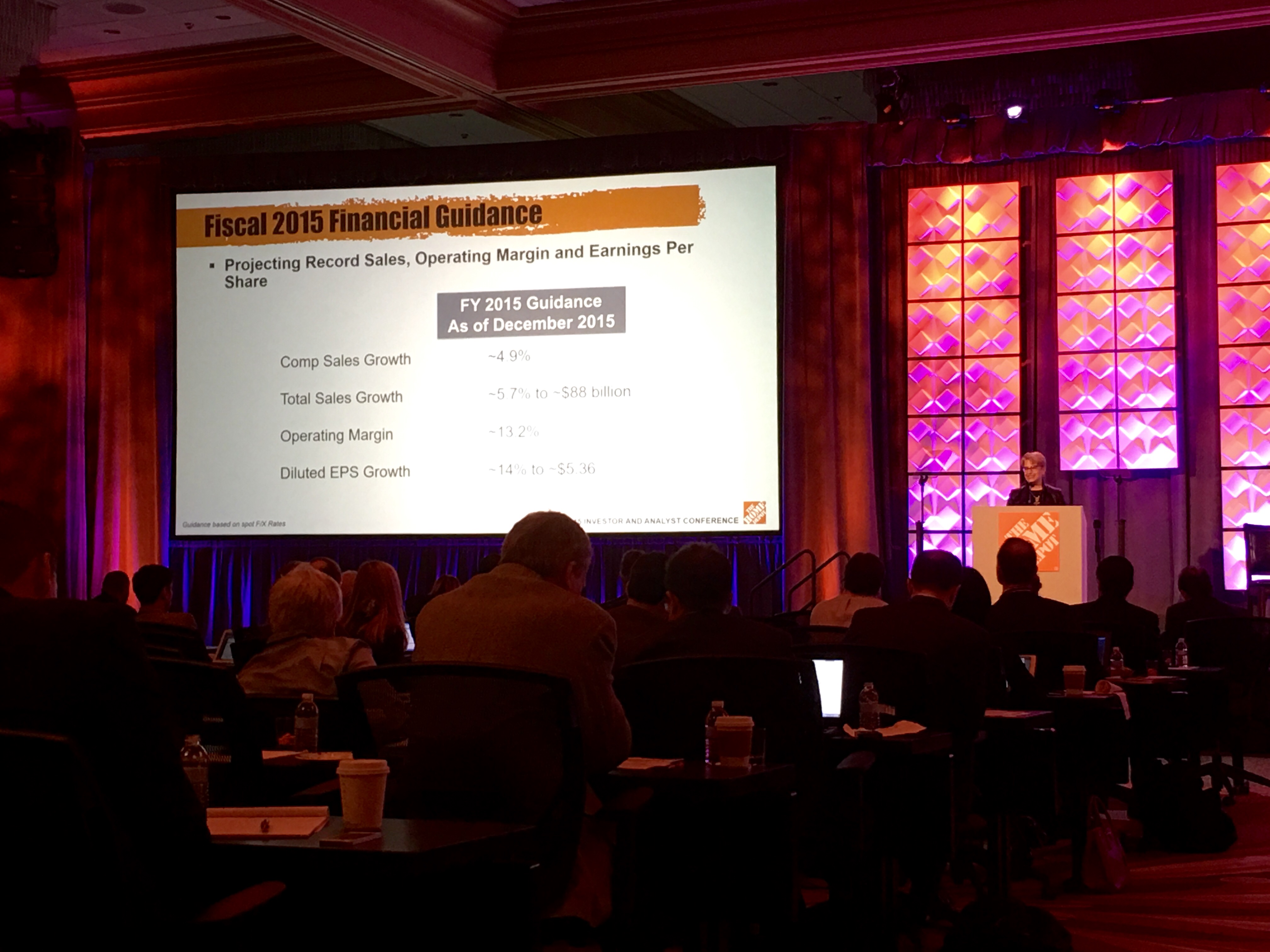 Carol Tomé highlights financial guidance as of December 2015.
9. We also outlined long-term financial targets for 2018, as follows:
Total sales of approximately $101 billion
A compounded annual sales growth rate from the end of fiscal 2015 of approximately 4.7 percent
Operating margin of approximately 14.5 percent
Return on invested capital of approximately 35 percent
Listen to the full remarks from the Investor and Analyst Conference here
Keep up with all the latest Home Depot news!
Subscribe
to our bi-weekly news update and get the top Built from Scratch stories delivered straight to your inbox.
Related Stories & Articles: