"Stop selling old growth wood," read a gigantic banner unfurled on a crane outside The Home Depot's Store Support Center in Atlanta. It was October 1998, and environmental activists were accusing the company of selling lumber from environmentally fragile forests.
The protest was a surprising blow to our company. We were proud of our green efforts – we created an environmental validation process for suppliers well before other retailers and our sustainability practices even earned an award from President Clinton in 1996.
It was clear to our leadership that these efforts weren't enough. Our fast-growing company was sourcing products worldwide, and we needed a better handle on their origins. So we sat down with environmental groups, listened to their concerns and devised a plan to audit its wood-based products.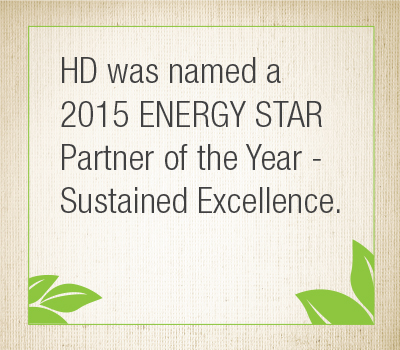 "We had more than 9,000 products that contained wood," says Ron Jarvis, the vice president of Home Depot's Environmental team. "We asked our vendors where their products came from and how they were produced. Over two years, we moved $90 million in wood products from less-sustainable suppliers to more environmentally responsible ones."
In 2014, The Home Depot sold more Forest Stewardship Council-certified wood than any company in North America. But our cooperation with environmental groups is just a small piece of the company's efforts to do what's right for our planet, customers, associates and investors.
For example, our Eco Options® program, which uses a third party to verify environmental claims on products, promotes more than 9,000 environmentally friendly products from ENERGY STAR® certified appliances to tankless water heaters. The program's energy-efficient and water-saving products helped our customers save $630 million in energy costs and over $400 million on water utility bills in fiscal 2014. Plus, nationwide CFL bulb, rechargeable battery and cardboard recycling programs promote sustainability at every store in the U.S.
We're also working with the EPA to gain a better understanding of the relationship between Neonicotinoids (neonics), which is used in some insecticides, and the decline in the honey-bee population. Today, we're one of the few retailers that require our suppliers to label any neonic-treated plants so customers who are concerned about this issue don't purchase them unknowingly.
The Home Depot's concern for the environment goes beyond our product offerings. We implemented operational standards – including HVAC unit temperature regulation, strict lighting schedules and energy management systems – to reduce energy use 20 percent by 2015. We exceeded this goal, reducing energy consumption by 32 percent. These efforts, along with improvements made in our U.S. supply chain, have also reduced absolute carbon emissions by over 1.9 million metric tons since 2008.
The renewed efforts helped Home Depot earn the U.S. Environmental Protection Agency's ENERGY STAR® Partner of the Year Award in 2013, 2014 and 2015, as well as the WaterSense® Partner of the Year and SmartWay Excellence Awards in 2013 and 2014. We've proven to be a leader in sustainability, but we won't forget the hard lessons learned back in 1998.
"Sustainability is part of our DNA at The Home Depot," Jarvis says. "But we're always looking for ways to improve."