Everyday an orchestra of people are working to get your new kitchen appliances, attic insulation, and smart thermostat to our stores and now, to your front door. In fact, whether by rail, water, or roadway, The Home Depot's supply chain network is constantly working on ways to move freight faster and with the least environmental impact.
As part of the company's supply chain, more than 12,000 orange-blooded associates step up each day to get products to stores and to customers across the country. Thanks to their hard work, The Home Depot was awarded the EPA's 2017 SmartWay® Sustained Excellence Award for the fifth consecutive year.
Last year, The Home Depot removed more than 18 million miles from its transportation network with the help of its SYNC (supply chain synchronization) initiative.
Of the 3,500 SmartWay partners, only 11 earned the "excellence" distinction for shipping in 2017.
Hear directly from our VP of Transportation on how we did it:
A charter member of the EPA's SmartWay program, The Home Depot utilizes a number of clean transportation best practices including truckload optimization, greenhouse gases data collecting and reporting, and requirements that all carriers be current SmartWay partners. The company also audits carriers annually to ensure that data is properly submitted to the EPA.
Here's a snapshot of the network: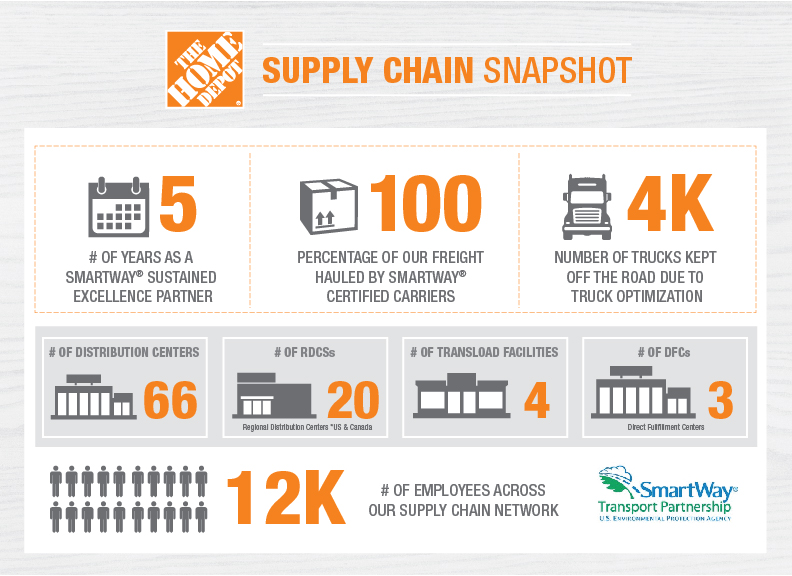 To learn more about Home Depot's Supply Chain careers, click here.