If you've visited a Home Depot store lately, chances are you've seen a number of lithium ion powered tools and eco-friendly products, but what you haven't seen is an innovative technology at work just outside the store, with the ability to keep the lights on. 
Fuel cells use natural gas to generate electricity, but release significantly less carbon emissions than traditional power sources.  
While quietly operating just a few yards from your local store, the sleek towers work actively to produce and store energy that can immediately provide power to a store in the event of a natural disaster or power grid failure.  The Home Depot is even using fuel cell technology to power forklifts at its 1.6 million sq. ft. direct fulfilment center in Troy Township, Ohio. 
Bloom Energy gives us a walk-through of their product that is working at more than 100 Home Depot stores from California to Connecticut:
Why Fuel Cells?
With a renewable portfolio that includes solar farms in Delaware and Massachusetts, in addition to wind towers in Texas, we were curious as to why fuel cells were the choice over other technologies on the market. 
"Perhaps the biggest driver that made fuel cells the right fit for the stores we've done so far is that they eliminate the concern over aging roofs," says Craig D'Arcy, director of Energy Management. "A solar install requires that the roof stay in place for at least 15 years, otherwise you significantly erode the financial benefit by incurring costs to remove and reinstall the solar system after the roof has been replaced."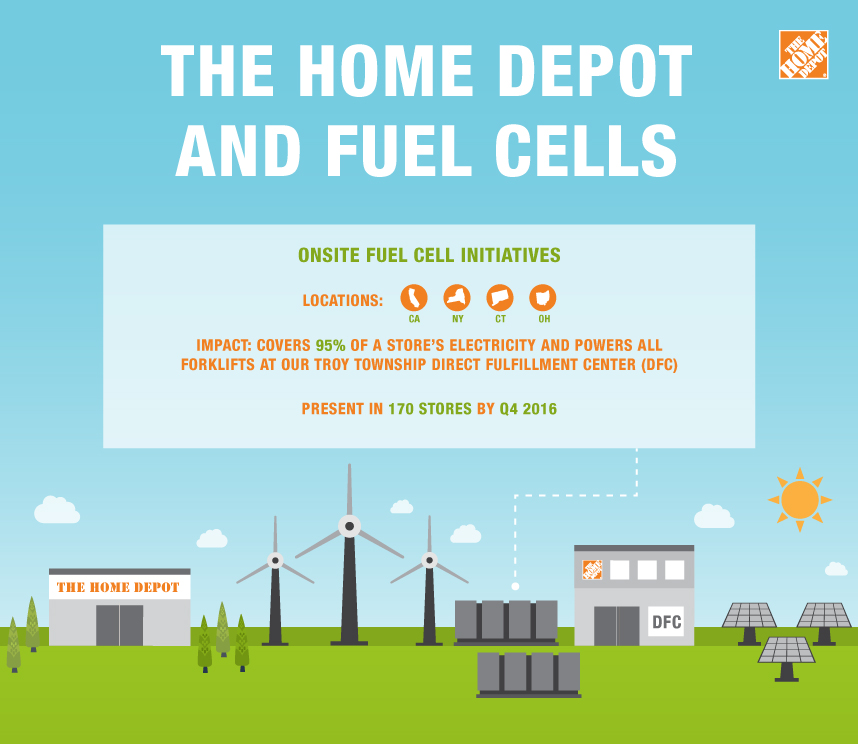 Making the Kilowatts Make Financial Sense
In individual stores, fuel cells powered by natural gas have proven to be the most efficient way to maximize impact from an environmental and value point of view. 
The Home Depot doesn't own the cells; it just pays for every kWh of energy the fuel cells produce. Even adding in the cost of the gas, the fuel cells are still cheaper than paying for conventional electricity. 
The Home Depot expects to have fuel cells at 170 stores by the end of 2016. 
Did You Know: 
The Bloom Energy fuel cells installed at Home Depot stores have generated more than 138 million kWh of clean energy since 2014, avoiding 50,148,519 lbs of CO2 emissions. That's the equivalent of taking 4,800 cars off the road.
Bloom Energy fuel cells emit 50% less CO2 (per megawatt hour) compared to the average U.S. grid emission rate.
Fuel cells produce consistent electricity output 24x7.
Each 200 kW of Bloom Energy capacity installed at a Home Depot will save approximately 31,000,000 gallons of water each year.
 
Looking to learn more? Take a closer look at our partnership with Bloom Energy via Fortune.