The Home Depot's environmental, social and governance (ESG) strategy is centered on three pillars: focusing on our people, operating sustainably and strengthening our communities. Our latest ESG Report details the progress we made in these areas in 2020. Here are five key takeaways.
Read our 2021 ESG Report   |   Click through our snapshot report    |   View our highlights video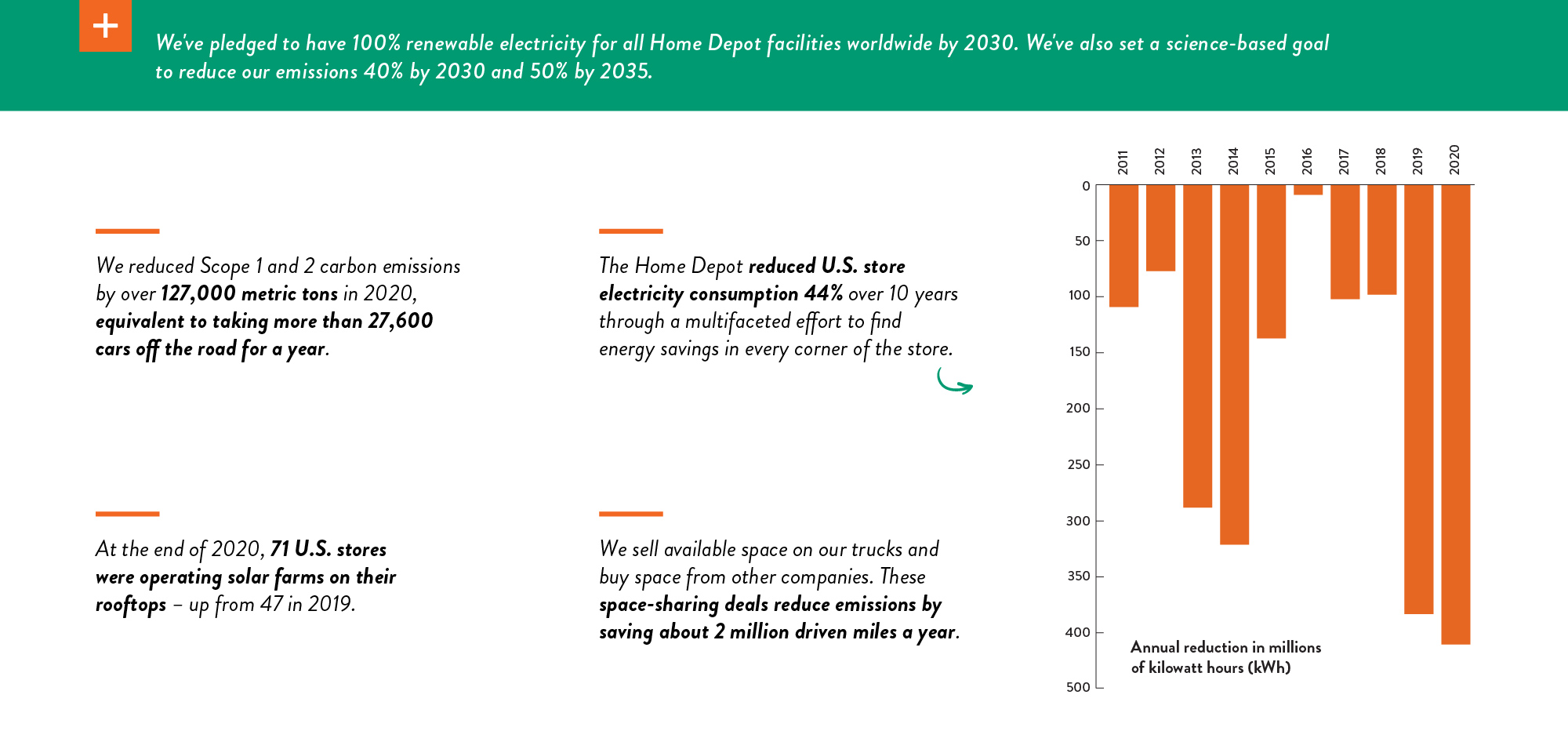 See an infographic explainer  about how we're designing greener packages.

 

 

Our new Eco Actions website provides home project tips for sustainability-minded DIYers.

 

+ 
CHECK IT OUT : A greener-home infographic identifies products and projects that can help our customers reduce their impact on the planet.


Find out how The Home Depot manages packaging and returned products to keep them out of landfills.



Read Shenell's story.  |  Learn more about our COVID-related pay and benefits.

 

 

In 2020, we intensified our efforts to make a meaningful, sustainable difference in accordance with our core value of respect for all people. Our renamed Diversity, Equity & Inclusion (DEI) program calls out our focus on equity. We strive to ensure just and fair opportunities and outcomes for all of our associates, enabling them to reach their full potential in our workplace.

+
CHECK IT OUT: Derek Bottoms, chief diversity officer and vice president of associate relations, gives his take on our expanded focus on diversity, equity and inclusion.

Check out Christine's tips for practicing DEI with intention every day.


Find out more about trades training.  |  Discover how our Retool Your School grants benefit historically Black colleges and universities. 


Learn more about how the Foundation supports our communities.  |  Watch a video about Tracy's dedication to doing her part.