"By Contractors, For Contractors." This is the founding principle President and Owner David Warren set into place for Black Diamond Coatings, Inc., a premier concrete and masonry sealer manufacturer and Home Depot supplier.  
As a former paver restoration business owner, David saw the need for an alternative to the solvent-based sealers on the market. Thus, he created a line of unique water-based sealers that are more environmentally friendly and give the same rich look of a traditional solvent-based solution. 
"We know homeowners want to be proud of their home and have more time to enjoy it," says David. "In order to do that, they need quality home improvement products and outstanding support."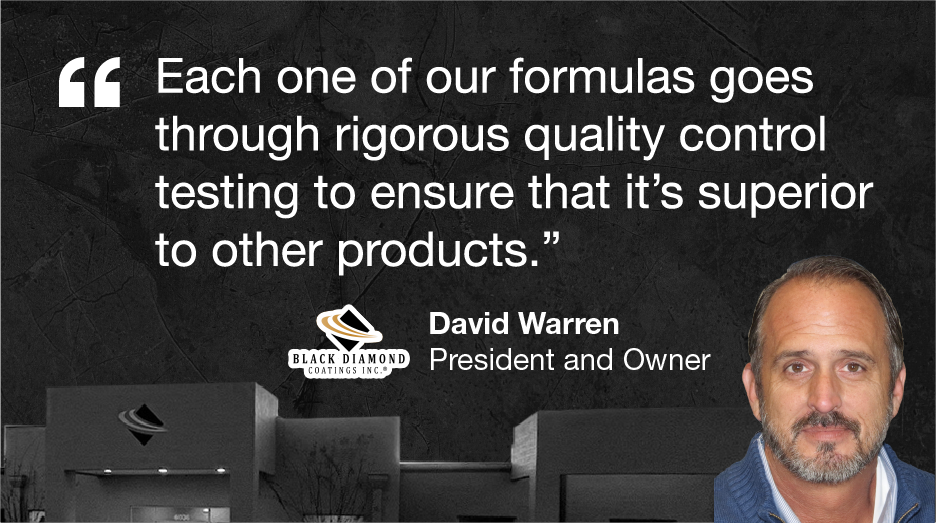 The Home Depot formed a partnership with Black Diamond Coatings last year to launch their sealers online. "You can now find our decorative concrete and paver sealers, stone sealers, and concrete sealers from our DOMINATOR® and AQUA-X® brands," says David.  
Black Diamond Coatings' unique formulas are only one aspect of this dynamic company. They're a family- and veteran-owned business, run by a powerful husband and wife team. Heather Warren, the company's vice president, leads the marketing and sales team and brings more than 15 years of experience in the building products industry. 
David served in the United States Marine Corps and rose to the rank of Sargent during his military career. He was responsible for the maintenance of the Cobra and Huey attack helicopters.  
"We had to lean on each other to finish the challenge," David recalls. "We have tried to instill this same philosophy at Black Diamond Coatings." 
Both Home Depot and Black Diamond Coatings share the same value of giving back. Black Diamond Coatings has partnered with many organizations like the American Cancer Society, Heaven on Earth for Veterans and Toys for Tots. They also offer a military and veteran discount to customers, something that is important to Heather and David.  
"Our culture sets us apart from other manufacturers in the industry," says David. "We truly care about the individuals who design, produce, innovate, package, ship and market our products." 
Visit homedepot.com to shop Black Diamond Coatings' product offering.