Hailing from a military family, Courtney Coleman, one of six children, was born in Fort Bragg, North Carolina, one of the largest military bases in the world. "My father proudly dedicated 26 years of his life to serve in the Army," she shares. Courtney has been an active-duty military spouse for the past eight years while her husband serves in the Army.
While she has immense pride for her husband's service, she acknowledges some hardships that come along with it. "One of the challenges that encompasses both my personal and professional life is the need to frequently relocate due to my husband's active military service," she says. "While I am committed to supporting his career, the constant uprooting can be emotionally challenging as it often means being away from my family and the comfort of a settled environment."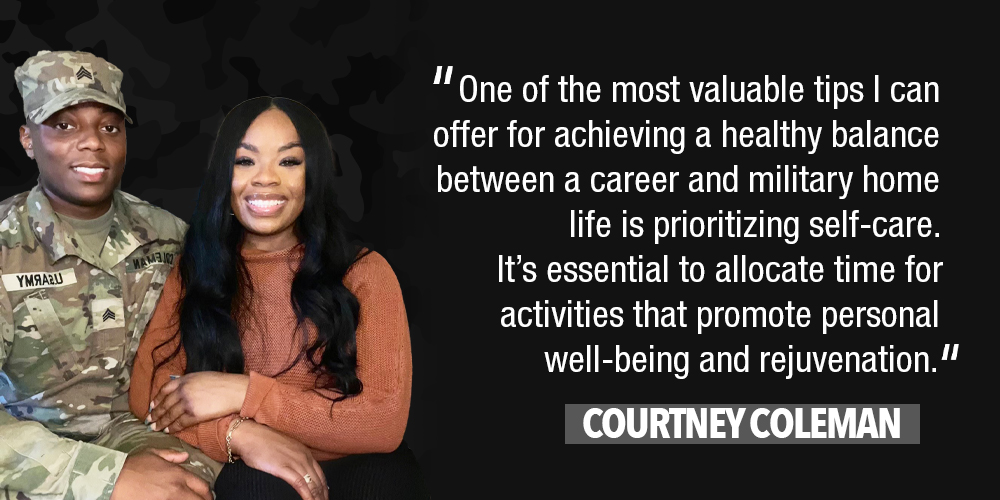 One thing that has made navigating change a little easier is The Home Depot's military spouse job transfer policy. It helps by providing a guaranteed job transfer for hourly associates impacted by a military-ordered move. In the past three years that Courtney has been with the company, she's used the program twice to guarantee a job when she moves.
"Utilizing the program has been immensely beneficial in my professional journey," says Courtney. "This level of assistance ensures continuity in my career growth, regardless of the geographical changes that may occur due to my husband's assignments."
Courtney has worked as a general warehouse associate throughout her three years. She began her Home Depot journey at Market Delivery Operations (MDO) in Colorado Springs, Colorado. MDOs are responsible for managing appliance delivery and installation. After Colorado Springs, Courtney was transferred to Washington State and now works in Texas.
Looking ahead to the future, Courtney aspires to become an operations manager. "With my goal of becoming a manager, I am dedicated to developing my leadership skills and acquiring the necessary knowledge and experience to effectively oversee and drive operational success within the organization," she says. "I'm looking forward to what the future holds."
If you're a veteran or military spouse looking for career opportunities at The Home Depot, visit careers.homedepot.com/career-areas/military/.