This holiday season, Martha Stewart stopped by to talk with associates and customers about her tips and tricks for holiday crafts and more from her Martha Stewart Living collection. In between shopping the aisles and chatting with associates, we spoke with Martha about why she enjoys visiting the stores and what products and projects she's most excited about this season.
Tell us what it's like to visit The Home Depot around the holiday season, talk with associates and showcase some of your holiday crafts.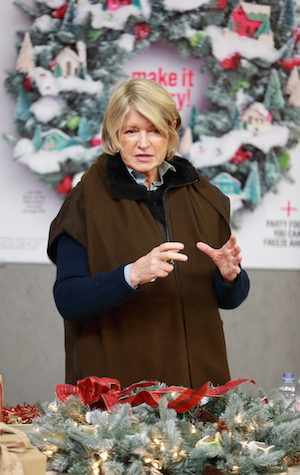 I enjoy everything about the holidays—cooking and entertaining, decorating, making gifts for all of my friends and family.
When I walk into a Home Depot store, I get very inspired for the season! I especially like speaking with the associates and hearing about what inspires them for the holidays. I had the opportunity to speak with 40 Sandy Springs, Ga., store associates on November 15. I demonstrated how to embellish a holiday gift using my shatterproof Snowberry leaf ornaments and how to decorate my 30-inch Alaskan Spruce artificial wreath with Frosted Traditions decorative church ornaments; that's a project inspired by the cover of the December/January issue of Martha Stewart Living. Afterward there was a great question-and-answer session with associates.
Why do you make time to do meet-and-greets with Home Depot associates and walk around the store?
I really enjoy meeting and speaking with the talented sales associates who sell the Martha Stewart Living products at The Home Depot. I like to walk stores to see how each one is organized, and to get a sense of what is resonating well with the consumer. When I visited the store in Sandy Springs in November, I chatted with a kitchen designer who happened to be working on my Lacombe Avenue kitchen for a client just as I was walking by. The designer, Marsha Libman, was able to show me the design in progress on her computer and the kitchen looked beautiful!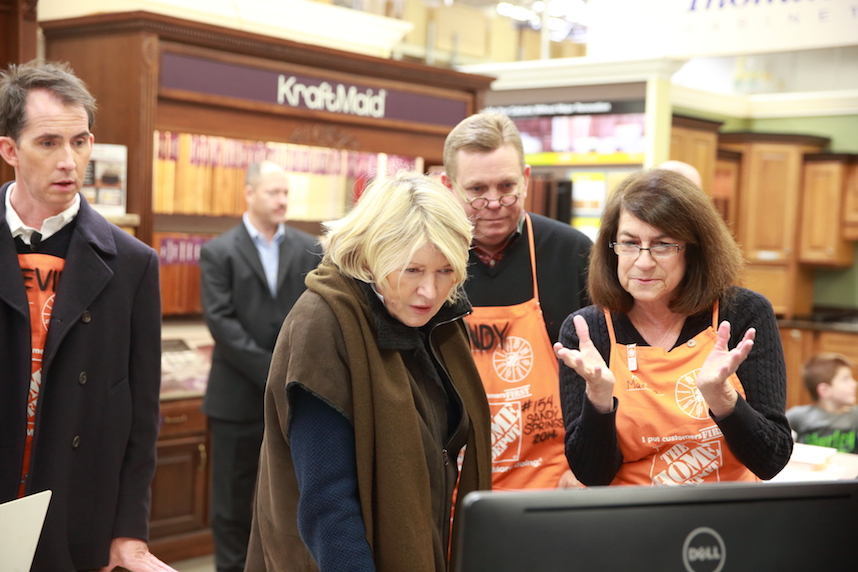 We hear you sometimes make surprise visits to stores during your travels. What kind of reactions do associates and customers have when you visit a store?
It's true, I often try and stop in at a local Home Depot when I'm traveling. Of course, my most recent visit was to Sandy Springs store in Georgia for the holiday event. I've also recently visited a few stores in Canada, including store #7047 in beautiful Vancouver. Whenever I'm in a store, associates and customers are always very nice and lovely to meet and chat with.
When you visit a Home Depot store, what are some of your favorite departments to go into and why?
Kitchens, of course, because I love to see my 15 Martha Stewart Living™ kitchens! I enjoy visiting the Garden department, as I'm a lifelong gardener and they have a nice selection, and I love the seasonal displays during the holidays—the stores are always so festive!
As we enter the holiday season, we can't help but think about holiday meal preparation and spending time in the kitchen. Can you talk about the new additions to the MSL Kitchen line this year? What are you most excited about, and where do you get your inspiration for your kitchen designs?
We've just added two wonderful new PureStyle™ door designs, Tipton & Gardner, to my line at The Home Depot. They have a beautiful textured PureStyle grain that looks just like real wood, but because it's PureStyle, the finish is so much easier to maintain. We've also recently launched an assortment of Martha Stewart Living Viatera® Quartz countertops that go beautifully with our cabinetry; there are six styles that are inspired by the colors and veining you see in natural stone. The Martha Stewart Living kitchens themselves are inspired by kitchens I've lived and worked in throughout the years.
So what do Martha's store visits mean to The Home Depot family? Andy Ellise, store manager at store #154 in Sandy Springs, Ga., thinks it has a tremendous impact on associates.
"The opportunity to meet and interact with such an icon for our industry was tremendous," said Andy. "It's obvious Martha is passionate about her brands and helping home improvement enthusiasts, and the fact that she visits stores to give associates the chance to hear about some of her favorite projects is truly unique."