Around the world, scientific and advocacy communities are engaged in an active discussion on neonicotinoids (a.k.a. neonics) and their impact on bees and other pollinators.
Although we've already committed to phasing out the use of neonics on our plants by the end of 2018, there's more you may want to know if you're concerned about these insecticides.
We're deeply engaged in understanding the possible relationship of the use of neonics on plants and the decline in the honeybee population. To that end, we remain in contact with the EPA, scientists, the insecticide industry and our suppliers to understand the science and monitor the research.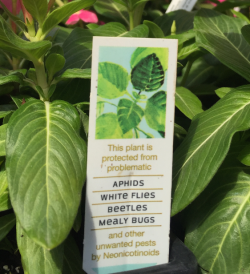 "In total, we've now spent three years searching for clarity on the possible harm flowering plants have on pollinators," said Ron Jarvis, vice president for environmental at The Home Depot. "Although we haven't found any clear science that confirms what levels in plants are unsafe for pollinators, we will continue to offer natural and organic alternatives for plants and continue to work with our suppliers to phase out plants treated with neonics in our garden centers."
Our contribution to the total neonics exposure is extremely small. In fact, more than 80 percent of our flowering plants are neonic-free.
What Else We're Doing
Most retailers and nurseries sell plants treated with neonics, but since 2014 we've been one of the few that labels these plants to help you make an informed purchase if you're concerned about the use of this insecticide.
Alternatives
We offer many natural insecticide alternatives and neonic free plants that that our garden associates will be happy to help you find, along with other organic fertilizers and other natural products.