It was 20 years ago that The Home Depot acquired Total Home, a four-store home improvement chain in Mexico. It was the beginning of what is now 128 stores staffed by more than 18,000 associates across all 32 Mexican states. Today, we are proud to be the largest home improvement retailer in Mexico as we celebrate 20 years of growth and success. 
According to President Jose "Pepe" Rodriguez, who has been with Home Depot Mexico since 2001, "We're confident that we will keep growing in Mexico by investing in customer experience, in the future of our business, and in creating value. We're looking forward to growing our business while taking care of our people and protecting our culture."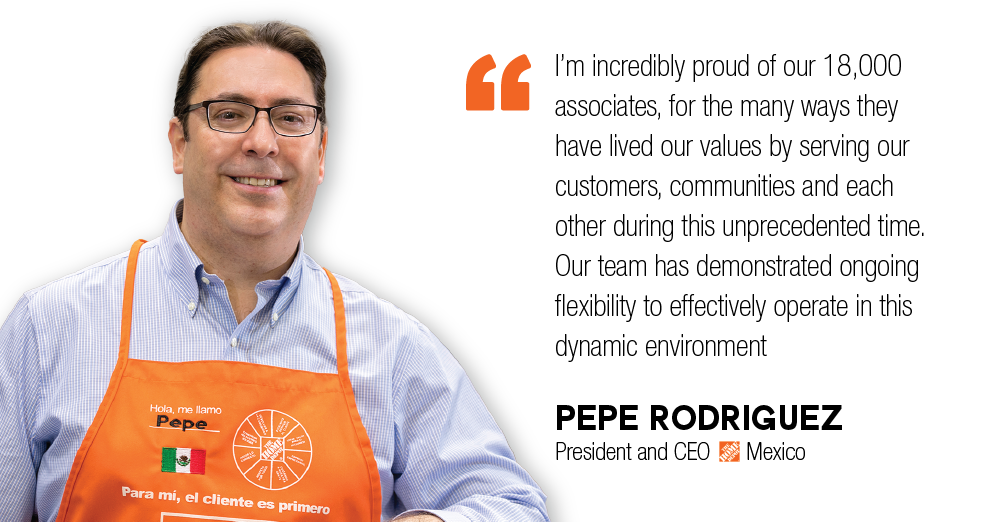 The newest store in Mexico opened in February 2021 in Corregidora, Querétaro. Operating with the highest environmental standards, it's working to obtain LEED certification from the United States Sustainable Building Council. Once successful, this will be the second Home Depot store in Mexico to attain this after our store in Santa Anita, Jalisco. This commitment to sustainability is one way that our stores in Mexico stand out.  
Home Depot Mexico has also received consistent recognition for its commitment to labor equality and nondiscrimination, inclusive business practices, and for being a family-supportive workplace. For instance, in 2020 we received the Corporate Social Responsibility Award from CEMEFI for the 14th year in a row. 
The future is bright for Home Depot Mexico, according to Rodriguez. "I'm very excited about what is coming in 2021 and in the future. Our plan is focused on working to differentiate ourselves in the marketplace and provide the best experience for clients and associates."