Whether you're renovating your current home or building the one of your dreams, flooring can have a big impact on your space. Don't leave these updates to your imagination, use Home Depot's new Flooring Visualizer technology powered by Roomvo.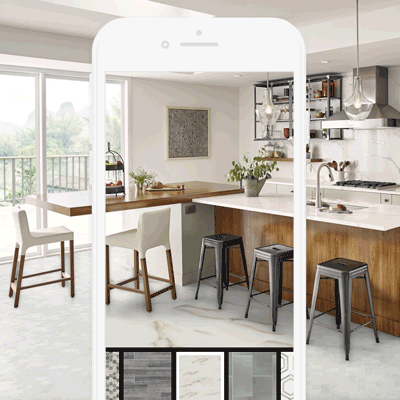 Roomvo's technology lets users preview products at home with the click of a button. The Flooring Visualizer shows customers how it will look in their home, eliminating the need for physical samples. This helps ensure products are a good fit for each individual's space, and the feature extends beyond flooring. Customers can also visualize wall tiles and area rugs in their home. The process is easy and only takes a few steps.  
"The Flooring Visualizer, powered by Roomvo, allows our customers to visualize thousands of flooring options in any room of their house with a few simple taps on our mobile app," says Neal Patel, Home Depot's senior online merchant. "The ability to see how different floors can change your entire space, instead of a small sample, is truly game changing for our customers and gives them the confidence they are making the right choice."  
This year, more than 1.5 million customers have used the Flooring Visualizer technology. To try it out, visit homedepot.com or download The Home Depot Mobile App.