Within the aisles where customer service is a top priority, Home Depot store 2806 has a unique canine connection to service. The store is home to three service dogs, Breena, Fritta and Truffles, who are trained for the unique needs of their owners.
Breena works with her owner Jo in the appliance department. After serving as a captain in the Marine Corps for 10 years, Jo was diagnosed with an inoperable brain tumor, and her sight began to fail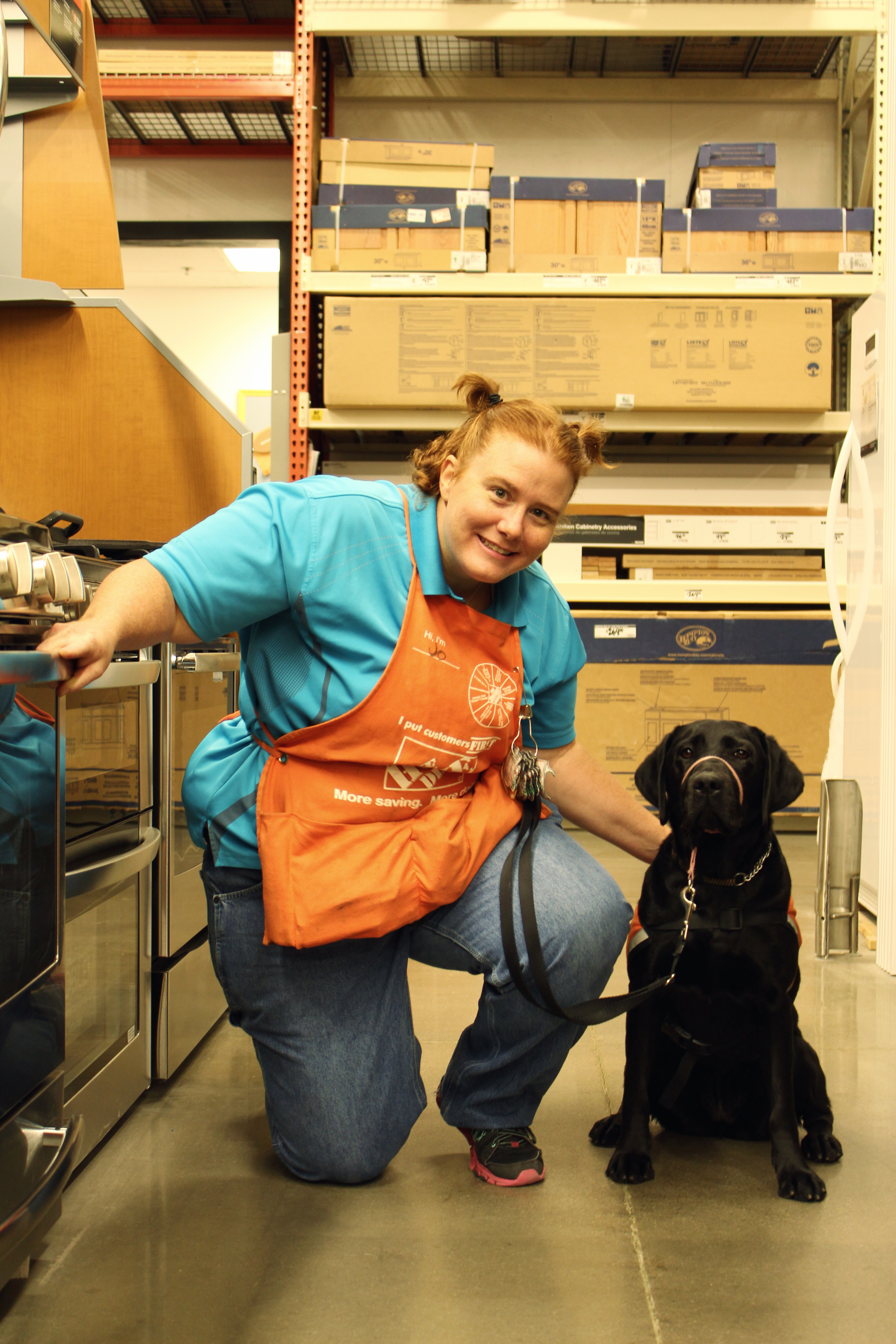 in October 2013. Before losing her sight completely, Jo put her photographic memory to good use by mentally cataloging everything she could at her job in Home Depot's appliance department. Her fellow associates also labeled products in Braille, which she quickly learned to read.
Jo traveled to Oregon to train with Breena, a black lab, before bringing the guide dog home to acclimate in her store. While Breena is still a seeing eye dog, she has also developed additional skills to adjust to Jo's needs as a seizure alert dog.
"It's been really neat to see Breena adapt to Jo's life," said Sharon Pettit, associate support department supervisor at the store. "They have worked so closely together for so long, and it's been wonderful for her to be able to keep the same dog and still work through all of the changes that are happening in her life."
Breena's four-legged friends, Fritta and Truffles, also guide their owners through customer service and daily responsibilities in the store. Often found resting in her bed behind the pro desk, Fritta alerts pro cashier Tom of drastic blood sugar changes as a diabetic alert dog, and Truffles helps her owner Amber, who is legally blind, as a guide dog through the store.
"Being able to accommodate all three of these dogs has been a really positive thing for our store," said Sharon. "The dogs have really helped us build connections with each other. They have a whole store of associates who want to give them love, and lots of frequent customer friends who bring them treats, too."
Overall, the store is an advocate of service dog awareness and training. Last year, the team partnered with local service dog organizations to provide a clinic for customers, which included obstacle courses with goggles and guide dogs. The store also opens its doors to local service dog training. While each dog is trained to the specific sounds and surroundings of its owner, the store offers a training ground for helping an owner navigate a shopping cart through the store and picking up items in the aisles.
"We're really grateful that our employees and services dogs function so easily in the store together," said Sharon, "and being able to raise awareness and help local organizations train dogs is an added bonus."