15 years ago, The Home Depot embarked on a mission to build a best-in-class merchandising service team. MET, which stands for Merchandising Execution Team, was created as an alternative to using third party vendor service groups to keep our stores looking great for customers. Ann-Marie Campbell, who was the vice president of Instore Service at the time, said, "A Home Depot associate is going to have the ownership that a third party is not going to have. You can't beat that!" 
MET's mission was – and still is – to make things simple for both customers and associates by improving the shopping environment.  
Wearing orange polo shirts instead of aprons, the first MET associates traveled in teams around their districts, focused on packing down products and taking care of customers. There were approximately 2,000 MET associates that first year, and they set the springboard for success for the MET program. Today, there are more than 25,000 MET associates supporting the stores and creating a better customer experience.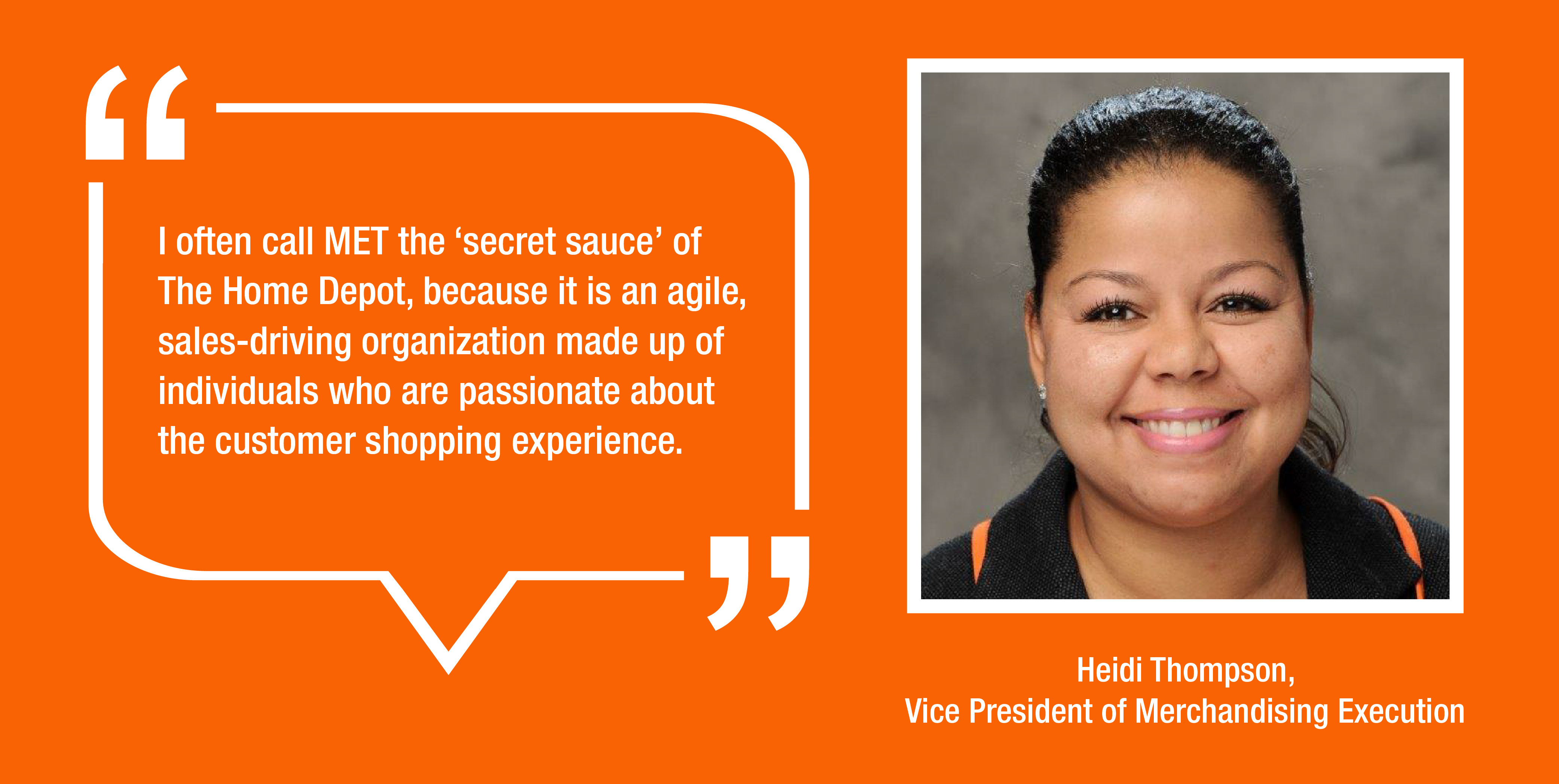 "I often call MET the 'secret sauce' of The Home Depot," says Heidi Thompson, vice president of merchandising execution, "because it is an agile, sales-driving organization made up of individuals who are passionate about the customer shopping experience. It's an incredible honor to lead this dedicated team into its next 15 years of service. Go MET!" 
District Execution Manager Bryan Ramos has been part of MET since its inception. "I am lucky to support close to 200 of the most passionate associates," he says. As a witness to MET's growth through the years, he sees the biggest change as "how many of our great supervisors and MEAs (merchandising execution associates) are viewed as candidates for future leadership roles. Because of their bandwidth and capacity, our associates are recognized as candidates for many positions cross-functionally."    
The key to MET's success is associates' vast knowledge of stores and merchandise. To best support the ever-changing needs of customers, products should be easy to find. That's where MET comes in, to standardize the selling floor and remove friction from the shopping experience.