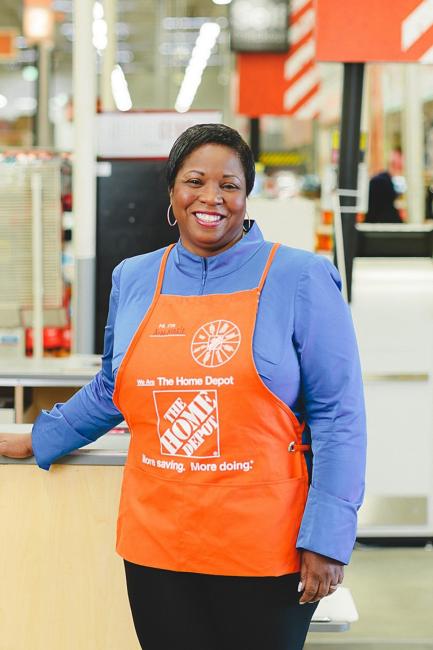 Ann-Marie
Campbell
Senior Executive Vice President
Ann-Marie Campbell is senior executive vice president of U.S. stores and operations, The Home Depot Canada, The Home Depot Mexico, and outside sales and service, leading more than 2,300 stores and more than 400,000 associates. In this role, she is responsible for driving sales with the company's DIY and Pro customers, both in our stores and through our outside Pro sales efforts and the Home Services business.
Formerly, she served as executive vice president of U.S. stores and international operations, where she led the company's three U.S. operating divisions as well as supply chain, merchandising, sourcing and strategy for The Home Depot Canada and for The Home Depot Mexico.
Ann-Marie began her career with The Home Depot in 1985 as a cashier in South Florida. She learned her first lessons in retail from her grandmother in Jamaica, who owned a small furniture store and had a reputation for friendly, top-notch customer service. After more than 35 years with the company, Ann-Marie brings a deep understanding of The Home Depot's operations, culture and customers.
Over the years, she has served in a variety of positions, including store manager, district manager and regional vice president. She has also served as vice president of operations, vice president of merchandising and special orders, vice president of retail marketing and sales for Home Depot Direct, vice president of vendor services and president of the Southern Division.
Living Home Depot's values is a passion for Ann-Marie. She is an active Team Depot volunteer, working side by side with other associates to give back to local communities. She serves as the board chair of The Homer Fund, a charity that supports Home Depot associates facing unexpected financial hardship. She is also on the board of the Georgia Aquarium and Workday.
Ann-Marie is a graduate of Georgia State University, where she earned a bachelor's degree in philosophy and a master's degree in business administration. She is a member of Beta Gamma Sigma, an international business honor society and the National Scholars Honor Society.