Go Behind the Scenes with "Give Me An H" - The Home Depot's Podcast Series Takes You Into Uncharted Territory
August 30, 2018
The Home Depot's culture is its special sauce for success. The podcast series, "Give Me An H," explores this unique culture through the eyes and experiences of associates who live it every day. It offers insider perspectives into how bleeding orange shapes careers and instills an appreciation for what can happen when a company commits to doing good, while also doing well.
Listen to the latest episodes below. 

About this Episode: Carol Tomé, EVP and CFO of The Home Depot, shares personal stories, lessons learned and real-world advice from her career journey. Learn how The Home Depot offers associates countless opportunities for career and character growth.

About this Episode: Ron Jarvis, VP of Environmental Innovation and Social Environmental Responsibility, shares his wealth of knowledge on all things orange… and green. Learn how The Home Depot is taking care of our planet and helping customers stay eco-friendly.

About this Episode: Mark Holifield, EVP of Supply Chain & Product Development, explains why innovation and speed are essential for The Home Depot's continued success. By investing $1.2 billion into its Supply Chain, it's safe to say the company is doubling down on this critical part of the business. Listen in as Mark shares innovative ways that The Home Depot is creating the best customer experience.

About this Episode: Matt Carey, Executive Vice President and Chief Information Officer, shares exciting information about how The Home Depot leverages home-grown technology to create game-changing customer solutions.  

About this Episode: Stacey Tank, VP of Corporate Communications and External Affairs, shares exciting details of The Home Depot Foundation's ground-breaking initiative: Investing $50 million to help close the skilled-labor gap in America.

Este Episodio: En este Episodio: El Gerente del Distrito de Puerto Rico, Carlos Fines, entrevisto a Héctor Padilla, el presidente de la División Sur. Lo que inicio como una conversación sobre la vida de Héctor, el tema rápidamente se cambió algo muy diferente: los Huracanes que arrebataron a Puerto Rico. "Ves este animal viniendo hacia ti, y no hay lugar a donde correr."
About this Episode: In an all-Spanish interview, Carlos Fines, District Manager, Puerto Rico, sat down with Hector Padilla, President, Southern Division. An interview about Hector's life soon shifts to a different topic: the hurricanes in Puerto Rico. "You see this animal coming your way, and there's nowhere to run." 
Click here to read the English transcript.

About this Episode: Kevin Hofmann, CMO and president of Home Depot's online business, discusses innovation in retail and how the changing landscape makes it an exciting time to be at the company.



About this Episode: Crystal Hanlon, president of Home Depot's northern division, shares how she first learned about the company's unique culture from behind the cash register.

About this Episode: Human resources leader Tim Hourigan details how the concept of being "orange-blooded" grew from the founders' belief that if the company takes care of associates, they'll take care of customers — and the rest will take care of itself.

About this Episode: Merchandising head Ted Decker explains how an entrepreneurial mindset, caring for fellow associates and a passion for extraordinary service are essential to Home Depot's success.
Keep up with all the latest Home Depot news!
Subscribe
to our bi-weekly news update and get the top Built from Scratch stories delivered straight to your inbox.
Related Stories & Articles:
Karen's Premier League soccer surprise
August 08, 2018
Every sports superfan dreams of holding their team's championship trophy. Karen Moore, a Manchester City Football Club fan, recently got the surprise of a lifetime when her favorite soccer team came to surprise her with the Premier League trophy at The Home Depot in Bensalem, Pennsylvania.
Karen's 30-year fandom of the team started innocently enough. She was looking for a team to root for and discovered Manchester City in the pages of her hometown newspaper, the Philadelphia Inquirer. "It became my team because I've always supported the underdog."
Over the years, Karen has collected numerous jerseys, shirts and pins to proudly display her Premier League fan status. In her free time, she keeps up with the team on social media fan sites and catches every game she can on TV with the local chapter of Manchester City's worldwide supporters group. This dedication led to her nomination for the visit from the team on their U.S. tour this summer.
In preparation for the day, the store surprised her with a replica of the Premier League trophy, made of parts and products found at The Home Depot. A tiki torch, metal cooler and some flashing came together for a replica worth raising to celebrate.
After the reveal, Manchester City whisked Karen and the trophy away to one of Philadelphia's most iconic landmarks – the Museum of Art. "We were at the base of the infamous Rocky steps. You never know who or what is going to be there when you roll up," Karen says. "Soccer fans were quite surprised and were quick to whip out their phones!"
This soccer surprise will go down as one of Karen's most memorable days in her five years with The Home Depot. "It was so neat to share this with the other fans in the store," Karen says. "It's fun to work for a company that likes their people enough to make something like this happen."
Watch the store present the THD version of the Premier League trophy, and then take Karen to meet the real deal.
Keep up with all the latest Home Depot news!
Subscribe
to our bi-weekly news update and get the top Built from Scratch stories delivered straight to your inbox.
Related Stories & Articles:
Kitchen Upgrades Big and Small
August 07, 2018
Whether you're looking for a simple touch-up or a complete kitchen remodel, here are a few places to start.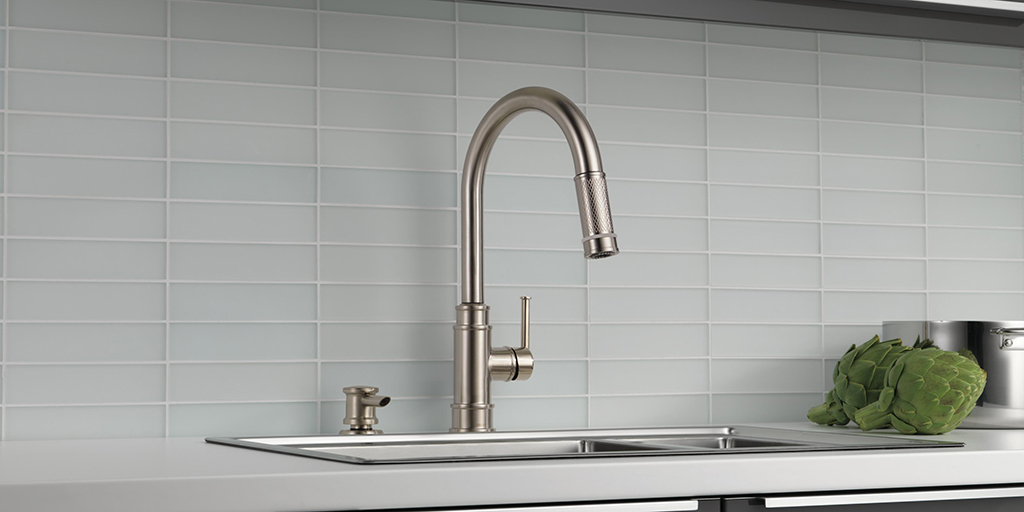 Kitchen Sink Swaps
Changing an outdated faucet can bring a fresh look to your kitchen. This Delta Allentown Kitchen Faucet comes with a temperature indicator to help you save water time spent adjusting the temperature. Pair it with an updated garbage disposal like this one from Moen – it takes up less space under the sink and runs quieter than other models, so you'll barely notice it's there.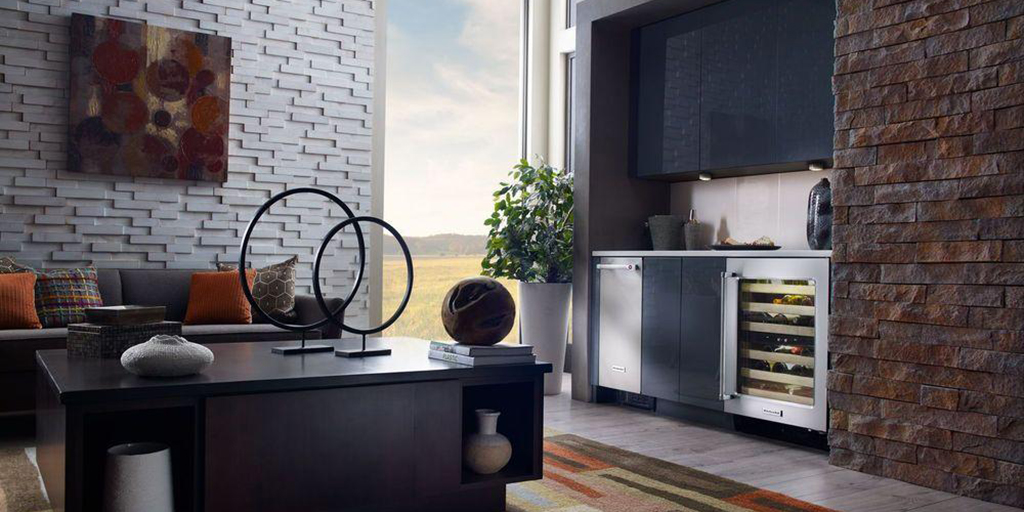 Winning Wine Storage
Small appliance updates can make a big impact. Switch your current wine storage for a dedicated cellar like this one from KitchenAid that is compact enough to fit in a small space, but large enough to hold 46 bottles—and has two temperature-controlled zones for different wine varieties.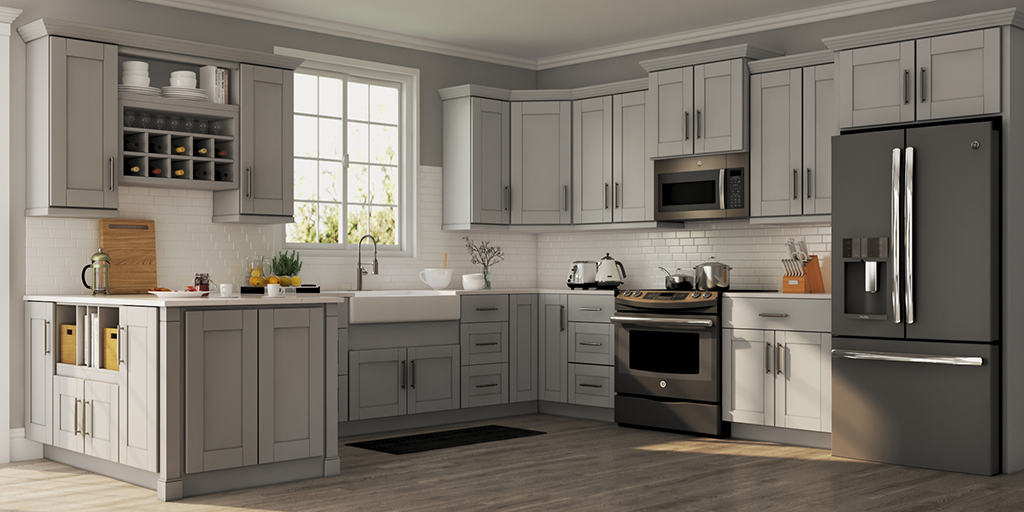 Countertop and Cabinet Overhaul
Picking the right cabinets or countertops and installing them takes time, precision and practice. While Home Depot offers ready-to-install styles from Hampton Bay, consider consulting with designer services at your local store to find the right style and size for your home—and save money and a big headache down the line.
Keep up with all the latest Home Depot news!
Subscribe
to our bi-weekly news update and get the top Built from Scratch stories delivered straight to your inbox.
Related Stories & Articles:
Pages