Making Connections One LEGO Piece at a Time
July 12, 2018
You don't have to be a builder to work at The Home Depot, but you might be inspired just by being in the store. For Warren Dent, an associate at a Home Depot store in Winder, Georgia, a passion for building was sparked by an unexpected material: LEGO bricks.
Warren's love of The Home Depot and creative curiosity resulted in an epic project, a Home Depot store made with 2,153 LEGO pieces. He surprised his team at work with the final product.
"It blew up on social media, and everyone was taking pictures," says Warren. "It made me feel really good to see people laughing and connecting with it."
The unveiling was a culmination of nearly four months of tireless work. Warren spent his time finding and connecting LEGO pieces from multiple kits. His Garden Center door came from a castle kit and mulch and sand bags from a military kit. Piece by piece, he built up his miniature Home Depot, complete with Lighting, Plumbing, Millwork, Hardware, Lumber and Paint departments as well as a Garden Center and Pro Desk.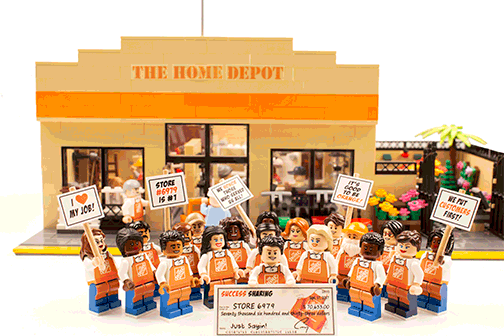 "I wanted to create those little connections that make us as Home Depot associates think – that's definitely at The Home Depot," says Warren.
For Warren, creative projects like these are incredibly important, allowing him to do what he loves while impacting people in his life.
 "I love using my hands, and I love creating things," explains Warren. "[This project] reached out to the community. People are coming into the store just to look at it."
His LEGO Home Depot store now has a permanent location. Visitors can stop by The Legend Museum, located inside the company's Atlanta Headquarters. The thought of constant visitors to his LEGO store brings joy to Warren.
"I like to hear people laugh and make people smile," he says. "If I make someone happy, I've accomplished my goal."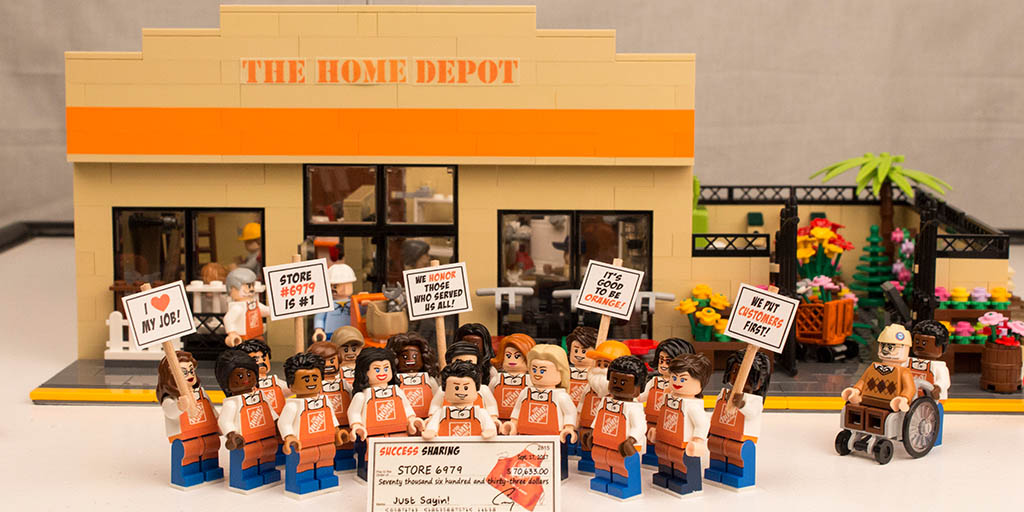 Keep up with all the latest Home Depot news!
Subscribe
to our bi-weekly news update and get the top Built from Scratch stories delivered straight to your inbox.
Related Stories & Articles:
Go Behind the Scenes with "Give Me An H" - The Home Depot's Podcast Series Takes You Into Uncharted Territory
June 29, 2018
The Home Depot's culture is its special sauce for success. The podcast series, "Give Me An H," explores this unique culture through the eyes and experiences of associates who live it every day. It offers insider perspectives into how bleeding orange shapes careers and instills an appreciation for what can happen when a company commits to doing good, while also doing well.
Listen to the latest episodes below. 

About this Episode: Ron Jarvis, VP of Environmental Innovation and Social Environmental Responsibility, shares his wealth of knowledge on all things orange… and green. Learn how The Home Depot is taking care of our planet and helping customers stay eco-friendly.

About this Episode: Mark Holifield, EVP of Supply Chain & Product Development, explains why innovation and speed are essential for The Home Depot's continued success. By investing $1.2 billion into its Supply Chain, it's safe to say the company is doubling down on this critical part of the business. Listen in as Mark shares innovative ways that The Home Depot is creating the best customer experience.

About this Episode: Matt Carey, Executive Vice President and Chief Information Officer, shares exciting information about how The Home Depot leverages home-grown technology to create game-changing customer solutions.  

About this Episode: Stacey Tank, VP of Corporate Communications and External Affairs, shares exciting details of The Home Depot Foundation's ground-breaking initiative: Investing $50 million to help close the skilled-labor gap in America.

Este Episodio: En este Episodio: El Gerente del Distrito de Puerto Rico, Carlos Fines, entrevisto a Héctor Padilla, el presidente de la División Sur. Lo que inicio como una conversación sobre la vida de Héctor, el tema rápidamente se cambió algo muy diferente: los Huracanes que arrebataron a Puerto Rico. "Ves este animal viniendo hacia ti, y no hay lugar a donde correr."
About this Episode: In an all-Spanish interview, Carlos Fines, District Manager, Puerto Rico, sat down with Hector Padilla, President, Southern Division. An interview about Hector's life soon shifts to a different topic: the hurricanes in Puerto Rico. "You see this animal coming your way, and there's nowhere to run." 
Click here to read the English transcript.

About this Episode: Kevin Hofmann, CMO and president of Home Depot's online business, discusses innovation in retail and how the changing landscape makes it an exciting time to be at the company.



About this Episode: Crystal Hanlon, president of Home Depot's northern division, shares how she first learned about the company's unique culture from behind the cash register.

About this Episode: Human resources leader Tim Hourigan details how the concept of being "orange-blooded" grew from the founders' belief that if the company takes care of associates, they'll take care of customers — and the rest will take care of itself.

About this Episode: Merchandising head Ted Decker explains how an entrepreneurial mindset, caring for fellow associates and a passion for extraordinary service are essential to Home Depot's success.
Keep up with all the latest Home Depot news!
Subscribe
to our bi-weekly news update and get the top Built from Scratch stories delivered straight to your inbox.
Related Stories & Articles:
Reducing Environmental Impact
OUR IMPACT
At The Home Depot, we recognize the responsibility we have for the environmental impact of our organization, and that our biggest impact is the products we sell. In partnership with stakeholders throughout the supply chain, The Home Depot is committed to offering products that are safer for the environment. By selling greener products, we make customers' homes greener, too. And that can make a difference to the health and well-being of millions of people and their communities.
ECO OPTIONS
In 2007, The Home Depot launched Eco Options® to help our customers identify products that have less of an impact on the environment and to encourage our suppliers to provide more sustainable offerings. Ten years later, in October 2017, we published our Chemical Strategy. It details our commitment to working with suppliers to reduce the indoor air quality impact of chemicals used in the products we sell. Its publication was a milestone made possible by what we had learned over a decade of focusing on sustainability.
For a product to be classified as an Eco Options product, the supplier must document attributes that prove it has less of an impact on the environment than comparable products in the same category. Until all industries create and abide by a reporting formula that measures product attributes according to a common sustainability standard, we will continue to use our Eco Options program to help customers sort through "green" product claims.
CHEMICAL STRATEGY
With our encouragement, our suppliers have been investing in developing environmentally innovative products. The Home Depot supports the work of the Green Chemistry & Commerce Council (GC3) through annual membership and participation in the Retail Leadership Council of the GC3, and we participated in developing the GC3's Joint Statement on using Green Chemistry and Safer Alternatives to Advance Sustainable Products. We and our suppliers also partner with respected third-party certification organizations and environmental non-profits that guide the home improvement industry toward safer chemical ingredient use. The Home Depot is committed to continuing the drive toward minimizing the environmental impact of the products we sell.
WATER & ENERGY CONSERVATION
We work with suppliers to ensure products reflect our conservation values and help customers to use less water and energy.
We have committed to enabling our customers to save 250 billion gallons of water by 2020 through the purchase of WaterSense-approved products. In 2017, the first year of this pledge, our products enabled customers to save 77 billion gallons of water — nearly a third of our goal.
We also announced a commitment to save customers another $2.8 billion in energy costs by 2020 through the sale of ENERGY STAR products. By the end of the year, we had exceeded 35 percent of that goal through the sale of more than 171 million ENERGY STAR products, which we estimate saved our customers more than $1 billion on annual energy utility costs and helped reduce carbon dioxide emissions by 6.2 million metric tons. That's equivalent to removing CO2 emissions produced by 669,474 American homes.
OUR SUSTAINABILITY EFFORTS
OUR PEOPLE & OUR COMMUNITIES
REDUCING ENVIRONMENTAL IMPACT
OUR IMPACT
Our store operations team constantly strives for the complementary goals of improving efficiency and reducing our environmental impact to protect the climate. We seek alternatives such as wind, solar and fuel cells to reduce our emissions and encourage the continued development of cleaner energy. We're on track to get 135 megawatts of the energy used by our stores each year from renewable or alternative sources by 2020. That's enough to power more than 300 stores.
Everyday we open our doors determined to do things better — to build on our business success as we reduce our company's and our industry's environmental impact and improve the lives of people in the global communities we influence, support and serve.
OUR STRATEGY
The simplest way to reduce emissions from energy use is to use less energy. At The Home Depot, we maximize that strategy, constantly looking for ways to cut consumption and improve efficiencies. Our efforts are good for our business, as well as the environment. We achieve results by making improvements kilowatt by kilowatt, year after year. For example, in 2017 we installed energy-efficient heating, air-conditioning and ventilation systems in an additional 91 stores. We also reduced our customers' emissions by 6.2 million metric tons through energy-reducing product sales in 2017. Our goal is to reduce our customers' greenhouse gas emissions by 20 million metric tons by 2020.
TRACKING EMISSIONS
The Home Depot uses the GHG Protocol corporate accounting and reporting standard, which has been adopted by more than 90 percent of Fortune 500 companies to calculate metric tons of greenhouse gas emissions and efforts to reduce them. Here are THD's results for 2017:
• Our combined carbon inventory for 2017 was 5,907,000 metric tons, a 648,417 metric ton decrease over 2016.
• Scope 1: Direct emissions from combustible sources and refrigerants totaled 433,633 metric tons, at 1.1 percent decrease compared to 2016.
• Scope 2: Indirect emissions from purchasing electricity totaled 1,681,640 metric tons, an 11.8 percent decrease year over year.
• Scope 3: Emissions from upstream transportation and distribution of freight totaled 3,791,806 metric tons - a 10 percent decrease compared to 2016.
CDP SCORE
Because of improvements made across operations, we earned an A- rating in 2017 from the Carbon Disclosure Project. That placed The Home Depot in the top quartile of our sector. CDP, an independent nonprofit working with businesses and cities to reduce greenhouse gases and drive sustainable water use.
SMARTWAY RECOGNITION
In 2017, The Home Depot was awarded the U.S. Environmental Protection Agency's 2017 SmartWay® Sustained Excellence Award for the fifth consecutive year. We earned this recognition through clean transportation best practices. Our ongoing Supply Chain Synchronization initiative has enabled us to optimize the way we store and move products, reduce truckloads by filling trucks more efficiently, lower our fuel consumption and emissions and more.
OUR SUSTAINABILITY EFFORTS
OUR PEOPLE & OUR COMMUNITIES
PROTECTING THE CLIMATE
OUR STRATEGY
People are at the heart of The Home Depot. Markets fluctuate, shopping trends change, economies contract and expand — but ultimately people determine whether we succeed, whether we fail and whether we make a positive impact on the world.
We consider our associates our biggest competitive advantage, and it's our responsibility and privilege to take care of them. We do this by offering an array of wellness and personal development programs: health benefits and screenings, tuition reimbursement and financial aid for employees in need, to name a few. What's more, through our Success Sharing profit-sharing for hourly associates, Homer Award recognition programs and more, we financially reward associates who dedicate themselves to our customers and embody The Home Depot values.
SUCCESS SHARING
Our philosophy of taking care of our associates and motivating them to deliver a superior customer experience shapes our profit-sharing program for hourly associates. It provides semiannual cash awards for performance against our business plan, including sales and productivity goals.
Because of our associates' outstanding performance in fiscal 2017, 99 percent of stores qualified for Success Sharing in both the first and second half of the year. This resulted in approximately $256 million in bonus payments to our non-management associates.
THE HOMER FUND
Our network of nearly 400,000 associates have each other's back in times of need. The Homer Fund is a nonprofit charity that provides emergency financial assistance to associates facing unforeseen hardships. Associates proudly support the Fund because the unexpected can happen to anyone. Since its creation in 1999, the Fund has given more than $165 million in assistance to 130,000 associates in need, and more than $1.5 million is awarded to associates facing unforeseen emergencies on a monthly basis.
Original funding for The Homer Fund's grant programs was given by The Home Depot founders. Since then, more than 93 percent of the company chooses to donate to The Homer Fund each year, and every dollar donated directly impacts an associate in need.
OUR SUSTAINABILITY EFFORTS
OUR PEOPLE & OUR COMMUNITIES
Our Associates
OUR STRATEGY
The foundation of our commitment to diversity and inclusion was established nearly 40 years ago, along with our eight core values. Respect for all people is a top priority for the company, and maintaining The Home Depot's competitive advantage is directly tied to how well our associates reflect the diversity of our customers.
However, it's not enough for us to simply hire diverse talent. We also cultivate a culture where associates want to stay with The Home Depot and have opportunities to grow their career with us. Overall, an inclusive and respectful environment means all associates can bring their whole selves to work. This philosophy is the foundation for our continued efforts to promote associate engagement, as well as gain a better understanding of our customers and the communities we serve.
OUR GOALS
According to the U.S. Census Bureau, people of color, who currently make up about one-third of the U.S. population, will become a majority by 2042. The U.S. Hispanic population is expected to nearly triple by 2050, while the African-American and Asian populations are each expected to grow about 60 percent. The Home Depot is keeping up with these and other dynamic changes by hiring diverse talent, as well as being inclusive of all associates, no matter their race, age, gender, sexual orientation or military status. In fact, our workforce is more ethnically diverse than the U.S. working population, based on a comparison with U.S. Department of Labor data. We continue to make progress in our efforts to increase representation on our Board of Directors and in our executive ranks. Our diverse workforce will serve our customers for the next 30 years and beyond.
OUR POLICY
We have a responsibility to create a workplace where all of our associates can thrive. We strive to maintain an environment of mutual respect, free of discrimination and harassment. Inclusiveness, diversity, trust and honesty — all of our associates are entitled to these rights, and we are firmly committed to ensuring they have them the first time they put on their orange apron and every day thereafter.
We also know that the best way to serve a diverse customer base is to ensure diversity within our ranks and our supply chain. Since 2003, The Home Depot has actively sought a diverse set of suppliers in our sourcing and procurement process.
OUR SUSTAINABILITY EFFORTS
OUR PEOPLE & OUR COMMUNITIES
Diversity & Inclusion
OUR POLICY
We take ethical sourcing seriously, knowing that we owe it to our customers, associates and society to leverage our values towards a collective commitment to human rights, safety and environmentally sound practices. How? By procuring most of our wood from plentiful North American forests. By partnering with nonprofits, governments and industry leaders to limit harvesting in areas where precious rain forests are endangered. And by building relationships with vendors and suppliers who share our commitment to protecting the Earth's natural resources. We also conduct thousands of supplier audits around the world each year to ensure our suppliers are following our Social & Environmental Responsibility (SER) Standards, mandated in the factories where our products are manufactured.
WOOD PURCHASING POLICY
To help protect endangered forests and to ensure that there will be timber for future generations, we formalized a Wood Purchasing Policy in 1999. Since then, we've led suppliers toward understanding and practicing sustainable forestry throughout the world. We give preference to wood from forests managed in a responsible way. We sell less than 1 percent of all wood cut worldwide, and most of our wood products come from North American forests — which are expanding. In 2017, The Home Depot announced that beginning on September 1, 2018, we will not accept wood products from Papua New Guinea, the Solomon Islands, the South American Amazon Basin or the African Congo Basin, unless the products are certified by the Forest Stewardship Council. FSC certification ensures products come from responsibly managed forests that provide environmental, social and economic benefits.
CONFLICT MINERALS
Our company expects all suppliers that manufacture our products to provide appropriate information and conduct due diligence to enable our compliance with conflict minerals laws. We also expect these manufacturers to obtain products and materials from suppliers that are not involved in funding conflict in the Democratic Republic of the Congo (DRC) and adjoining covered countries. We partner with our private brands and proprietary suppliers whose products contain tin, tungsten, tantalum or gold (referred to as 3TG) to identify the source of any of these minerals in the supply chain.
OUR SUSTAINABILITY EFFORTS
OUR PEOPLE & OUR COMMUNITIES
SOURCING RESPONSIBLY
Pages