OUTDOOR LIVING WITH HOME DEPOT MERCHANT HILA ROBERTS
May 08, 2017
All winter we look longingly at our outdoor spaces. At even the first hint of spring, we start thinking about how and when can start treating our patios and backyards as our new living rooms.
Outdoor patio expert Hila Roberts is here to help. Hila has been with The Home Depot for 10 years and has played a number of roles from store operations to finance, eventually making her way to merchandising. In her role as a merchant, Hila carefully selects the best products to help customers design, decorate and enjoy their outdoor areas.
We caught up with Hila to see what it's like to be a merchant at The Home Depot and to get the inside scoop on what she's most excited about this spring.
 
What does it mean to be a merchant at The Home Depot?
Being a merchant at The Home Depot is so much more than buying product. There's an art and a science to it. You have the data science piece where you ask questions like: What color cushions do customers buy online versus in the store? Then the art becomes: What's the right shade of red for this cushion? What patterns would our customers like? All that comes together to help us serve our customers with the right product in our stores and online.


What does a typical day look like in your role?
There's no normal day in my role. I've been in three merchant roles and one associate merchant role at The Home Depot and not one of those positions has felt like the same.
I studied dance growing up, and what I loved about it was that you could never be perfect. You could always spin more or get your leg higher. Merchandising is the same way. You can never have a perfect category. There's always something more you can do to improve.
You're a self-described "Merchant Mom" with two young children at home. How do you manage to keep work and life in balance?
I try not think of it in terms of balance. "Balance" assumes you're going to reach a point where you're feeling happy and perfect with everything. That's just not fair to you. It's more about tradeoffs. Some days you're going to feel like a rock star mom, but think: Man, I could do so much better at work! And there are times you're going to nail a presentation, but think: You know, I could really use a date night with my husband. It's not going to be perfect all the time, and that's okay.
For me, it's about loving my kids, loving my husband and doing my job well. Everything else can go to the side.

Let's talk outdoor patio. One of the big outdoor trends The Home Depot is leaning into this spring is "mix and match." How does that work?
We love our mix and match patio options because it gives people the freedom to try out lots of different styles and designs and then eventually be able to create their own.
You've got 20 different chairs and 20 different tables that can make up so many different arrangements of seating and dining. And we took the guesswork out of it because nothing clashes. We wanted to give the customer enough options to become creative, but not so much that they would lose their confidence.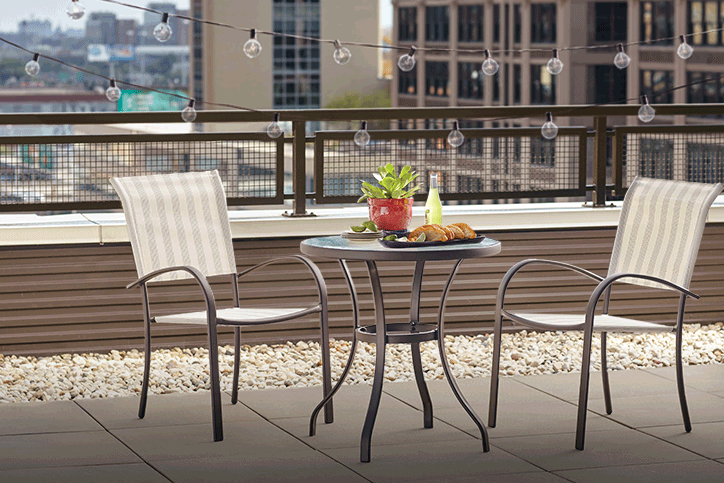 Mix & Match Patio Selection (Price Varies).
 
One of the outdoor looks The Home Depot introduced this spring is inspired by the famous Maldives. Could you tell us more about that?
We have an incredible trend and design team, and they're constantly looking ahead and trying to anticipate our customers' needs. This specific Maldives set is a sectional, and as people expand their outdoor spaces, sectionals are becoming more and more popular.
One thing that really makes this Maldives collection stand is its midnight cushions. Midnight is a huge color. It started attracting some attention in 2016, but is now poised to blow up in 2017 and beyond.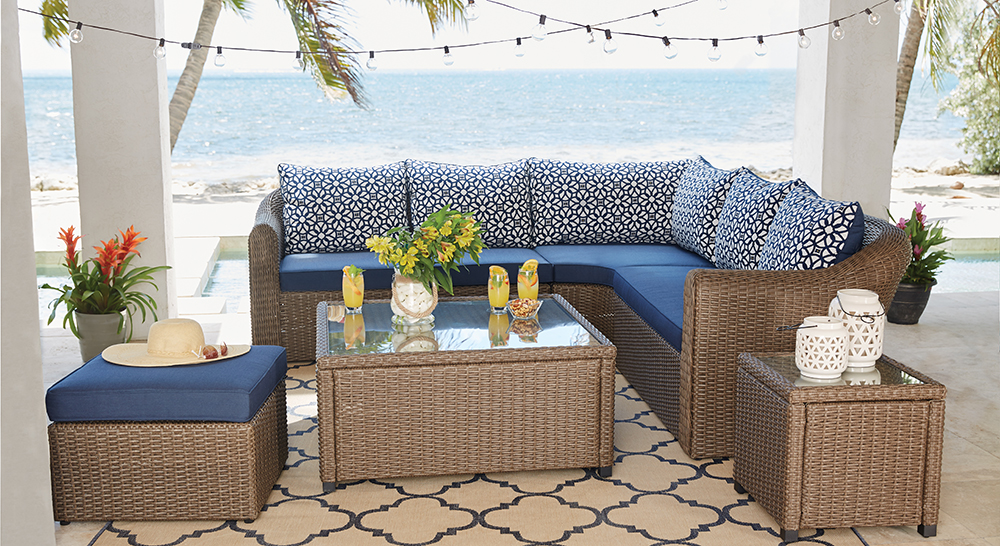 Hampton Bay Maldives Patio Set ($1,799).
Additionally, we heard from customers that they wanted outdoor designs that didn't sacrifice quality. This set comes standard with sunbrella fabric. Sunbrella is an updated outdoor fabric that is so beloved it's even being used indoors. It has a five-year warranty rather than the one year warranty you get on normal fabrics and it has UV resistance.
And just personally, I love it. I have two energetic kids and….things happen! If something spills, you can just stick it in your washer.
One of the themes for spring is the patio as the new living room. What are some of the ways that's coming to life?
We've made a point to make The Home Depot a one-stop-shop for everything you need to build up your outdoor space and truly make it a living room outside. From rugs to lanterns to lights, our design teams are thinking holistically about your outdoor space and giving you the options to make it truly your own, whether it's a set piece or an accent.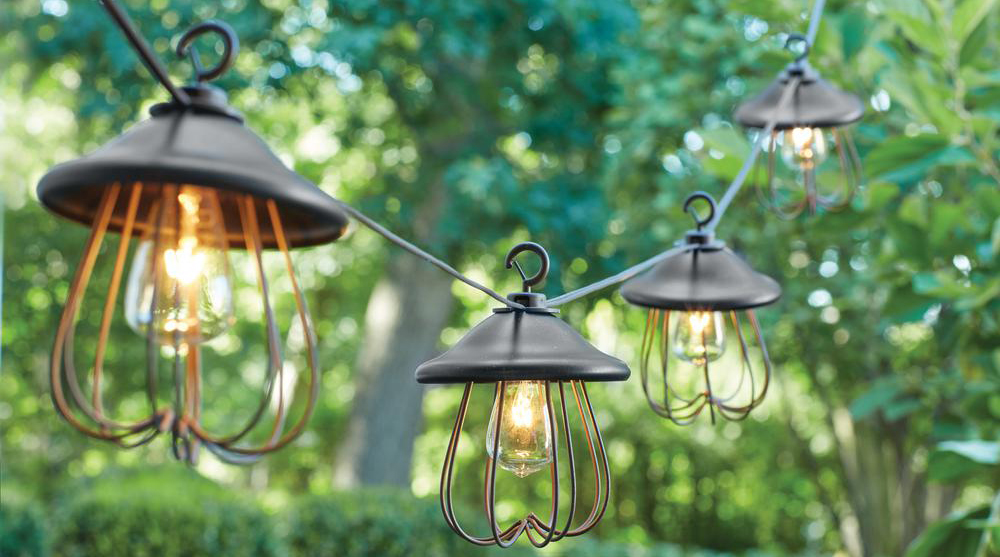 Hampton Bay Decorative Bronzed Patio Cafe String Light ($29.98).
What's one piece of outdoor furniture that you're particularly excited about?
I think technology is starting to really improve our outdoor living spaces, and my favorite example of that is the solar-offset umbrella. It's an 11-foot umbrella that will absorb the sun's power during the day, and then at night you flip a switch and you have lighting. It's a great way to extend the use of your outdoor space.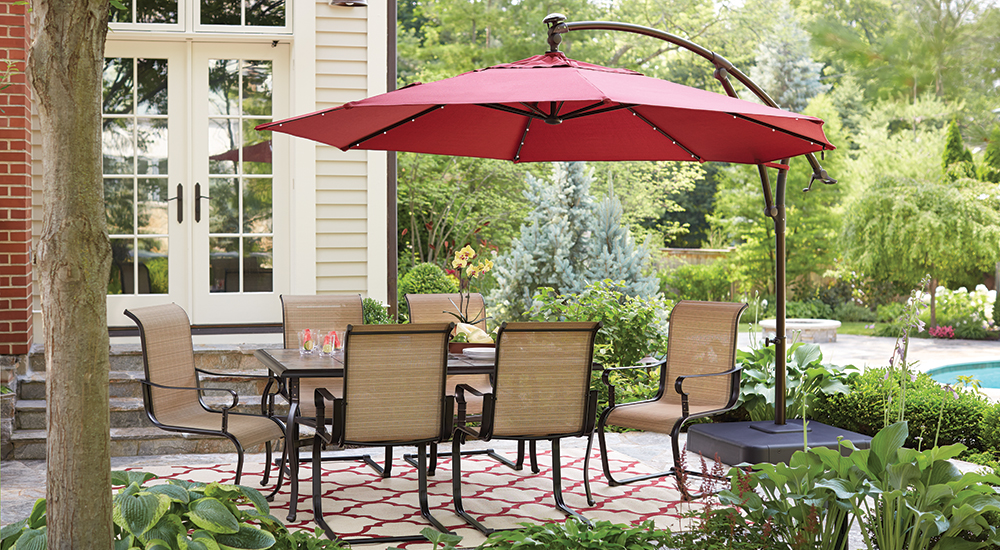 11 ft. LED Round Offset Patio Umbrella in Red ($299).
Keep up with all the latest Home Depot news!
Subscribe
to our bi-weekly news update and get the top Built from Scratch stories delivered straight to your inbox.
Related Stories & Articles: