Making Your Home Smarter and Safer with Wink
November 20, 2014
We've seen smartphones, tablets and computers continue to push the boundaries of what seems possible—making it only a matter of time until the technology became applicable to our homes.
Wink is a company at the forefront of the home automation movement. Through their products, consumers can seamlessly control a wide-range of appliances within one app, allowing easy access to your home technology with simply the push of a button. The potential is boundless—especially when it comes protecting your house.
Home Automation Security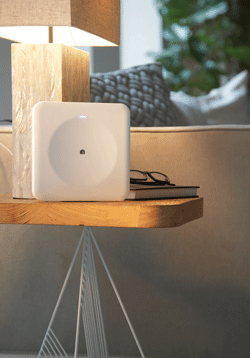 Safety and security features are often a top priority in the home, and Wink is delivering new innovations that are changing the industry. Want to monitor for carbon monoxide and fires in one device? The Kidde alarm system can alert you with different voice warnings if anything is detected. "The alarms use radio frequency technology to link together so that when one sounds, they all sound, creating an interconnected safety system throughout the home," said Heather Caldwell, Communications and Marketing Manager for Kidde. Studies show that, on average, you have three minutes from the time the first smoke alarm sounds to escape a home fire. "Having the interconnected system can help provide warning wherever you are in the home, and offer you more time to respond."
Many of the products that work with Wink provide their biggest benefit when you're away from home. "Imagine you're driving out of town on vacation, and you can't recall if you locked the door," said Chris DeSchamp, Schlage Portfolio Leader. "You can check your Wink app and immediately know the lock status."
New Ways of Safeguarding the Home
The security landscape is drastically changing with this new accessibility. "Consumers can now monitor situations on their own without having to rely on contracting an outside security company," said Heather. This piece of mind is what people want when securing the home. Chris agrees, "With Schlage's smart locks, you can always be aware of the house comings and goings. Homeowners can take charge of their own safety."
So what's next? Schlage is hoping to utilize accelerometer technology to help detect home break-ins involving intruders kicking in the door. But in the near term, Chris predicts you'll see more functionality with Wink's robot feature.

Click through to see ways Wink is changing how you interact with your home
Robots Make Tasks Easy
 
Robots bring simplicity and consistency to your routine by issuing a chain reaction of tasks based on a specific, personalized command. The chain can be prompted by something as simple as location or activity. This makes Wink perfect for executing daily tasks—like shutting down the house for the night by closing the garage door and confirming all of your lights are turned off in one action.
Wink found a way to bring the far-fetching smart home concept to your doorstep. With Robot commands and the ability to access the products from any location on one app, it's easy to safeguard your home.
"We are only at the beginning of this home automation movement," said Chris. "The smart technology will get even smarter, becoming a seamless part of your life that can be self-managed with little interruption."
Keep up with all the latest Home Depot news!
Subscribe
to our bi-weekly news update and get the top Built from Scratch stories delivered straight to your inbox.
Related Stories & Articles: